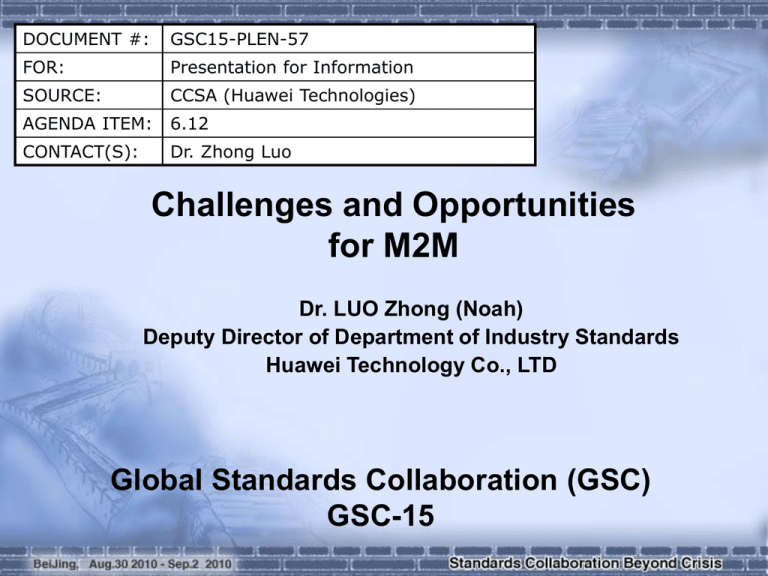 DOCUMENT #:
GSC15-PLEN-57
FOR:
Presentation for Information
SOURCE:
CCSA (Huawei Technologies)
AGENDA ITEM:
6.12
CONTACT(S):
Dr. Zhong Luo
Challenges and Opportunities
for M2M
Dr. LUO Zhong (Noah)
Deputy Director of Department of Industry Standards
Huawei Technology Co., LTD
Global Standards Collaboration (GSC)
GSC-15
An Emerging Market
Personal
iHome
Security
eHealth
0101010110100
M2M
01010
Smart City
Logistics
Automobile
Metering &
Smart Grid
• M2M (Machine to Machine) is defined as data communications between entities that do not necessarily
involve direct human interaction. Also known as MTC (Machine-Type Communication) within 3GPP,
USN (Ubiquitous Sensor Networks) in ITU-T, or as the "Internet of Things".
• Corresponding improvements to network implementations supporting these solutions are required.
• Applications utilizing M2M are considered as critical to Smart Grid capabilities and energy efficiency.
New Opportunities Identified
 M2M is returning to the forefront as an application
for service providers.
• Drivers are both market-based and regulatory
 M2M holds the promise of bringing benefit to both
telecom operators and vendors:
• The opportunity may be a "blue ocean" for service providers...
because low-bandwidth M2M services can be readily overlaid
onto the current user services network.
• Vendors are expecting to profit from selling both M2Mcapable devices, and from the network expansion brought
about by increased throughput.
Some Highlights on M2M Standards
SA1 M2M (TR 22.868)
SA3 USIM M2M (TR 33.812 )
SA1 NIMTC (TS 22.368), EMTC
SA2 NIMTC (TR23.888)
ETSI TC M2M
ITU-T USN, Vehicle Network, FG Smart Grid
ISO/IEC SGSN
IEEE 802.15.4-2003
IEEE 802.15.4-2006
IETF 6Lowpan
ZigBee V1.0
2001 2002 2003
2004
2005
IEEE 802.15.4-2009
RFC 4919 RFC4944
IETF Roll
ZigBee 2006 ZigBee 2007
2006
2007
ZigBee RF4CE
2008
2009
ZigBee IP stack
2010
CCSA TC10 - new Technical Committee set up
in early 2010, focusing on Ubiquitous Network
standardization.
M2M standards in CCSA (1)
 TC10 is the leading Technical
Committee in CCSA focusing on
Ubiquitous Network (UN)
standardization in China. It's
intended to provide high-quality
telecom standards to support the
applications of M2M in different
industries.
 This new TC was set up in
February 2010. More than 200
delegates from all kinds of
companies attended the first
TC10 meeting in Beijing,
including many potential industry
users of the UN specifications.
M2M standards in CCSA (2)
 4 Working Groups are set under TC10 and more than 20
technical specifications are expected to come out at the end of
year 2011:
•
•
•
•
WG1: Design, Architecture &Common Requirements
WG2: Requirements from Industry Applications
WG3: Network Improvement to Support the Applications
WG4: Extension between Telecom Networks and Sensor Networks
 Close collaboration between TC10 and existing TCs in CCSA a couple of joint research/standards projects between TC10
and the following TCs:
•
•
•
•
TC1: WG2
TC3: WG4
TC5: WG3, 4, 7, 8, 9
TC8: WG2
Current Issues
Prioritization Issues
2G, 3G or LTE?
• Most SDOs take small
steady steps towards new
specifications, rather than
rushing into new standards.
• Mobile Operators' interest in
deploying M2M applications
immediately on 3G or LTE
network is low.
• Operators have not yet
seen sizeable revenues
from M2M , and so are
cautious about investment
in network capacity and/or
capabilities to support it.
• Because of the competitive price
position of 2G devices, and low
aggregate M2M traffic, operators
appear willing to deploy M2M
initially on existing 2G
infrastructures.
Operators and Industry
• Industries without an embedded
communication infrastructure
tend to favor a Service Providercentric solution. Service
Providers provide them with
application platforms, custom or
standardized devices, and the
data transmission pipe.
• Infrastructure industries such as
electricity, petrol and railway,
already have dedicated
communication networks. It is
possible for them to build M2M
systems independent of the
Service Providers' networks.
Challenges to Telecom Industry
 Business model and value chain
• Some carriers already have M2M applications in their networks.
However, charging models still tend to be unsophisticated: "per
meter per month" or "total Bytes transmitted"… impeding revenue
opportunities.
• There are questions regarding the role of operators in the value
chain. Most service providers do not expect significant revenue in
the short-term.
• Problems remain in optimization of the network for M2M specific
service.
 Device Price vs. Economies of Scale
• There is a "chicken or egg" dilemma between the ability to drive
down device/chipset costs and the need to deploy in vast quantities.
Next Steps for M2M
 Service Providers need to reduce the overall cost brought by
introducing M2M business;
• Avoid network CAPEX only for the sake of M2M
• Drive cost reductions in M2M terminal devices
 Network resource consumption for M2M terminals is different
from existing voice/data devices, so optimization is needed to
reduce the overall cost of the operators;
• Minimize the impact on the existing conversational/interactive services,
currently the main profit source for service providers
• Charging models need to be refined, and potentially based on
pre-subscribed features/capabilities, rather than connection time (MoU)
or data volume (bytes);
 Competition with non-Telecom service and application providers
will increase, so quick movement into the market is essential.