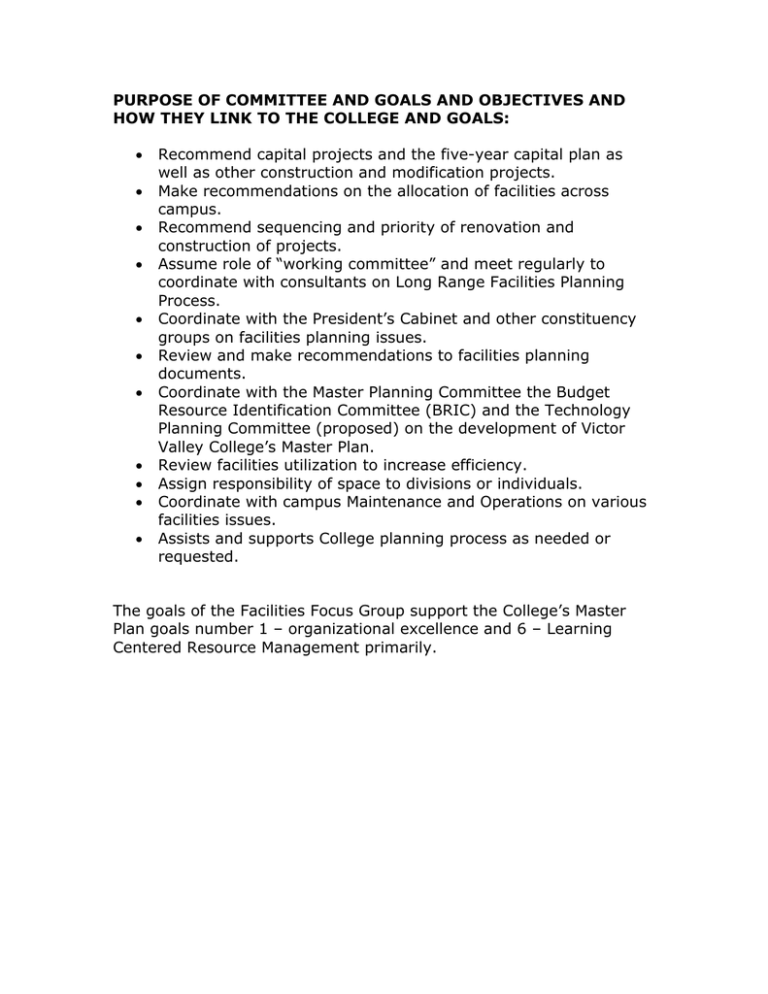 PURPOSE OF COMMITTEE AND GOALS AND OBJECTIVES AND
HOW THEY LINK TO THE COLLEGE AND GOALS:
•
•
•
•
•
•
•
•
•
•
•
Recommend capital projects and the five-year capital plan as
well as other construction and modification projects.
Make recommendations on the allocation of facilities across
campus.
Recommend sequencing and priority of renovation and
construction of projects.
Assume role of "working committee" and meet regularly to
coordinate with consultants on Long Range Facilities Planning
Process.
Coordinate with the President's Cabinet and other constituency
groups on facilities planning issues.
Review and make recommendations to facilities planning
documents.
Coordinate with the Master Planning Committee the Budget
Resource Identification Committee (BRIC) and the Technology
Planning Committee (proposed) on the development of Victor
Valley College's Master Plan.
Review facilities utilization to increase efficiency.
Assign responsibility of space to divisions or individuals.
Coordinate with campus Maintenance and Operations on various
facilities issues.
Assists and supports College planning process as needed or
requested.
The goals of the Facilities Focus Group support the College's Master
Plan goals number 1 – organizational excellence and 6 – Learning
Centered Resource Management primarily.