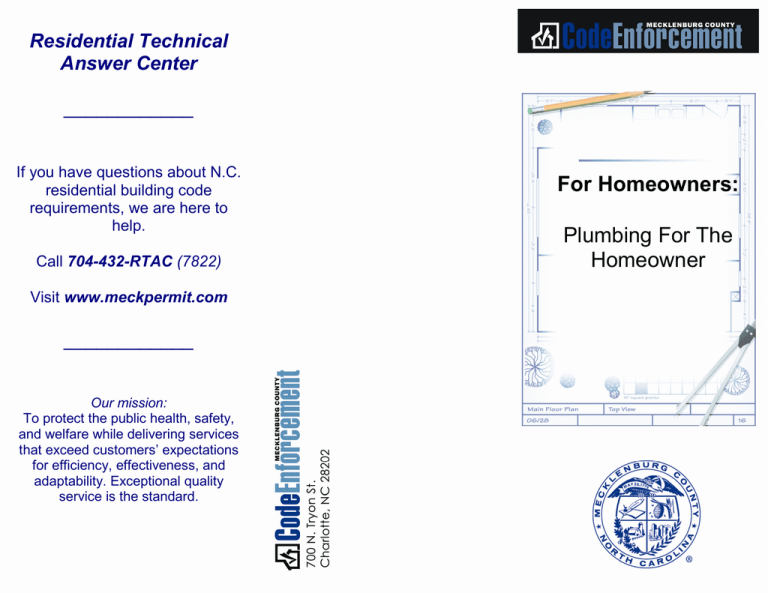 Residential Technical
Answer Center
____________
If you have questions about N.C.
residential building code
requirements, we are here to
help.
Call 704-432-RTAC (7822)
Visit www.meckpermit.com
____________
Our mission:
To protect the public health, safety,
and welfare while delivering services
that exceed customers' expectations
for efficiency, effectiveness, and
adaptability. Exceptional quality
service is the standard.
For Homeowners:
Plumbing For The
Homeowner
So you want to do it yourself?
How do I schedule an inspection?
Yes! You can do the work yourself if you
own and occupy a single family residence
and you have taken and passed the
Plumbing Homeowner's exam (70+ score).
You may call 704-336-8000 with a touch
tone phone and give your permit number
(digits only) to our 24-hour automated
system.
Permits and inspections are required on
most work, but there are some exceptions
(see below). To apply for a permit, contact
us at 704-432-RTAC (7822) or visit the
Code Enforcement Department at 700
North Tryon Street in Charlotte.
If you would like to speak to an
inspections request clerk, please call
704-336-3830 and provide your permit
number (example P0345234) and what
type of inspection (example sewer, water
service, etc.) you need and we will
handle the rest.
Building sewer replacement:
· Minimum size sewer line is 4 inches.
· Minimum depth of line installation is 3inches.
· Cleanouts are required within 10 feet
of the house and at the tap. (CMUD)
· Cleanouts are also required to be
installed every 100 feet.
· The minimum fall (grade) is 1/8 inch
per foot.
· A backwater valve is required on
fixtures below the elevation of first
upstream manhole.
· Sewer line must remain uncovered
until installation is inspected.
Know the Code
Sometimes, "do-it-yourself" books are
not as helpful as they seem. They give
the impression that many projects are a
breeze and the information is not always
consistent with North Carolina Codes.
Work NOT requiring a permit:
· Repair and/or replace faucets.
· Repair water supply pipes inside
residence. (No change in size)
· Repair and/or replace P-trap or disposal.
· Repair and/or replace dishwasher.
· Remove clean out plugs/caps and clean
clogged lines.
· Replace heating elements, thermostats,
T&P valves, gas control valves or other
miscellaneous parts on domestic water
heaters. (No change in wattage)
· Repair and/or replace damaged lines up
to five feet in a residence. (No change in
size)
To make certain that your project is "up
to code" and will pass inspection, you
must follow the present N.C. State
Building Code, 2006 IPC with North
Carolina amendments.
Water service replacement:
· Minimum size water service is 3/4-inch.
· Minimum installation depth is 12 inches.
· Main shut-off valve must be installed
according to present code, see 606.1&2.
· Existing wells must be disconnected
when connecting to city water.
· Water service must remain uncovered
until inspected.
· Piping through foundation must be
sleeved.
Water heater replacement:
· Minimum water supply is ¾ inch.
· Equipment water shut off is required.
· Extend pop-off (T&P) drain to within 6
inches of the floor.
· Adhere to all clearances marked on
water heater and all factory installation
instructions.
· Water lines exposed to freezing
temperatures must be protected with
insulation rated at R6.5 minimum.
· Gas fired equipment may require
combustion air and testing of the gas
lines.
· Water heater safety pans and drains
are required when a unit is installed in a
suspended
ceiling,
attic,
above
occupied spaces or crawl space
foundations. See 504.7.
· In a residential garage, all water
heaters must be on a stand 18" high.
They must be protected from vehicular
traffic.