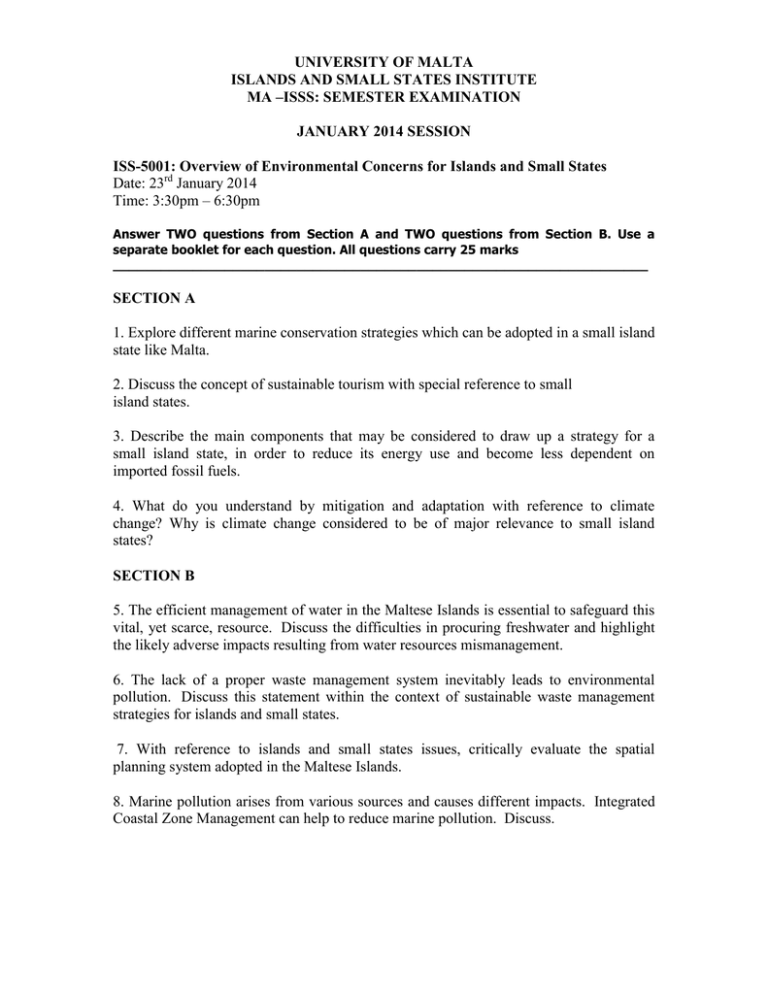 UNIVERSITY OF MALTA
ISLANDS AND SMALL STATES INSTITUTE
MA –ISSS: SEMESTER EXAMINATION
JANUARY 2014 SESSION
ISS-5001: Overview of Environmental Concerns for Islands and Small States
Date: 23rd January 2014
Time: 3:30pm – 6:30pm
Answer TWO questions from Section A and TWO questions from Section B. Use a
separate booklet for each question. All questions carry 25 marks
___________________________________________________________________
SECTION A
1. Explore different marine conservation strategies which can be adopted in a small island
state like Malta.
2. Discuss the concept of sustainable tourism with special reference to small
island states.
3. Describe the main components that may be considered to draw up a strategy for a
small island state, in order to reduce its energy use and become less dependent on
imported fossil fuels.
4. What do you understand by mitigation and adaptation with reference to climate
change? Why is climate change considered to be of major relevance to small island
states?
SECTION B
5. The efficient management of water in the Maltese Islands is essential to safeguard this
vital, yet scarce, resource. Discuss the difficulties in procuring freshwater and highlight
the likely adverse impacts resulting from water resources mismanagement.
6. The lack of a proper waste management system inevitably leads to environmental
pollution. Discuss this statement within the context of sustainable waste management
strategies for islands and small states.
7. With reference to islands and small states issues, critically evaluate the spatial
planning system adopted in the Maltese Islands.
8. Marine pollution arises from various sources and causes different impacts. Integrated
Coastal Zone Management can help to reduce marine pollution. Discuss.