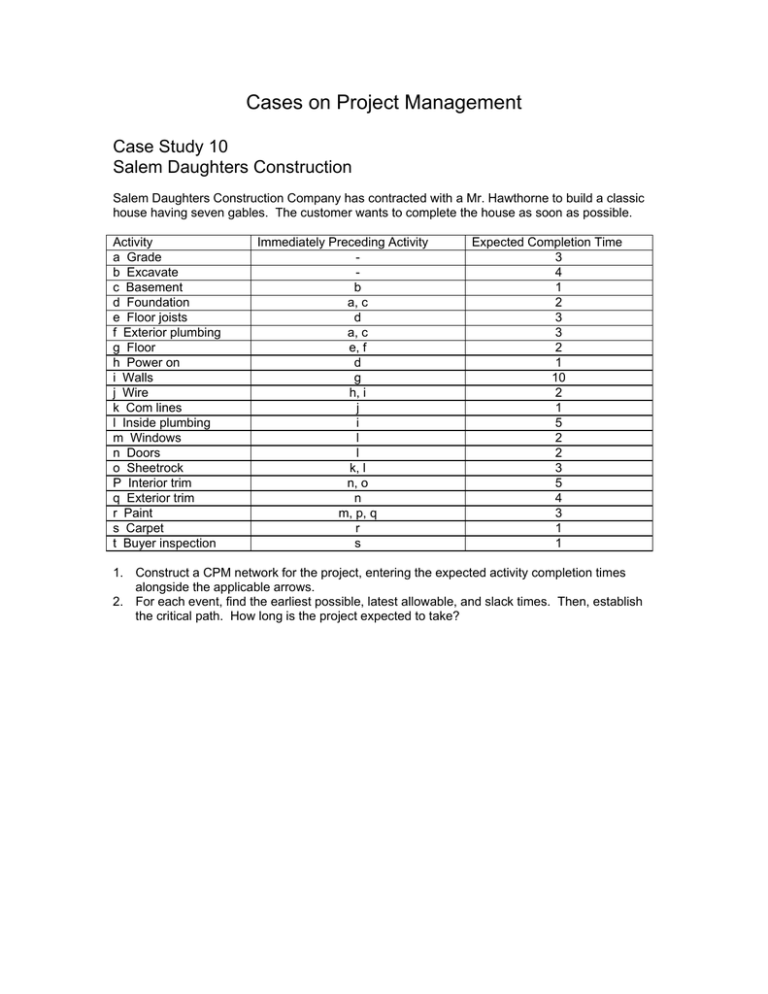 Cases on Project Management
Case Study 10
Salem Daughters Construction
Salem Daughters Construction Company has contracted with a Mr. Hawthorne to build a classic
house having seven gables. The customer wants to complete the house as soon as possible.
Activity
a Grade
b Excavate
c Basement
d Foundation
e Floor joists
f Exterior plumbing
g Floor
h Power on
i Walls
j Wire
k Com lines
l Inside plumbing
m Windows
n Doors
o Sheetrock
P Interior trim
q Exterior trim
r Paint
s Carpet
t Buyer inspection
Immediately Preceding Activity
b
a, c
d
a, c
e, f
d
g
h, i
j
i
l
l
k, l
n, o
n
m, p, q
r
s
Expected Completion Time
3
4
1
2
3
3
2
1
10
2
1
5
2
2
3
5
4
3
1
1
1. Construct a CPM network for the project, entering the expected activity completion times
alongside the applicable arrows.
2. For each event, find the earliest possible, latest allowable, and slack times. Then, establish
the critical path. How long is the project expected to take?