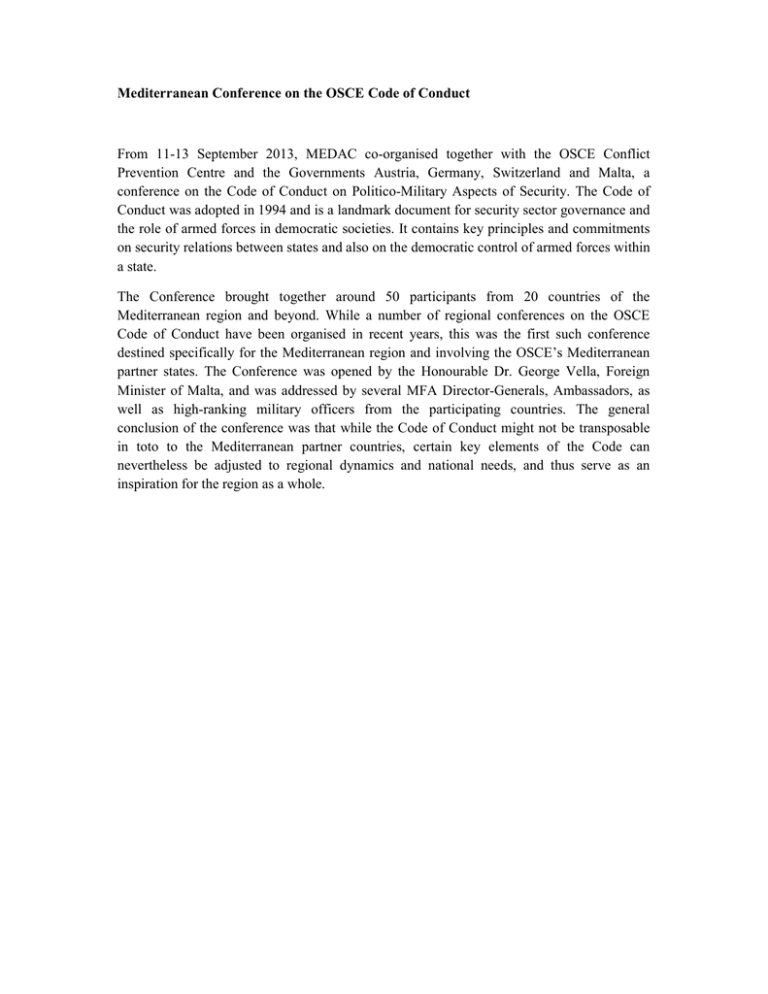 Mediterranean Conference on the OSCE Code of Conduct
From 11-13 September 2013, MEDAC co-organised together with the OSCE Conflict
Prevention Centre and the Governments Austria, Germany, Switzerland and Malta, a
conference on the Code of Conduct on Politico-Military Aspects of Security. The Code of
Conduct was adopted in 1994 and is a landmark document for security sector governance and
the role of armed forces in democratic societies. It contains key principles and commitments
on security relations between states and also on the democratic control of armed forces within
a state.
The Conference brought together around 50 participants from 20 countries of the
Mediterranean region and beyond. While a number of regional conferences on the OSCE
Code of Conduct have been organised in recent years, this was the first such conference
destined specifically for the Mediterranean region and involving the OSCE's Mediterranean
partner states. The Conference was opened by the Honourable Dr. George Vella, Foreign
Minister of Malta, and was addressed by several MFA Director-Generals, Ambassadors, as
well as high-ranking military officers from the participating countries. The general
conclusion of the conference was that while the Code of Conduct might not be transposable
in toto to the Mediterranean partner countries, certain key elements of the Code can
nevertheless be adjusted to regional dynamics and national needs, and thus serve as an
inspiration for the region as a whole.