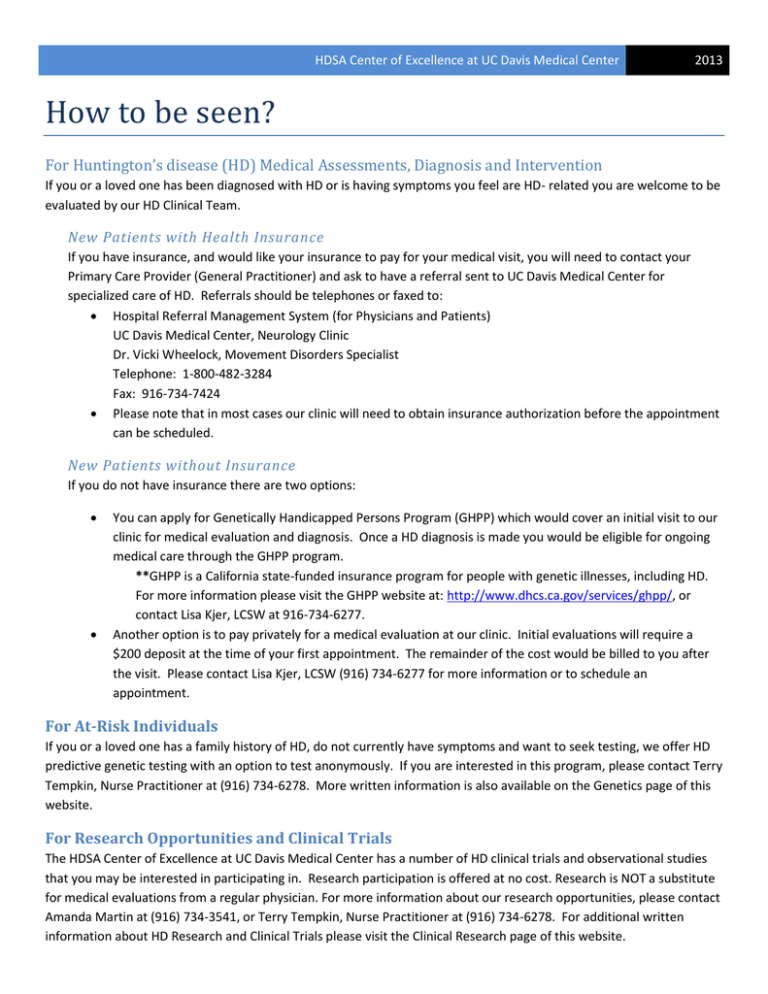 HDSA Center of Excellence at UC Davis Medical Center
2013
How to be seen?
For Huntington's disease (HD) Medical Assessments, Diagnosis and Intervention
If you or a loved one has been diagnosed with HD or is having symptoms you feel are HD- related you are welcome to be
evaluated by our HD Clinical Team.
New Patients with Health Insurance
If you have insurance, and would like your insurance to pay for your medical visit, you will need to contact your
Primary Care Provider (General Practitioner) and ask to have a referral sent to UC Davis Medical Center for
specialized care of HD. Referrals should be telephones or faxed to:
 Hospital Referral Management System (for Physicians and Patients)
UC Davis Medical Center, Neurology Clinic
Dr. Vicki Wheelock, Movement Disorders Specialist
Telephone: 1-800-482-3284
Fax: 916-734-7424
 Please note that in most cases our clinic will need to obtain insurance authorization before the appointment
can be scheduled.
New Patients without Insurance
If you do not have insurance there are two options:


You can apply for Genetically Handicapped Persons Program (GHPP) which would cover an initial visit to our
clinic for medical evaluation and diagnosis. Once a HD diagnosis is made you would be eligible for ongoing
medical care through the GHPP program.
**GHPP is a California state-funded insurance program for people with genetic illnesses, including HD.
For more information please visit the GHPP website at: http://www.dhcs.ca.gov/services/ghpp/, or
contact Lisa Kjer, LCSW at 916-734-6277.
Another option is to pay privately for a medical evaluation at our clinic. Initial evaluations will require a
$200 deposit at the time of your first appointment. The remainder of the cost would be billed to you after
the visit. Please contact Lisa Kjer, LCSW (916) 734-6277 for more information or to schedule an
appointment.
For At-Risk Individuals
If you or a loved one has a family history of HD, do not currently have symptoms and want to seek testing, we offer HD
predictive genetic testing with an option to test anonymously. If you are interested in this program, please contact Terry
Tempkin, Nurse Practitioner at (916) 734-6278. More written information is also available on the Genetics page of this
website.
For Research Opportunities and Clinical Trials
The HDSA Center of Excellence at UC Davis Medical Center has a number of HD clinical trials and observational studies
that you may be interested in participating in. Research participation is offered at no cost. Research is NOT a substitute
for medical evaluations from a regular physician. For more information about our research opportunities, please contact
Amanda Martin at (916) 734-3541, or Terry Tempkin, Nurse Practitioner at (916) 734-6278. For additional written
information about HD Research and Clinical Trials please visit the Clinical Research page of this website.