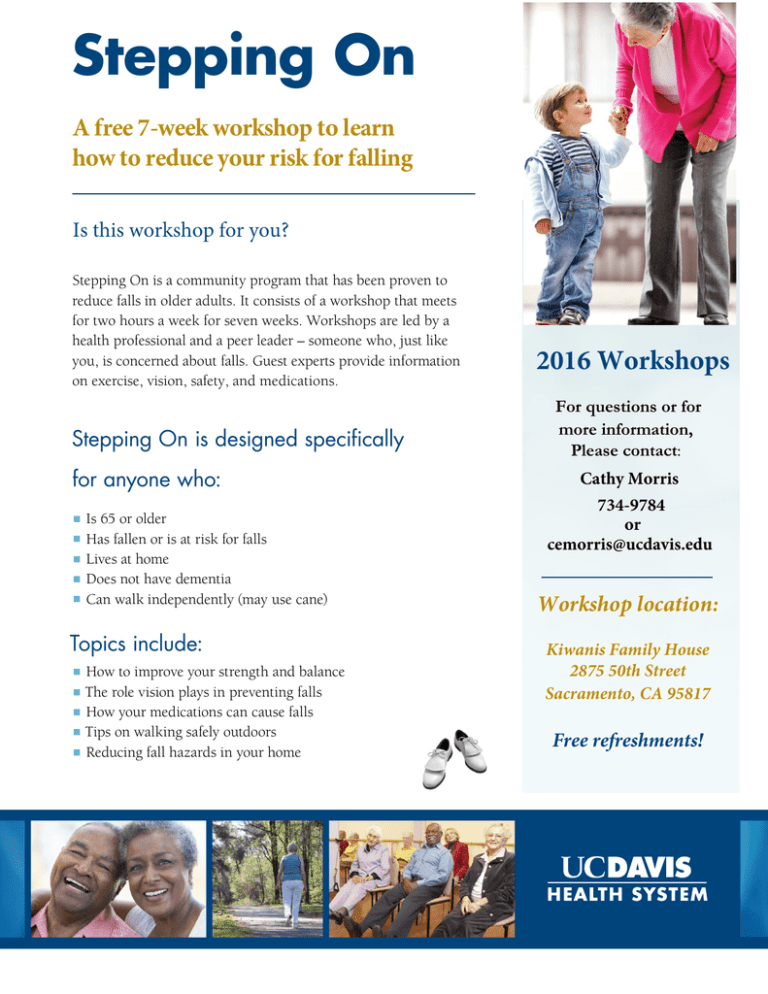 Stepping On
A free 7-week workshop to learn
how to reduce your risk for falling
Is this workshop for you?
Stepping On is a community program that has been proven to
reduce falls in older adults. It consists of a workshop that meets
for two hours a week for seven weeks. Workshops are led by a
health professional and a peer leader – someone who, just like
you, is concerned about falls. Guest experts provide information
on exercise, vision, safety, and medications.
Stepping On is designed specifically
for anyone who:
Is 65 or older
■■ Has fallen or is at risk for falls
■■ Lives at home
■■ Does not have dementia
■■ Can walk independently (may use cane)
■■
Topics include:
How to improve your strength and balance
■■ The role vision plays in preventing falls
■■ How your medications can cause falls
■■ Tips on walking safely outdoors
■■ Reducing fall hazards in your home
■■
2016 Workshops
For questions or for
more information,
Please contact:
Cathy Morris
734-9784
or
cemorris@ucdavis.edu
Workshop location:
Kiwanis Family House
2875 50th Street
Sacramento, CA 95817
Free refreshments!