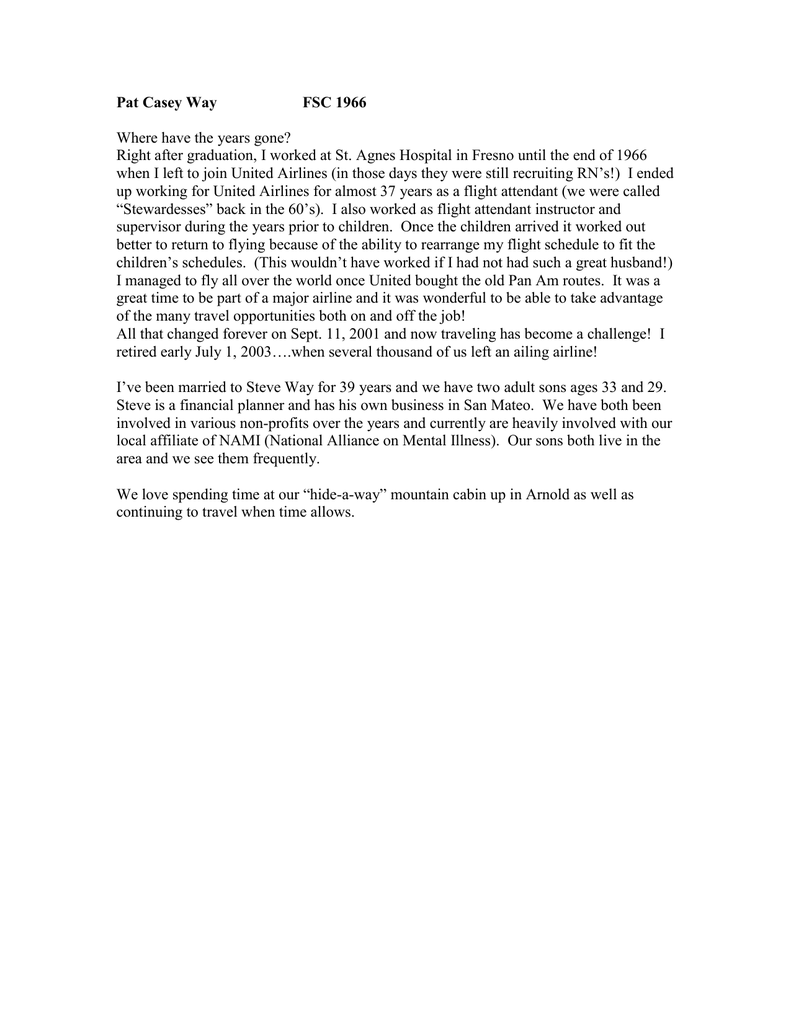 Pat Casey Way
FSC 1966
Where have the years gone?
Right after graduation, I worked at St. Agnes Hospital in Fresno until the end of 1966
when I left to join United Airlines (in those days they were still recruiting RN's!) I ended
up working for United Airlines for almost 37 years as a flight attendant (we were called
"Stewardesses" back in the 60's). I also worked as flight attendant instructor and
supervisor during the years prior to children. Once the children arrived it worked out
better to return to flying because of the ability to rearrange my flight schedule to fit the
children's schedules. (This wouldn't have worked if I had not had such a great husband!)
I managed to fly all over the world once United bought the old Pan Am routes. It was a
great time to be part of a major airline and it was wonderful to be able to take advantage
of the many travel opportunities both on and off the job!
All that changed forever on Sept. 11, 2001 and now traveling has become a challenge! I
retired early July 1, 2003….when several thousand of us left an ailing airline!
I've been married to Steve Way for 39 years and we have two adult sons ages 33 and 29.
Steve is a financial planner and has his own business in San Mateo. We have both been
involved in various non-profits over the years and currently are heavily involved with our
local affiliate of NAMI (National Alliance on Mental Illness). Our sons both live in the
area and we see them frequently.
We love spending time at our "hide-a-way" mountain cabin up in Arnold as well as
continuing to travel when time allows.