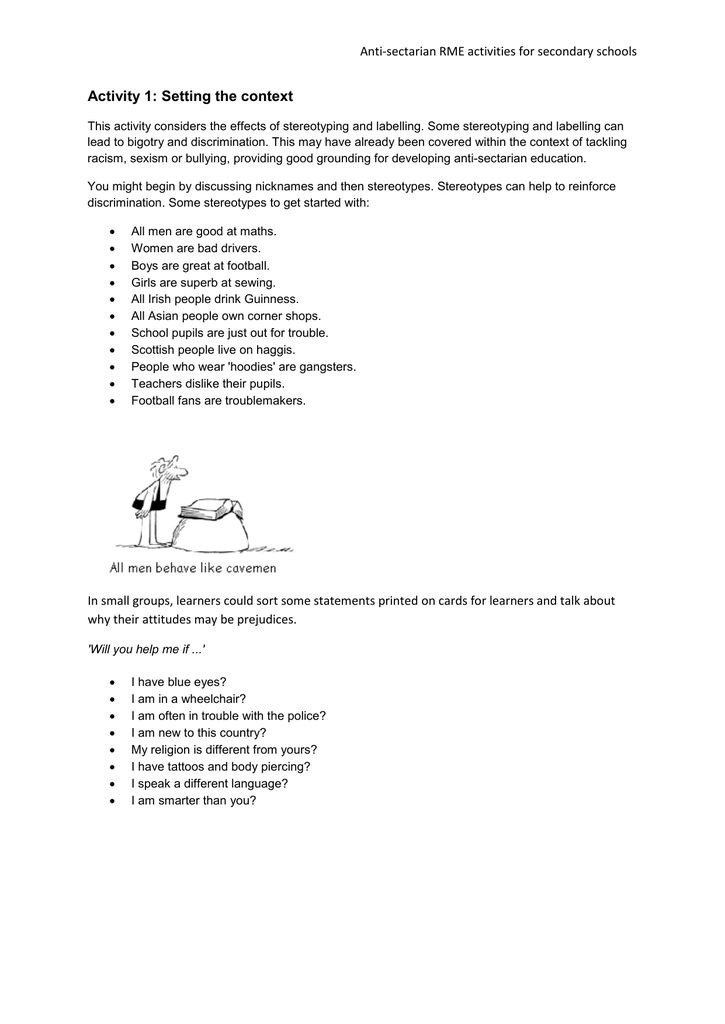 Anti-sectarian RME activities for secondary schools
Activity 1: Setting the context
This activity considers the effects of stereotyping and labelling. Some stereotyping and labelling can
lead to bigotry and discrimination. This may have already been covered within the context of tackling
racism, sexism or bullying, providing good grounding for developing anti-sectarian education.
You might begin by discussing nicknames and then stereotypes. Stereotypes can help to reinforce
discrimination. Some stereotypes to get started with:
•
•
•
•
•
•
•
•
•
•
•
All men are good at maths.
Women are bad drivers.
Boys are great at football.
Girls are superb at sewing.
All Irish people drink Guinness.
All Asian people own corner shops.
School pupils are just out for trouble.
Scottish people live on haggis.
People who wear 'hoodies' are gangsters.
Teachers dislike their pupils.
Football fans are troublemakers.
In small groups, learners could sort some statements printed on cards for learners and talk about
why their attitudes may be prejudices.
'Will you help me if ...'
•
•
•
•
•
•
•
•
I have blue eyes?
I am in a wheelchair?
I am often in trouble with the police?
I am new to this country?
My religion is different from yours?
I have tattoos and body piercing?
I speak a different language?
I am smarter than you?