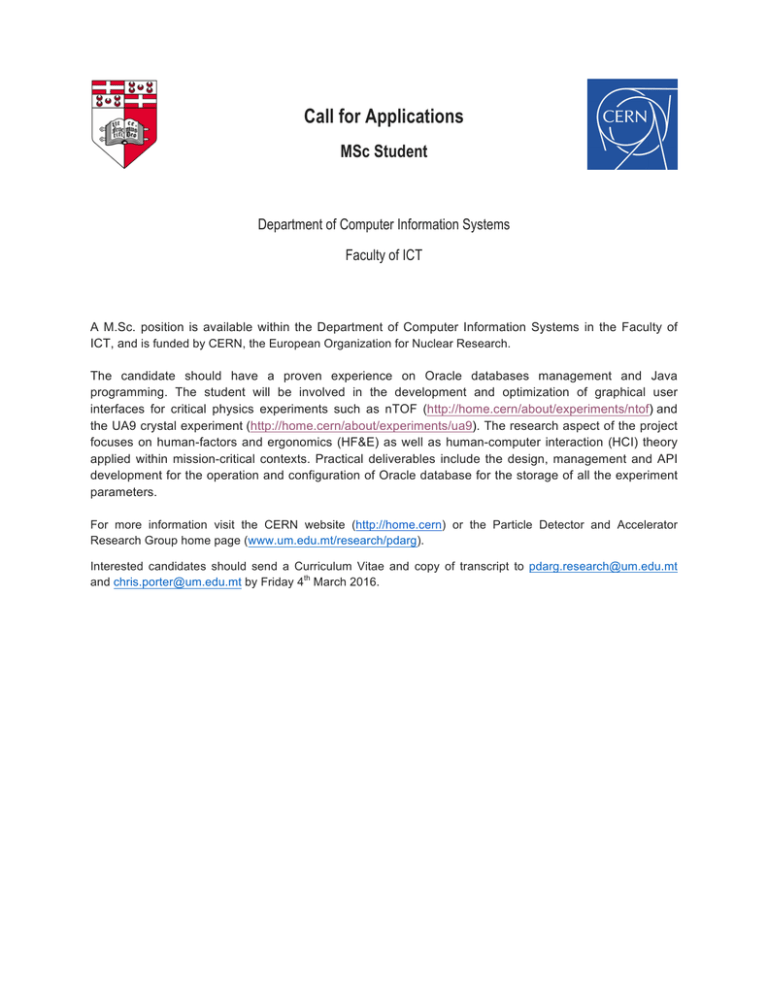 Call for Applications
MSc Student
Department of Computer Information Systems
Faculty of ICT
A M.Sc. position is available within the Department of Computer Information Systems in the Faculty of
ICT, and is funded by CERN, the European Organization for Nuclear Research.
The candidate should have a proven experience on Oracle databases management and Java
programming. The student will be involved in the development and optimization of graphical user
interfaces for critical physics experiments such as nTOF (http://home.cern/about/experiments/ntof) and
the UA9 crystal experiment (http://home.cern/about/experiments/ua9). The research aspect of the project
focuses on human-factors and ergonomics (HF&E) as well as human-computer interaction (HCI) theory
applied within mission-critical contexts. Practical deliverables include the design, management and API
development for the operation and configuration of Oracle database for the storage of all the experiment
parameters.
For more information visit the CERN website (http://home.cern) or the Particle Detector and Accelerator
Research Group home page (www.um.edu.mt/research/pdarg).
Interested candidates should send a Curriculum Vitae and copy of transcript to pdarg.research@um.edu.mt
and chris.porter@um.edu.mt by Friday 4th March 2016.