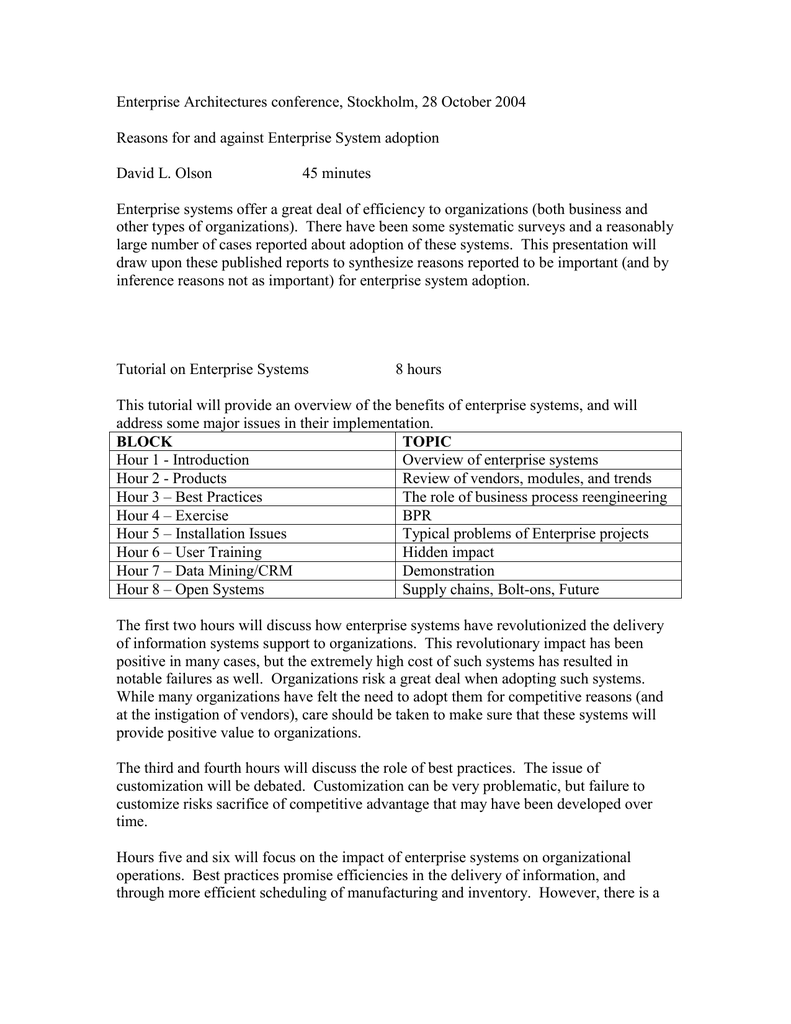 Enterprise Architectures conference, Stockholm, 28 October 2004
Reasons for and against Enterprise System adoption
David L. Olson
45 minutes
Enterprise systems offer a great deal of efficiency to organizations (both business and
other types of organizations). There have been some systematic surveys and a reasonably
large number of cases reported about adoption of these systems. This presentation will
draw upon these published reports to synthesize reasons reported to be important (and by
inference reasons not as important) for enterprise system adoption.
Tutorial on Enterprise Systems
8 hours
This tutorial will provide an overview of the benefits of enterprise systems, and will
address some major issues in their implementation.
BLOCK
TOPIC
Hour 1 - Introduction
Overview of enterprise systems
Hour 2 - Products
Review of vendors, modules, and trends
Hour 3 – Best Practices
The role of business process reengineering
Hour 4 – Exercise
BPR
Hour 5 – Installation Issues
Typical problems of Enterprise projects
Hour 6 – User Training
Hidden impact
Hour 7 – Data Mining/CRM
Demonstration
Hour 8 – Open Systems
Supply chains, Bolt-ons, Future
The first two hours will discuss how enterprise systems have revolutionized the delivery
of information systems support to organizations. This revolutionary impact has been
positive in many cases, but the extremely high cost of such systems has resulted in
notable failures as well. Organizations risk a great deal when adopting such systems.
While many organizations have felt the need to adopt them for competitive reasons (and
at the instigation of vendors), care should be taken to make sure that these systems will
provide positive value to organizations.
The third and fourth hours will discuss the role of best practices. The issue of
customization will be debated. Customization can be very problematic, but failure to
customize risks sacrifice of competitive advantage that may have been developed over
time.
Hours five and six will focus on the impact of enterprise systems on organizational
operations. Best practices promise efficiencies in the delivery of information, and
through more efficient scheduling of manufacturing and inventory. However, there is a
massive impact on the way in which business is conducted. This can lead to high levels
of turnover, which involves hidden costs to the organization.
Hours seven and eight will discuss newer developments in enterprise systems, and the
impact of open systems.
Discussions
Hour 2
There is a major tradeoff between adopting vendor software as is and customizing to
meet organizational needs.
What are the risk issues involved in customizing (modifying) vendor software?
What do organizations sacrifice when they adopt vendor software as is?
Dell's system described still included ERP support for human resources.
Discuss the positive and negative aspects of Dell's decision.
The Siemens example included coordination of an installation team where the
organization, the vendor, and consultants were represented. Is this a good strategy?
What risks need to be controlled?
Hour 3
Business process reengineering has been cited as a needed step in ERP system benefit to
organizations.
Describe successes you have had with BPR.
Describe problems you have encountered in implementing BPR.
Exercise
Hour 4
Divide into groups of 5 people (plus)
Spend 20 minutes describing a process (or processes) used to select information systems
projects (which can include ERP systems)
After 20 minutes, regroup everyone, and share process descriptions.
Synthesize alternatives, and discuss pros and cons of each.
Discussion
Hour 5
The best of breed approach has been used, but not by many organizations. Why not?
The systems failure method amounts to researching attempts of other organizations to do
things you plan to do. Vendors obviously emphasize success stories, while the literature
is biased toward negative reports. Discuss the value (and risks) associated with
discussing proposed projects with peers (such as over golf).
Discuss the positive and negative features of using application service providers. Why
does this alternative defy cost-benefit analysis?
Discussion
Hour 6
User training is a key element of ERP implementations, usually overlooked by
implementing organizations.
The degree of training required can vary depending upon whether vendor systems are
adopted as is, or if vendor systems are customized. Discuss these differences.
Why is training usually a surprising hidden cost to organizations?
Discussion
Hour 7
Discuss data mining opportunities available from ERP systems in various organizations.