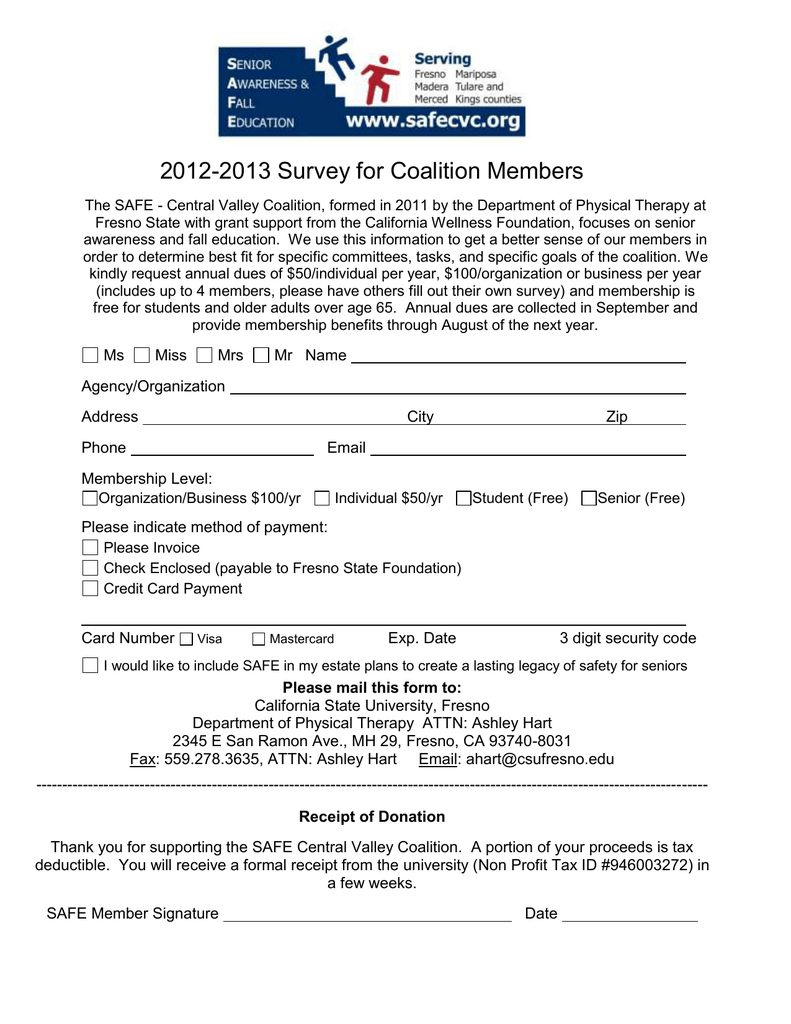 2012-2013 Survey for Coalition Members
The SAFE - Central Valley Coalition, formed in 2011 by the Department of Physical Therapy at
Fresno State with grant support from the California Wellness Foundation, focuses on senior
awareness and fall education. We use this information to get a better sense of our members in
order to determine best fit for specific committees, tasks, and specific goals of the coalition. We
kindly request annual dues of $50/individual per year, $100/organization or business per year
(includes up to 4 members, please have others fill out their own survey) and membership is
free for students and older adults over age 65. Annual dues are collected in September and
provide membership benefits through August of the next year.
Ms
Miss
Mrs
Mr Name
Agency/Organization
Address
City
Phone
Zip
Email
Membership Level:
Organization/Business $100/yr
Individual $50/yr
Student (Free)
Senior (Free)
Please indicate method of payment:
Please Invoice
Check Enclosed (payable to Fresno State Foundation)
Credit Card Payment
Card Number
Visa
Mastercard
Exp. Date
3 digit security code
I would like to include SAFE in my estate plans to create a lasting legacy of safety for seniors
Please mail this form to:
California State University, Fresno
Department of Physical Therapy ATTN: Ashley Hart
2345 E San Ramon Ave., MH 29, Fresno, CA 93740-8031
Fax: 559.278.3635, ATTN: Ashley Hart Email: [email protected]
---------------------------------------------------------------------------------------------------------------------------------Receipt of Donation
Thank you for supporting the SAFE Central Valley Coalition. A portion of your proceeds is tax
deductible. You will receive a formal receipt from the university (Non Profit Tax ID #946003272) in
a few weeks.
SAFE Member Signature
Date
Section A: Your Knowledge & Experience
1) How would you rank your own level of knowledge on the general subject of falls
prevention? (Please use the scale below and circle the best answer)
Novice
0
Normal
1
2
Expert
3
4
5
7
2) Do you have a degree, certificate or license in nursing, physical therapy, gerontology or
some other field which gives you special knowledge on the general subject of falls
prevention?
Yes
No
If yes, what is it?
3) Are you familiar with the California Blueprint for Fall Prevention? (Check one)
Not familiar
Somewhat familiar
Very familiar
4) What do you consider to be the major risk factors for falls?
5) For each type of falls prevention activity listed in the chart below, please rank your own
level of experience in that area. (Check the best answer in each row)
Beginner
Average
Veteran
a) Writing Articles/Stories/Brochures
0
1
2
3
4
5
6
b) Doing Community Presentations
0
1
2
3
4
5
6
c) Doing Workshops for seniors
0
1
2
3
4
5
6
d) Doing Training Sessions for professionals
who work with seniors
0
1
2
3
4
5
6
e) Doing Exercise Programs
0
1
2
3
4
5
6
f) Doing Minor Home Modifications
0
1
2
3
4
5
6
g) Doing Medication Management
0
1
2
3
4
5
6
h) Doing Nutrition Consultations
0
1
2
3
4
5
6
i) Giving Medical Treatment/Therapy
0
1
2
3
4
5
6
j) Doing Risk Assessments for Falls
0
1
2
3
4
5
6
k) Working with Coalitions/Networks
0
1
2
3
4
5
6
l) Developing Programs/Strategies
0
1
2
3
4
5
6
m) Working on Policy & Legislation
0
1
2
3
4
5
6
6) How would you rank your own familiarity with the overall network of programs and
services for senior citizens and dependent adults? (Check the best answer)
Novice
Normal
Expert
0
1
2
3
4
5
7
7) How often do you collaborate with other organizations for the purpose of Falls
Prevention activities? (Check one)
Never
Rarely
Sometimes
Often
Always
Section B: Your Needs and Interests
8) What are you most interested in contributing to the Coalition?
9) What do you most hope to gain from the Coalition?
10) Based on your area of interest and professional expertise please rank (#1 as first
priority) your preference for possible coalition committee membership.
Education

Raise fall prevention awareness among seniors, caregivers, the community,
and policymakers
Professional Development of Local Providers

Raise fall prevention awareness and provide high-quality continuing education
opportunities for health and social-service providers of services for older adults
Marketing and Event Planning

Assist marketing chair by expanding community awareness and increase
coalition membership
Fundraising

Assist fundraising chair with year-round fundraising activities
Thank you for completing our Member Survey. We look forward to working
with you to reduce falls for older adults in the Central Valley.