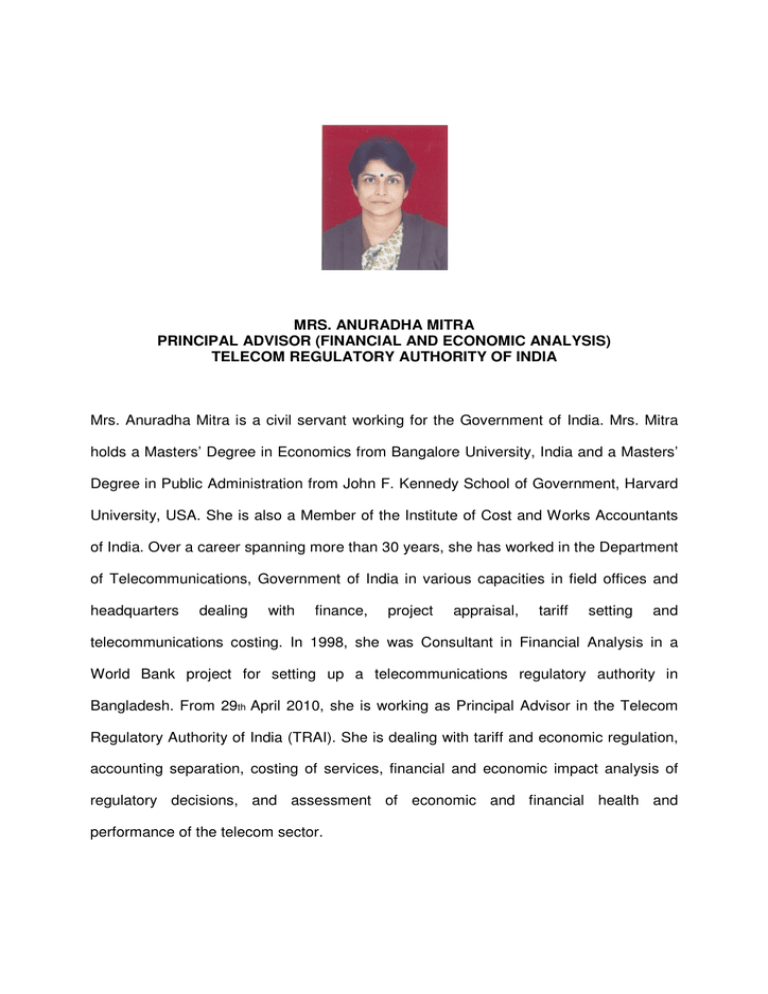 MRS. ANURADHA MITRA
PRINCIPAL ADVISOR (FINANCIAL AND ECONOMIC ANALYSIS)
TELECOM REGULATORY AUTHORITY OF INDIA
Mrs. Anuradha Mitra is a civil servant working for the Government of India. Mrs. Mitra
holds a Masters' Degree in Economics from Bangalore University, India and a Masters'
Degree in Public Administration from John F. Kennedy School of Government, Harvard
University, USA. She is also a Member of the Institute of Cost and Works Accountants
of India. Over a career spanning more than 30 years, she has worked in the Department
of Telecommunications, Government of India in various capacities in field offices and
headquarters
dealing
with
finance,
project
appraisal,
tariff
setting
and
telecommunications costing. In 1998, she was Consultant in Financial Analysis in a
World Bank project for setting up a telecommunications regulatory authority in
Bangladesh. From 29th April 2010, she is working as Principal Advisor in the Telecom
Regulatory Authority of India (TRAI). She is dealing with tariff and economic regulation,
accounting separation, costing of services, financial and economic impact analysis of
regulatory decisions, and assessment of economic and financial health and
performance of the telecom sector.