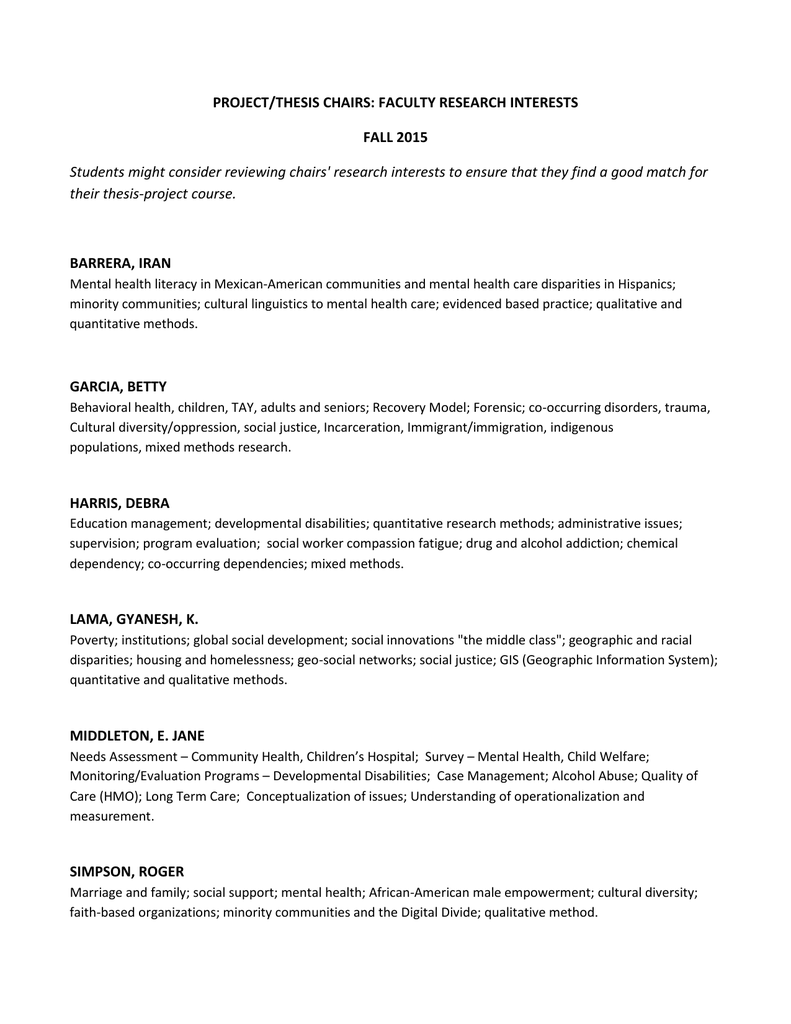 PROJECT/THESIS CHAIRS: FACULTY RESEARCH INTERESTS
FALL 2015
Students might consider reviewing chairs' research interests to ensure that they find a good match for
their thesis-project course.
BARRERA, IRAN
Mental health literacy in Mexican-American communities and mental health care disparities in Hispanics;
minority communities; cultural linguistics to mental health care; evidenced based practice; qualitative and
quantitative methods.
GARCIA, BETTY
Behavioral health, children, TAY, adults and seniors; Recovery Model; Forensic; co-occurring disorders, trauma,
Cultural diversity/oppression, social justice, Incarceration, Immigrant/immigration, indigenous
populations, mixed methods research.
HARRIS, DEBRA
Education management; developmental disabilities; quantitative research methods; administrative issues;
supervision; program evaluation; social worker compassion fatigue; drug and alcohol addiction; chemical
dependency; co-occurring dependencies; mixed methods.
LAMA, GYANESH, K.
Poverty; institutions; global social development; social innovations "the middle class"; geographic and racial
disparities; housing and homelessness; geo-social networks; social justice; GIS (Geographic Information System);
quantitative and qualitative methods.
MIDDLETON, E. JANE
Needs Assessment – Community Health, Children's Hospital; Survey – Mental Health, Child Welfare;
Monitoring/Evaluation Programs – Developmental Disabilities; Case Management; Alcohol Abuse; Quality of
Care (HMO); Long Term Care; Conceptualization of issues; Understanding of operationalization and
measurement.
SIMPSON, ROGER
Marriage and family; social support; mental health; African-American male empowerment; cultural diversity;
faith-based organizations; minority communities and the Digital Divide; qualitative method.