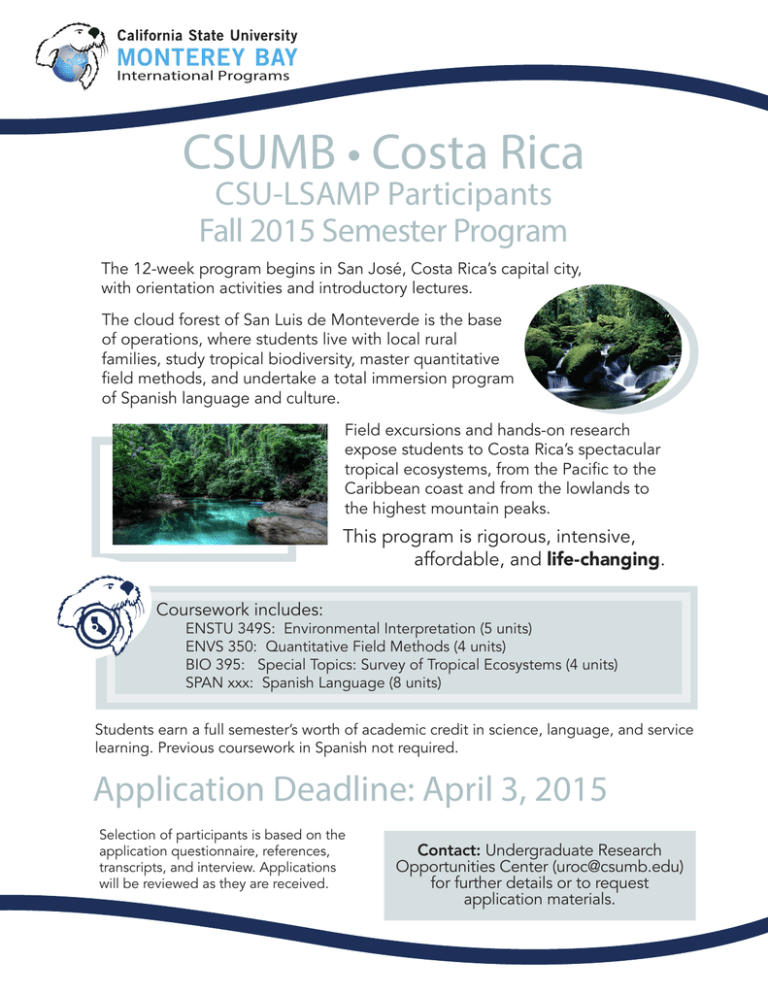 International Programs
CSUMB • Costa Rica
CSU-LSAMP Participants
Fall 2015 Semester Program
The 12-week program begins in San José, Costa Rica's capital city,
with orientation activities and introductory lectures.
The cloud forest of San Luis de Monteverde is the base
of operations, where students live with local rural
families, study tropical biodiversity, master quantitative
field methods, and undertake a total immersion program
of Spanish language and culture.
Field excursions and hands-on research
expose students to Costa Rica's spectacular
tropical ecosystems, from the Pacific to the
Caribbean coast and from the lowlands to
the highest mountain peaks.
This program is rigorous, intensive,
affordable, and life-changing.
Coursework includes:
ENSTU 349S: Environmental Interpretation (5 units)
ENVS 350: Quantitative Field Methods (4 units)
BIO 395: Special Topics: Survey of Tropical Ecosystems (4 units)
SPAN xxx: Spanish Language (8 units)
Students earn a full semester's worth of academic credit in science, language, and service
learning. Previous coursework in Spanish not required.
Application Deadline: April 3, 2015
Selection of participants is based on the
application questionnaire, references,
transcripts, and interview. Applications
will be reviewed as they are received.
Contact: Undergraduate Research
Opportunities Center (uroc@csumb.edu)
for further details or to request
application materials.