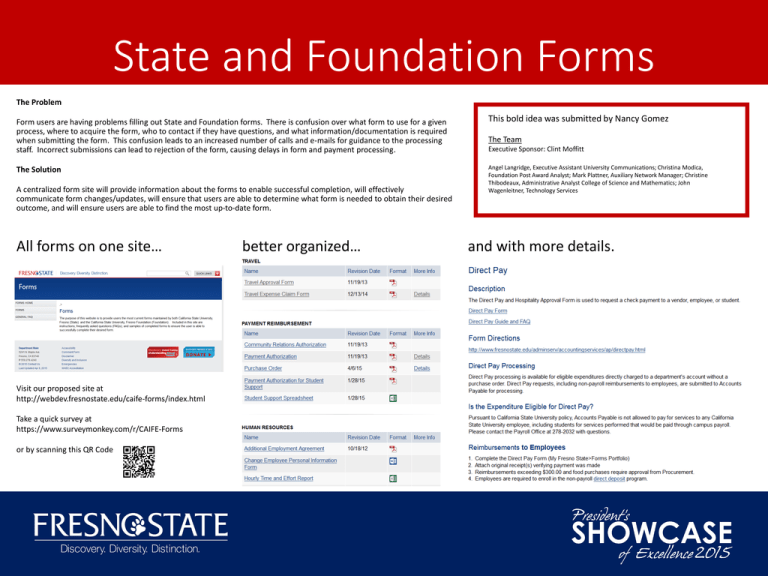 State and Foundation Forms
The Problem
Form users are having problems filling out State and Foundation forms. There is confusion over what form to use for a given
process, where to acquire the form, who to contact if they have questions, and what information/documentation is required
when submitting the form. This confusion leads to an increased number of calls and e-mails for guidance to the processing
staff. Incorrect submissions can lead to rejection of the form, causing delays in form and payment processing.
The Solution
A centralized form site will provide information about the forms to enable successful completion, will effectively
communicate form changes/updates, will ensure that users are able to determine what form is needed to obtain their desired
outcome, and will ensure users are able to find the most up-to-date form.
All forms on one site…
Visit our proposed site at
http://webdev.fresnostate.edu/caife-forms/index.html
Take a quick survey at
https://www.surveymonkey.com/r/CAIFE-Forms
or by scanning this QR Code
better organized…
This bold idea was submitted by Nancy Gomez
The Team
Executive Sponsor: Clint Moffitt
Angel Langridge, Executive Assistant University Communications; Christina Modica,
Foundation Post Award Analyst; Mark Plattner, Auxiliary Network Manager; Christine
Thibodeaux, Administrative Analyst College of Science and Mathematics; John
Wagenleitner, Technology Services
and with more details.