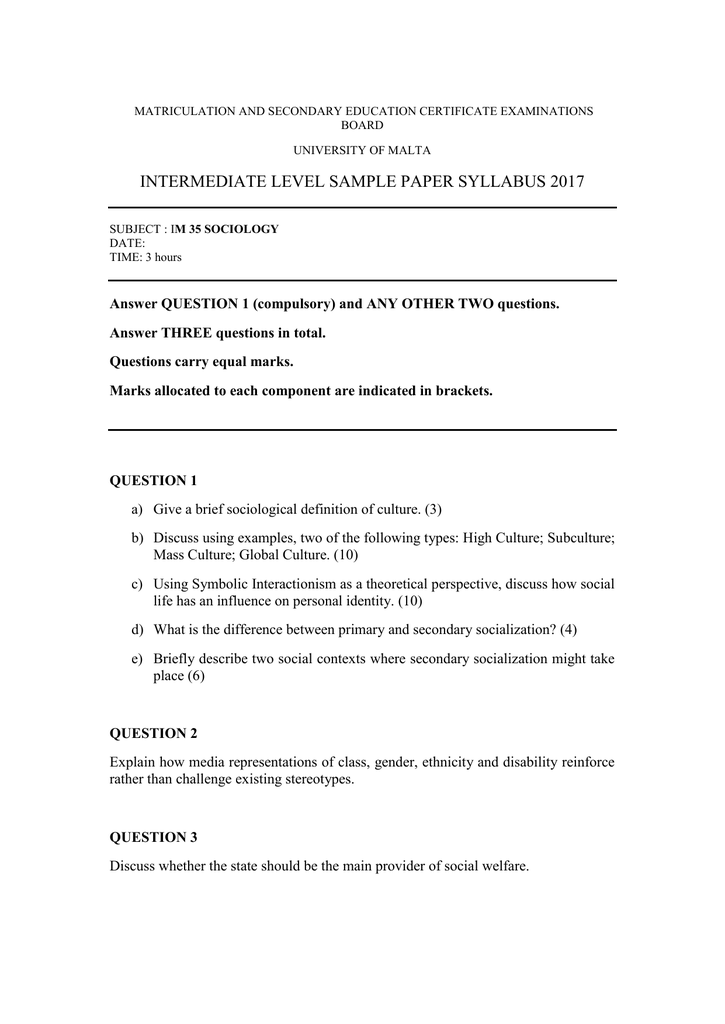 MATRICULATION AND SECONDARY EDUCATION CERTIFICATE EXAMINATIONS
BOARD
UNIVERSITY OF MALTA
INTERMEDIATE LEVEL SAMPLE PAPER SYLLABUS 2017
SUBJECT : IM 35 SOCIOLOGY
DATE:
TIME: 3 hours
Answer QUESTION 1 (compulsory) and ANY OTHER TWO questions.
Answer THREE questions in total.
Questions carry equal marks.
Marks allocated to each component are indicated in brackets.
QUESTION 1
a) Give a brief sociological definition of culture. (3)
b) Discuss using examples, two of the following types: High Culture; Subculture;
Mass Culture; Global Culture. (10)
c) Using Symbolic Interactionism as a theoretical perspective, discuss how social
life has an influence on personal identity. (10)
d) What is the difference between primary and secondary socialization? (4)
e) Briefly describe two social contexts where secondary socialization might take
place (6)
QUESTION 2
Explain how media representations of class, gender, ethnicity and disability reinforce
rather than challenge existing stereotypes.
QUESTION 3
Discuss whether the state should be the main provider of social welfare.
QUESTION 4
Nowadays more people are living in families which do not fit traditional patterns of
family life. Comment on how the contemporary family has been reshaped.
QUESTION 5
Although people may choose to express their religiosity on an individual level, many
choose to do so through an organisation. Distinguish between the different types of
religious organisations one may belong to.