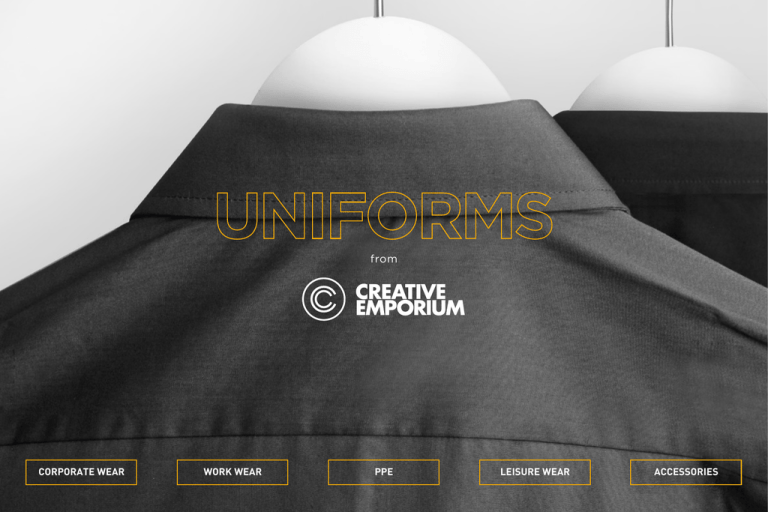 from
CORPORATE WEAR
WORK WEAR
PPE
LEISURE WEAR
ACCESSORIES
Whether corporate, work wear, PPE, leisure or promotional
clothing – the wearer is always foremost in our minds.
Getting the fit, feel and function correct provides them
with the confidence to perform and be ambassadors for
their brand. We believe that happy wearers are critical for
successful programmes.
Our experienced team understand the practical needs of
users and purchasing teams alike – and we know how to
design and deliver the right solution; on brand, on time and
on budget.
0113 3865 598
uniform@creativeemporium.co.uk
www.creativeemporium.co.uk
A PASSION TO DO THINGS DIFFERENTLY
We're keen to be different, but in a good way. Our approach is based on a love of what we do.
We are driven to succeed and to make our clients happy. Our passion is evident in all that we do and we believe this is
shared by the people that we work with.
OUR APPROACH:
RESPONSIVE
We're experts at what we do and the team are
empowered to make quick decisions and react
to the immediate needs of clients. They're not
committed to protocol, they're committed to swift
customer satisfaction. We react when you need
us to with energy, intelligence and purpose.
Jessica - Creative Emporium.
OUR
SOLUTIONS
We work with clients who have people
of all sizes and shapes with all sorts
of requirements.
From corporate clothing to work wear
and PPE – we understand that solutions
need to be flexible to the needs of
the individual as well as meeting the
collective design and budget needs of
the organisation.
Richard - Creative Emporium.
OUR
FOCUS
We carefully select who we hope to work
with to ensure that we can bring optimum
value. We're not distracted by a large
portfolio of demanding clients. We're
compact and focussed on delighting the
clients we serve and providing marketleading customer service.
Jessica & Lauren - Creative Emporium.
Christos - Creative Emporium.
OH AND YOU DIDN'T THINK
WE'D FORGET ABOUT BUDGET
Yes of course we're cost effective too! Whilst the calibre of
our service remains the same, the solution we provide can
be tailored to meet specific budgets and is constantly
benchmarked to ensure our pricing is competitive.
We appreciate you have a choice and we would like
to thank you for taking the time to consider us.
If you'd like to find out more about how we could
help you with your uniform programme, we'd
love to hear from you!
0113 3865 598
uniform@creativeemporium.co.uk
www.creativeemporium.co.uk
Geoff & Kelly Creative Emporium.