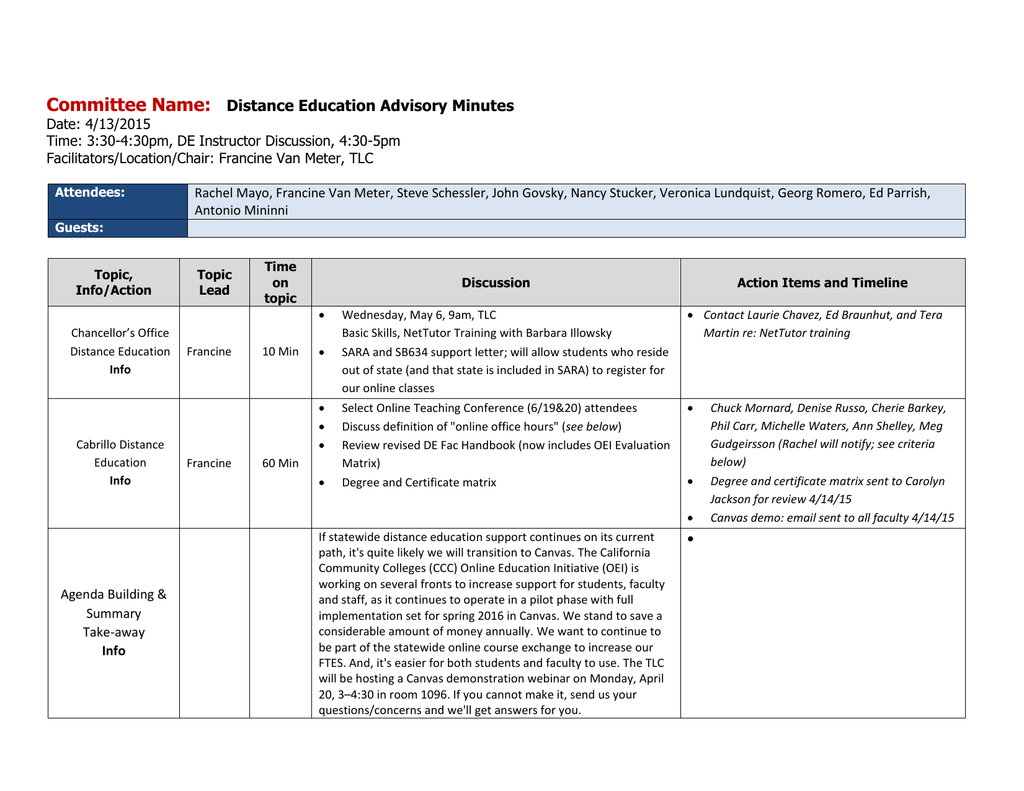 Committee Name: Distance Education Advisory Minutes
Date: 4/13/2015
Time: 3:30-4:30pm, DE Instructor Discussion, 4:30-5pm
Facilitators/Location/Chair: Francine Van Meter, TLC
Attendees:
Rachel Mayo, Francine Van Meter, Steve Schessler, John Govsky, Nancy Stucker, Veronica Lundquist, Georg Romero, Ed Parrish,
Antonio Mininni
Guests:
Topic,
Info/Action
Topic
Lead
Time
on
topic
Discussion

Chancellor's Office
Distance Education
Info
Cabrillo Distance
Education
Info
Francine
10 Min




Francine
60 Min

Action Items and Timeline
Wednesday, May 6, 9am, TLC
Basic Skills, NetTutor Training with Barbara Illowsky
SARA and SB634 support letter; will allow students who reside
out of state (and that state is included in SARA) to register for
our online classes
 Contact Laurie Chavez, Ed Braunhut, and Tera
Martin re: NetTutor training
Select Online Teaching Conference (6/19&20) attendees
Discuss definition of "online office hours" (see below)
Review revised DE Fac Handbook (now includes OEI Evaluation
Matrix)
Degree and Certificate matrix



Agenda Building &
Summary
Take-away
Info
If statewide distance education support continues on its current
path, it's quite likely we will transition to Canvas. The California
Community Colleges (CCC) Online Education Initiative (OEI) is
working on several fronts to increase support for students, faculty
and staff, as it continues to operate in a pilot phase with full
implementation set for spring 2016 in Canvas. We stand to save a
considerable amount of money annually. We want to continue to
be part of the statewide online course exchange to increase our
FTES. And, it's easier for both students and faculty to use. The TLC
will be hosting a Canvas demonstration webinar on Monday, April
20, 3–4:30 in room 1096. If you cannot make it, send us your
questions/concerns and we'll get answers for you.

Chuck Mornard, Denise Russo, Cherie Barkey,
Phil Carr, Michelle Waters, Ann Shelley, Meg
Gudgeirsson (Rachel will notify; see criteria
below)
Degree and certificate matrix sent to Carolyn
Jackson for review 4/14/15
Canvas demo: email sent to all faculty 4/14/15
Topic,
Info/Action
Topic
Lead
Time
on
topic
Discussion
Action Items and Timeline
Kathie requests all OTC attendees follow these guidelines as a condition for funding the professional development event:
 apply their $150 prof dev funds toward the event
 commit to teaching online spring 16
 new to teaching online; develop a course for spring 16
 currently teach online; integrate the new student success tools into their existing course. (Basic skills modules, readiness assessment, and tutoring
services.) Agree to be part of a Canvas pilot FA 15.
Online Office Hours (CCFT Contract 11.1.3)
The language in the CCFT contract regarding online office hours (11.2.2.14.4) states an instructor may elect to fulfill their office hour requirement for the online
course in an alternative mode away from the office. It addresses mode of communication, but not how often and how long. It merely refers to section
11.1.3.3.1 which addresses on campus office hours. This section specifies a "schedule" related to the number of days/hours required. There appears to be
confusion among some distance education faculty that they don't have to hold/post online office hours. Our interpretation of the contract seems to indicate
otherwise. Some faculty do hold/post regular online office hours (using synchronous technology or phone) and/or maintain regular effective communication
with students through asynchronous means (discussion boards, email).
The Committee felt online best practices for regular effective contact (especially real time communications, or rapid response opportunities) were not
addressed in the current contract. It is the recommendation of the committee we revisit this section of the contract for the next round of negotiations. For
now, DE instructors should be posting information regarding "office hours" if they hold them on campus or online. Scheduling a regular time when students
can expect to reach the instructor in real time seems a reasonable approach.