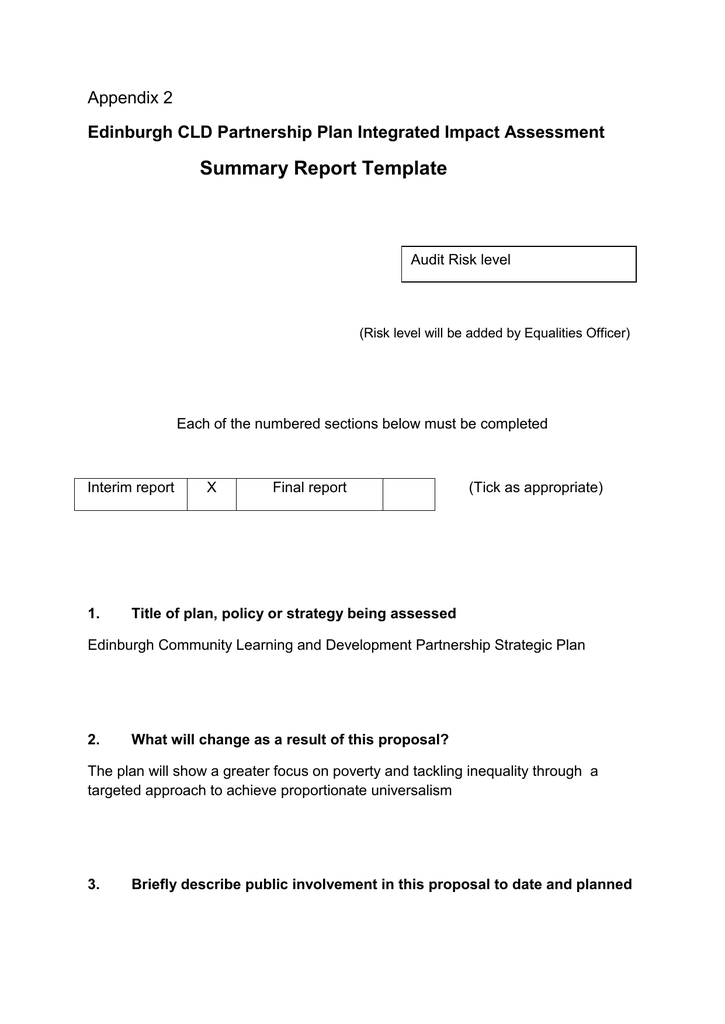 Appendix 2
Edinburgh CLD Partnership Plan Integrated Impact Assessment
Summary Report Template
Audit Risk level
(Risk level will be added by Equalities Officer)
Each of the numbered sections below must be completed
Interim report
1.
X
Final report
(Tick as appropriate)
Title of plan, policy or strategy being assessed
Edinburgh Community Learning and Development Partnership Strategic Plan
2.
What will change as a result of this proposal?
The plan will show a greater focus on poverty and tackling inequality through a
targeted approach to achieve proportionate universalism
3.
Briefly describe public involvement in this proposal to date and planned
Consultation and engagement with a wide range of over 200 learners, participants
and partners to gather views and feedback to influence the direction of The Plan
4.
Date of IIA
16 March 2015
5.
Who was present at the IIA? Identify facilitator, Lead Officer, report
writer and any partnership representative present and main stakeholder
(e.g. NHS, Council)
Name
Job Title
Date of IIA
training
Email
Lesley
Boyd
Health
Inequalities
Manager
Facilitator
[email protected]
Diana
Dodd
Principal
Officer
Equalities
John
Heywood
Principal
Officer:
Special
Projects
6.
[email protected]
[email protected]
Evidence available at the time of the IIA
Evidence
Available?
Comments: what does the evidence
tell you?
Data on populations in
need
Census
Population by: age, disability; ethnicity
and gender (excluding people who
describe themselves as intersex where
no dat a is currently collected)
SIMD data
Levels of poverty
Lothian
Community
Check with Lesley Blackmore 0131
Data on service
Evidence
Available?
Comments: what does the evidence
tell you?
uptake/access
Health Initiative
Forum
537- 9408
Data on equality
outcomes
Post School
Destination Data
Underachievement of white working
class boys
Poorer mental health outcomes for
young gay/transgender and deaf
people
Research/literature
evidence
12 Local
Community Plans
The need to prioritise CLD-related
actions, especially activities for children
and young people, older people and
parents, increasing community
engagement and challenging social
isolation
Priorities for adult learning
Statement of
Ambition for Adult
Learning
Priorities for young people
National Youth
Work Strategy
Public/patient/client
Yes
experience information
Consultation with learners, participants
and partners with need to focus on
those most vulnerable to social
exclusion, unemployed or in low paid
jobs, and those with protected
characteristics
Evidence of inclusive
Commissioned
engagement of service services
users and
involvement findings
The need for a wide range of targeted
and universal CLD provision for all age
groups
Evidence of unmet
need
ESOL classes for young people as
route in to employment, empowerment
and increased self-esteem and
reducing social isolation.
Access to services for new migrants
Evidence
Available?
Comments: what does the evidence
tell you?
Review of uptake of Interpreting and
translating services in public sector in
Edinburgh
Good practice
guidelines
Yes
Environmental data
Not applicable
Risk from cumulative
impacts
We are aware of these e.g. multiple
layers of protected characteristics and
poverty and their potential impact
Other (please specify)
Additional evidence
required
7. In summary, what impacts were identified and which groups will they
affect?
Equality, Health and Wellbeing and Human Rights
Affected populations
Positive
Positive impact for people with protected characteristics,
especially older people, children and young people, men
and women, people with a disability, refugees and
asylum seekers,
Positive impact on all groups vulnerable to falling into
poverty.
Enabling a Human Rights perspective in the delivery of
CLD initiaitives
Unemployed, affected by
poverty, disability,
children and young
people, women and
men, older people,
single parents
All
Negative
LGBT, carers,
Gypsy/Travellers, sex
workers, veterans
Unsure about the impact on LGBT, carers, Gypsy/
Travellers, veterans and sex workers. This is being
investigated.
Environment and Sustainability
Affected populations
Positive
Not applicable
Negative
Economic
Affected populations
Positive
Minority ethnic people.
Refugees and asylum
seekers, Deaf people
and those vulnerable to
falling into poverty.
This plan will promote:
Employability and enhance confidence through literacy,
numeracy, ESOL
Negative
8. Is any part of this policy/ service to be carried out wholly or partly by
contractors and how will equality, human rights including children's rights ,
environmental and sustainability issues be addressed?
Yes. Current contracts with the providers in question cover these in clauses 14,
19, 20A, 20B, 20C.
9. Consider how you will communicate information about this policy/ service
change to children and young people and those affected by hearing loss,
speech impairment, low level literacy or numeracy, learning difficulties or
English as a second language? Please provide a summary of the
communications plan.
Communication will be via the Edinburgh CLD Partnership and through short
briefings arranged by the Communications Team to a wide range of
stakeholders and interested groups
10. Is the policy a qualifying Policy, Programme or Strategy as defined by The
Environmental Impact Assessment (Scotland) Act 2005? (see Section 4)
No
11. Additional Information and Evidence Required
If further evidence is required, please note how it will be gathered. If
appropriate, mark this report as interim and submit updated final report
once further evidence has been gathered.
Some groups which were identified through the IIA are still to be consulted and
these will help to inform the recommendations and actions. These are EAL
Service, VOCAL, LGBT Health and Wellbeing Centre and MECOPP
12. Recommendations (these should be drawn from 6 – 11 above)
•
Complete gaps in evidence
•
The Plan will be an iterative document, i.e. it will develop and change
according to changes in demand and circumstances.
•
As work progresses, The Plan will be monitored and updated.
•
Make positive contribution to tackling the wider determinants of ill health
including low educational achievement
•
Explore partnership opportunities to enhance work with Community Health
Initiatives, Community Health Flats, Edinburgh Community Food, veterans
First Point, The Welcoming and other groups tackling work with vulnerable
groups.
•
Maximising opportunities for vulnerable people to enhance Human Rights
through choice, empowerment and increasing ability to have control over
personal decision making and becoming active citizens.
13. Specific to this IIA only, what actions have been, or will be, undertaken and
by when? Please complete:
Specific actions (as a result of
the IIA which may include
financial implications,
mitigating actions and risks of
cumulative impacts)
Who will take
them forward
(name and
contact details)
Deadline for Review
progressing date
Consultation with particular groups
JH, DD
30 April
2015
Populations identified, e.g.
veterans, streetworkers, carers,
Deaf (link with Deaf Action) LGBT,
Gypsy/Travellers
JH, DD
Communication plan to be drawn
up
Creating new innovative
partnerships
30 May
2015
JH
Ongoing
Annual
Specific actions (as a result of
the IIA which may include
financial implications,
mitigating actions and risks of
cumulative impacts)
14.
Who will take
them forward
(name and
contact details)
Deadline for Review
progressing date
How will you monitor how this policy, plan or strategy affects different
groups, including people with protected characteristics?
This IIA will be integral to how the CLD Plan is monitored annually
15.
Sign off by Head of Service
Name
Date
16.
Publication
Send completed IIA for publication on the relevant website for your
organisation. See Section 5 for contacts.