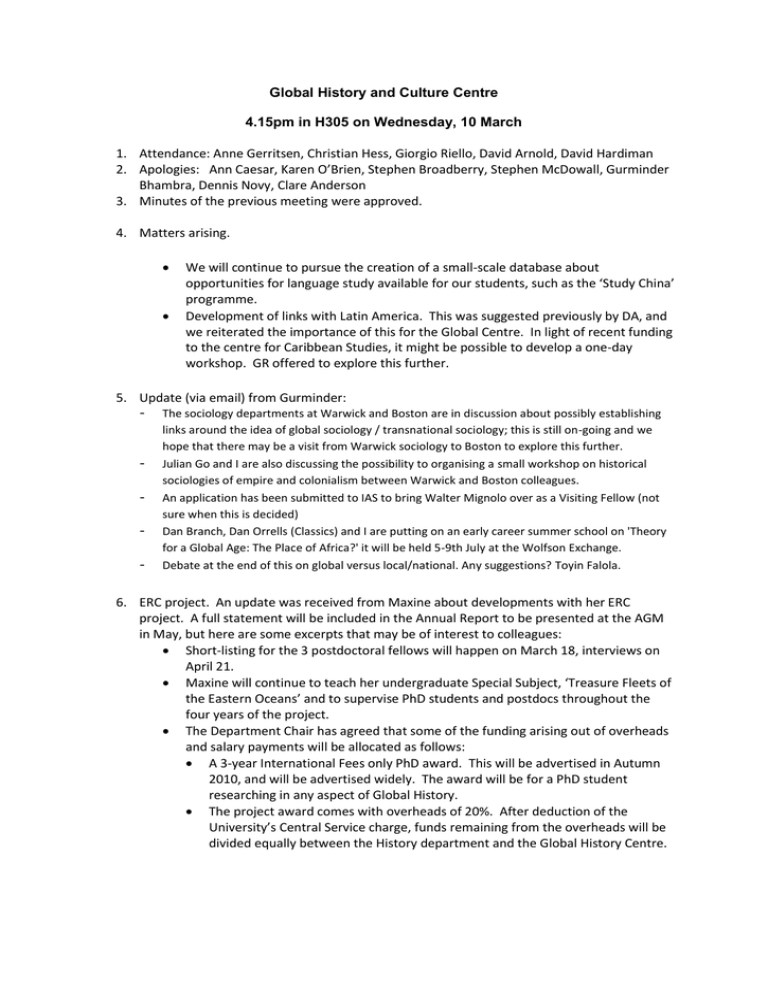 Global History and Culture Centre
4.15pm in H305 on Wednesday, 10 March
1. Attendance: Anne Gerritsen, Christian Hess, Giorgio Riello, David Arnold, David Hardiman
2. Apologies: Ann Caesar, Karen O'Brien, Stephen Broadberry, Stephen McDowall, Gurminder
Bhambra, Dennis Novy, Clare Anderson
3. Minutes of the previous meeting were approved.
4. Matters arising.


We will continue to pursue the creation of a small-scale database about
opportunities for language study available for our students, such as the 'Study China'
programme.
Development of links with Latin America. This was suggested previously by DA, and
we reiterated the importance of this for the Global Centre. In light of recent funding
to the centre for Caribbean Studies, it might be possible to develop a one-day
workshop. GR offered to explore this further.
5. Update (via email) from Gurminder:
-
-
The sociology departments at Warwick and Boston are in discussion about possibly establishing
links around the idea of global sociology / transnational sociology; this is still on-going and we
hope that there may be a visit from Warwick sociology to Boston to explore this further.
Julian Go and I are also discussing the possibility to organising a small workshop on historical
sociologies of empire and colonialism between Warwick and Boston colleagues.
An application has been submitted to IAS to bring Walter Mignolo over as a Visiting Fellow (not
sure when this is decided)
Dan Branch, Dan Orrells (Classics) and I are putting on an early career summer school on 'Theory
for a Global Age: The Place of Africa?' it will be held 5-9th July at the Wolfson Exchange.
Debate at the end of this on global versus local/national. Any suggestions? Toyin Falola.
6. ERC project. An update was received from Maxine about developments with her ERC
project. A full statement will be included in the Annual Report to be presented at the AGM
in May, but here are some excerpts that may be of interest to colleagues:
 Short-listing for the 3 postdoctoral fellows will happen on March 18, interviews on
April 21.
 Maxine will continue to teach her undergraduate Special Subject, 'Treasure Fleets of
the Eastern Oceans' and to supervise PhD students and postdocs throughout the
four years of the project.
 The Department Chair has agreed that some of the funding arising out of overheads
and salary payments will be allocated as follows:
 A 3-year International Fees only PhD award. This will be advertised in Autumn
2010, and will be advertised widely. The award will be for a PhD student
researching in any aspect of Global History.
 The project award comes with overheads of 20%. After deduction of the
University's Central Service charge, funds remaining from the overheads will be
divided equally between the History department and the Global History Centre.
7. External advisers
 Bin Wong and David Washbrook this year. This year is Bin Wong's last, so he will
rotate off. The meeting supported the proposal to continue David's tenure, and ask
Peer Vries (Vienna)
8. Schedule for the coming months:
March 2010:


March 10: Huw Bowen speaks in the Global Centre series
March 19-20: two-day international conference 'Every Day technologies in Monsoon
Asia', organised by David Arnold


April 22: lecture by Christiaan Jorg (Art History, Leiden, Netherlands)
April 22-24: two-day international conference 'Global Jingdezhen', organised by
Stephen McDowall and Anne Gerritsen
April 28, 5pm: Philippe Minard speaks in the Global Centre series
April 2010

May 2010





May 3-7 Professor Charles Withers, IAS fellow. He is Professor of Historical
Geography at Edinburgh. See IAS for details.
May 14: one-day conference, organised by Marie Thebaud-Sorger
May 18: Professor Emma Rothschild. She is affiliated with the Centre for History and
Economics, King's College, Cambridge, and Harvard. She will give a seminar on
Tuesday 18th May at 2:00 in Room H.043, entitled " The Inner Life of Empires"
May 24-28: Professor Dorothy Ko, IAS fellow.
May 26:
1. 10.00 to 12.00: source-reading session, led by Dorothy Ko
2. 1.30 to 3.30 AGM
3. Public lecture by Dorothy Ko
June 2010
 Talk by Mary Floyd Wilson, entitled "Reconceiving Ideas of Race and Ethnicity: Climate,
the Humours and Early Modern Culture." Date to be confirmed, but probably June 9 or
10.
9. AOB



DA mentioned the meeting of the British Association of South Asian Studies at
Warwick, March 29-31, 2010. Catherine Hall will speak on March 30. The British
Academy has sponsored one of the panels to discuss a larger project on poverty in
India. We should keep our eye on the developments the BA is sponsoring in this
area.
C Hess will visit Qinghua University in April, and is willing to make a visit to Capital
Normal University to follow up on Maxine and Giorgio's visit there in Spring 2008.
They have a centre for global history (and will host the World History conference in
2012) and teach Chinese for non-Chinese.
Colleagues were warned that they might be asked for updates in the near future in
preparation of the compilation of the Annual report for the AGM.