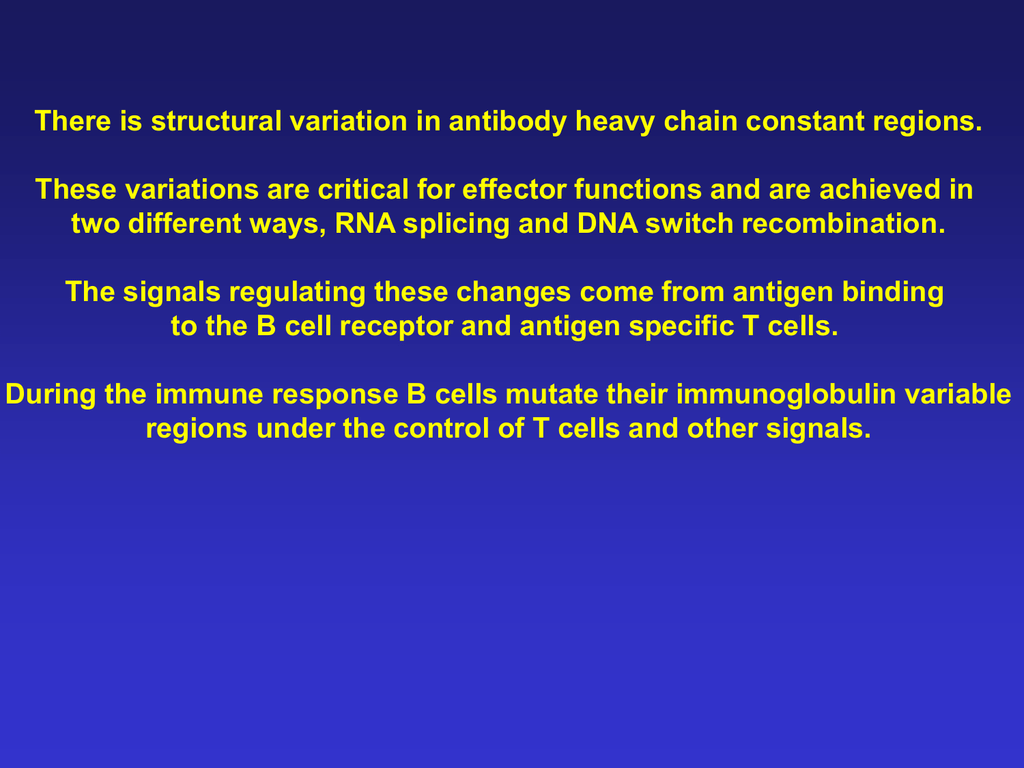 There is structural variation in antibody heavy chain constant regions.
These variations are critical for effector functions and are achieved in
two different ways, RNA splicing and DNA switch recombination.
The signals regulating these changes come from antigen binding
to the B cell receptor and antigen specific T cells.
During the immune response B cells mutate their immunoglobulin variable
regions under the control of T cells and other signals.
Anatomical distribution of
antibody classes
IgM- blood
IgG-blood, tissues, placenta
IgA blood, gut, secretions
IgE blood, epitheilia
Antibodies come in different classes
2
3
4
2
VDJ joining here creates heavy chain variable region domain
VD
Note: there are exons encoding the membrane and secreted
forms of each of the antibody heavy chains.
The first antibody heavy chain type to be expressed is membrane IgM
Note: there
are
membrane
and
secreted
forms of
each of the
antibody
heavy
chain
classes.
Prior to activation, B cells
express two forms of antibody
as membrane receptors, IgM
and IgD. On any given cell, the
antigen specificity is identical.
This is accomplished by
differential RNA splicing.
IgM
IgD
IgG
IgM
IgM
Characteristics of the antibody response
Primary response
-small amounts of antibody
-IgM class
-low affinity
Secondary response
-large(r) amounts of antibody
-IgG and other classes
-high(er) affinity
"Switching" to these classes requires
DNA recombination and is distinct from
V(D)J recombination.
B-cells can change their immunoglobulin class by DNA
recombination. This is a distinct process from V(D)J recombination!
Accumulation of Vregion point mutations
during the antibody
response.