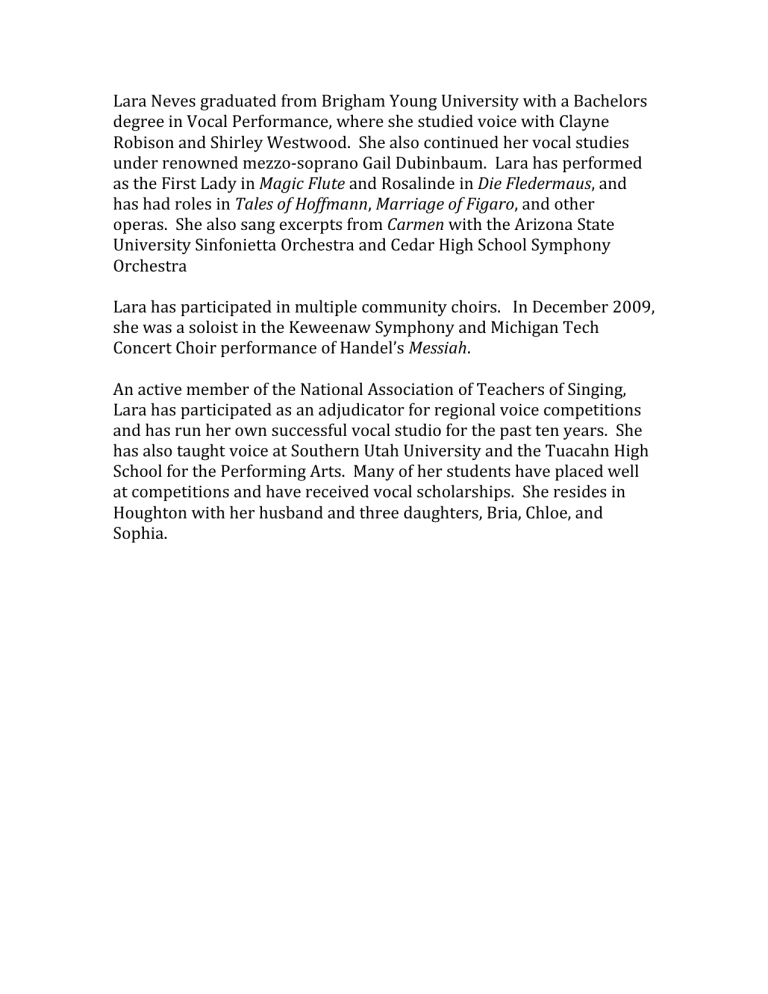 Lara Neves graduated from Brigham Young University with a Bachelors degree in Vocal Performance, where she studied voice with Clayne
Robison and Shirley Westwood. She also continued her vocal studies under renowned mezzo-soprano Gail Dubinbaum. Lara has performed as the First Lady in Magic Flute and Rosalinde in Die Fledermaus , and has had roles in Tales of Hoffmann , Marriage of Figaro , and other operas. She also sang excerpts from Carmen with the Arizona State
University Sinfonietta Orchestra and Cedar High School Symphony
Orchestra
Lara has participated in multiple community choirs. In December 2009, she was a soloist in the Keweenaw Symphony and Michigan Tech
Concert Choir performance of Handel's Messiah .
An active member of the National Association of Teachers of Singing,
Lara has participated as an adjudicator for regional voice competitions and has run her own successful vocal studio for the past ten years. She has also taught voice at Southern Utah University and the Tuacahn High
School for the Performing Arts. Many of her students have placed well at competitions and have received vocal scholarships. She resides in
Houghton with her husband and three daughters, Bria, Chloe, and
Sophia.