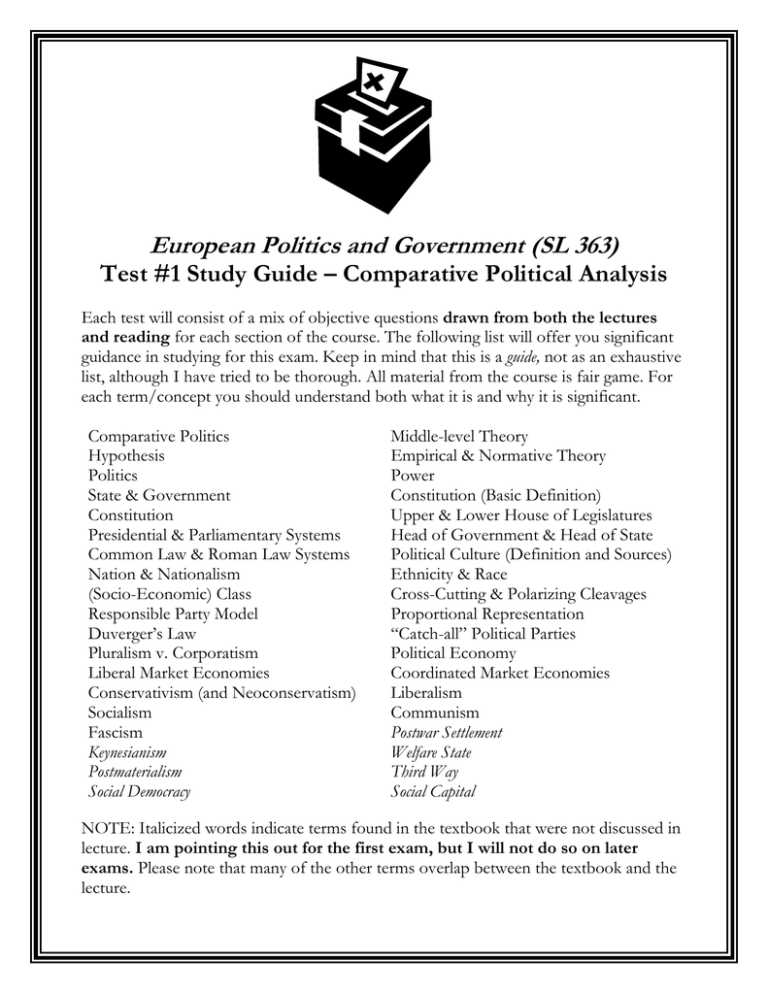 European Politics and Government (SL 363)
Test #1 Study Guide – Comparative Political Analysis
Each test will consist of a mix of objective questions drawn from both the lectures
and reading for each section of the course. The following list will offer you significant
guidance in studying for this exam. Keep in mind that this is a guide, not as an exhaustive
list, although I have tried to be thorough. All material from the course is fair game. For
each term/concept you should understand both what it is and why it is significant.
Comparative Politics
Hypothesis
Politics
State & Government
Constitution
Presidential & Parliamentary Systems
Common Law & Roman Law Systems
Nation & Nationalism
(Socio-Economic) Class
Responsible Party Model
Duverger's Law
Pluralism v. Corporatism
Liberal Market Economies
Conservativism (and Neoconservatism)
Socialism
Fascism
Keynesianism
Postmaterialism
Social Democracy
Middle-level Theory
Empirical & Normative Theory
Power
Constitution (Basic Definition)
Upper & Lower House of Legislatures
Head of Government & Head of State
Political Culture (Definition and Sources)
Ethnicity & Race
Cross-Cutting & Polarizing Cleavages
Proportional Representation
"Catch-all" Political Parties
Political Economy
Coordinated Market Economies
Liberalism
Communism
Postwar Settlement
Welfare State
Third Way
Social Capital
NOTE: Italicized words indicate terms found in the textbook that were not discussed in
lecture. I am pointing this out for the first exam, but I will not do so on later
exams. Please note that many of the other terms overlap between the textbook and the
lecture.