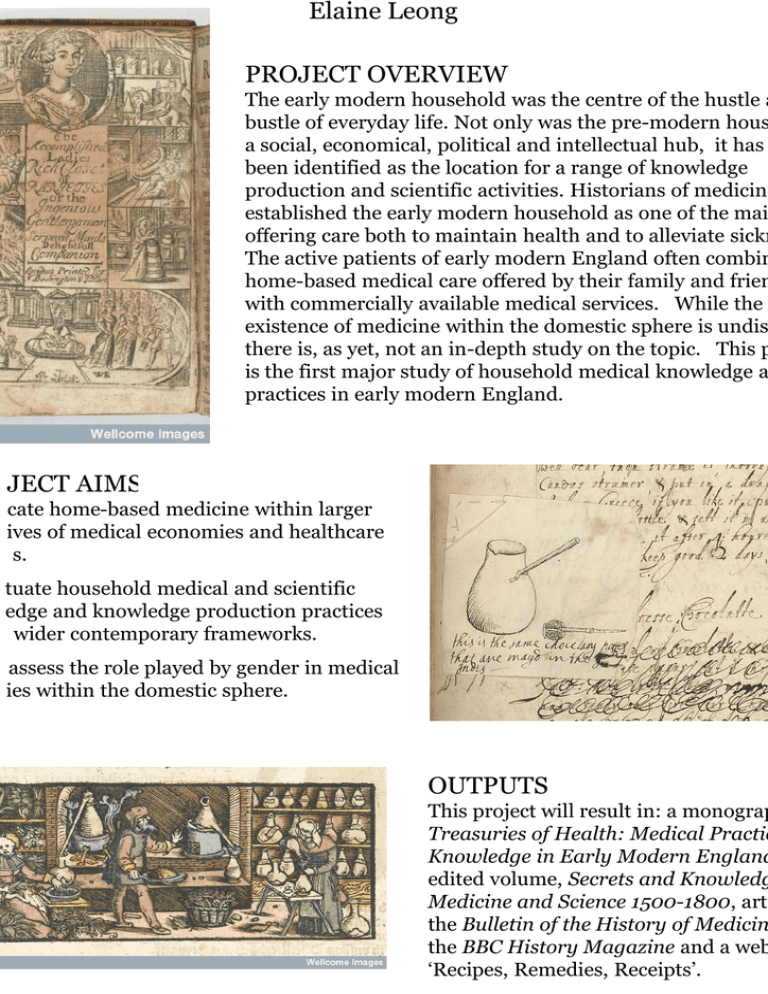 Elaine Leong
PROJECT OVERVIEW
The early modern household was the centre of the hustle a
bustle of everyday life. Not only was the pre-modern
pre
hous
a social, economical, political and intellectual hub, it has
been identified as the location for a range of knowledge
production and scientific activities. Historians of medicine
established the early modern household as one of the mai
offering care both to maintain health and to alleviate sickn
The active patients of early modern England often combin
home-based
based medical care offered by their family and frien
with commercially available medical services. While the
existence of medicine within the domestic sphere is undis
there is, as yet, not an in-depth
in
study on the topic. This p
is the first major study of household medical knowledge a
practices in early modern England.
JECT AIMS
cate home-based medicine within larger
ives of medical economies and healthcare
s.
tuate household medical and scientific
edge and knowledge production practices
wider contemporary frameworks.
assess the role played by gender in medical
ies within the domestic sphere.
OUTPUTS
This project will result in: a monograp
Treasuries of Health: Medical Practic
Knowledge in Early Modern England
edited volume, Secrets and Knowledg
Medicine and Science 1500-1800, arti
the Bulletin of the History of Medicin
the BBC History Magazine and a web
'Recipes, Remedies, Receipts'.