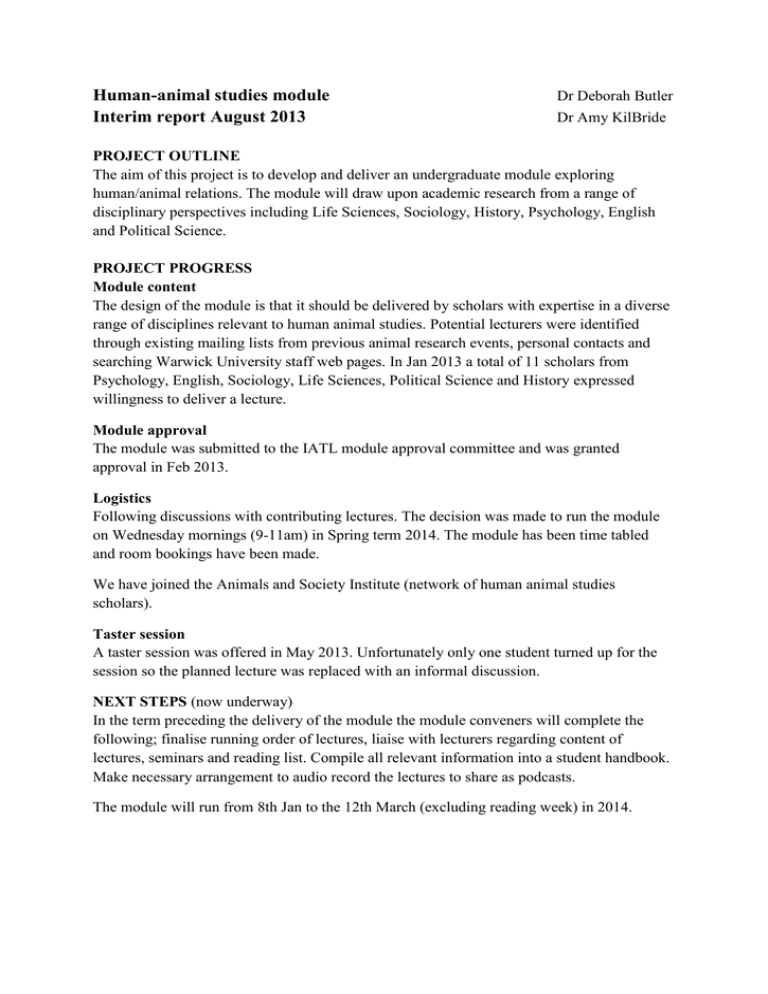 Human-animal studies module
Interim report August 2013
Dr Deborah Butler
Dr Amy KilBride
PROJECT OUTLINE
The aim of this project is to develop and deliver an undergraduate module exploring
human/animal relations. The module will draw upon academic research from a range of
disciplinary perspectives including Life Sciences, Sociology, History, Psychology, English
and Political Science.
PROJECT PROGRESS
Module content
The design of the module is that it should be delivered by scholars with expertise in a diverse
range of disciplines relevant to human animal studies. Potential lecturers were identified
through existing mailing lists from previous animal research events, personal contacts and
searching Warwick University staff web pages. In Jan 2013 a total of 11 scholars from
Psychology, English, Sociology, Life Sciences, Political Science and History expressed
willingness to deliver a lecture.
Module approval
The module was submitted to the IATL module approval committee and was granted
approval in Feb 2013.
Logistics
Following discussions with contributing lectures. The decision was made to run the module
on Wednesday mornings (9-11am) in Spring term 2014. The module has been time tabled
and room bookings have been made.
We have joined the Animals and Society Institute (network of human animal studies
scholars).
Taster session
A taster session was offered in May 2013. Unfortunately only one student turned up for the
session so the planned lecture was replaced with an informal discussion.
NEXT STEPS (now underway)
In the term preceding the delivery of the module the module conveners will complete the
following; finalise running order of lectures, liaise with lecturers regarding content of
lectures, seminars and reading list. Compile all relevant information into a student handbook.
Make necessary arrangement to audio record the lectures to share as podcasts.
The module will run from 8th Jan to the 12th March (excluding reading week) in 2014.