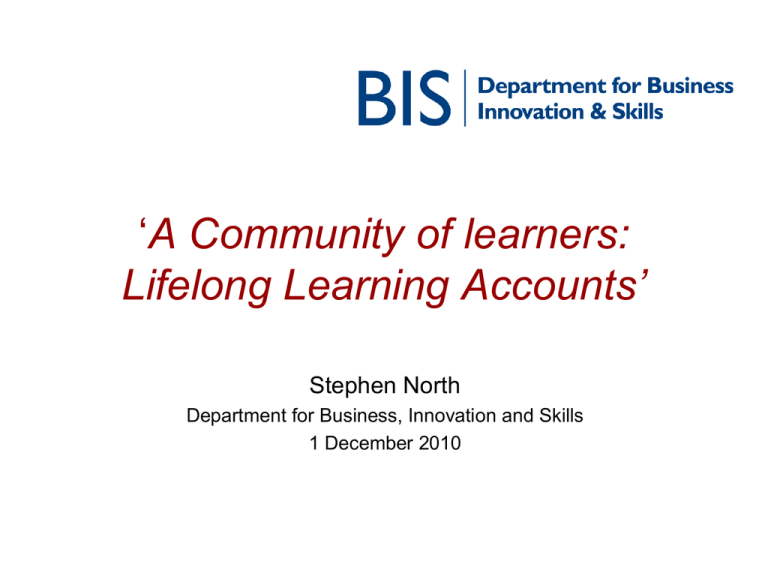 'A Community of learners:
Lifelong Learning Accounts'
Stephen North
Department for Business, Innovation and Skills
1 December 2010
2
• More than 20% of individuals say lack of
information is a significant barrier to learning
(NALS)
• 48% of face to face IAG users progress into
learning, and 34% into employment (LSC
2008)
• 82% of learners using the adult careers service in
England said that the advice received was critical
in their decision to participate in learning (LSC
2008)
3
4
Context
•
•
•
•
•
New Government
Comprehensive Spending Review
Skills Strategy & it's consultation
Skills Investment Strategy
All Age Careers Service
5
So what's the problem:
• Move from the static to the dynamic
• Opportunity to move to better Customer
Relationship Management
• Empowerment & Big Society
• Real Cash?
6
By next September
• Rebadged and enhanced online portal with access to
Personal Learner Record, financial statement, searches
of course/labour market data
• More/better personalised information (localised and real
time)
• "Nudging" – labour market bulletins, reminders about
services on offer delivered through text and email
• Establishing online/offline communities of learning –
including using social media such as Facebook
• Incentives to learning – including links to provider "offers"
encouraging people to invest in learning
7
Subsequently and by Sept 2013
• "Marketplace" for people seeking learning
• A voucher system for those with entitlements to
funding.
• A means of recognising volunteering etc
• The customer-facing bit of the FE Fee loans
system
8
Wider changes
• Culture change: skills as an investment
• Behaviour change: paying for learning
• Big Society: doing more locally
• Economic Growth: skills feed growth
9
Questions
• What communities of learners should we be
considering?
• How do we engage with the disadvantaged – who
will be the intermediaries?
• How will CRM work for customers of Government
services?
• Could a real cash system ever work?