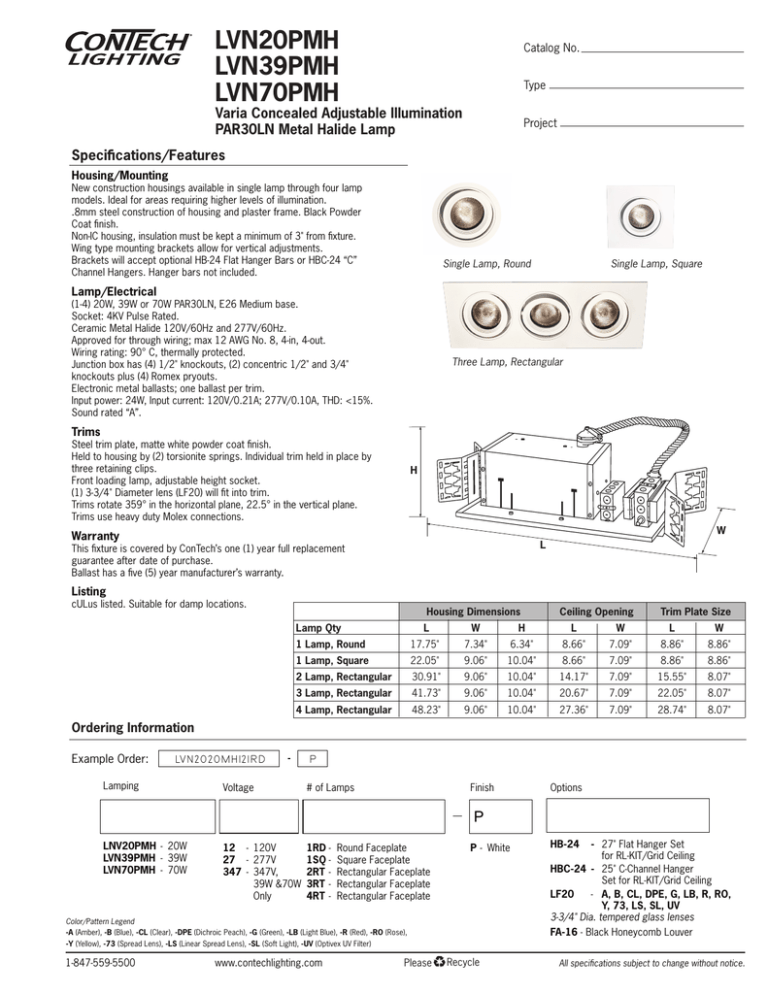 LVN20PMH
LVN39PMH
LVN70PMH
Catalog No.
Type
Varia Concealed Adjustable Illumination
PAR30LN Metal Halide Lamp
Project
Specifications/Features
Housing/Mounting
New construction housings available in single lamp through four lamp
models. Ideal for areas requiring higher levels of illumination.
.8mm steel construction of housing and plaster frame. Black Powder
Coat finish.
Non-IC housing, insulation must be kept a minimum of 3" from fixture.
Wing type mounting brackets allow for vertical adjustments.
Brackets will accept optional HB-24 Flat Hanger Bars or HBC-24 "C"
Channel Hangers. Hanger bars not included.
Single Lamp, Round
Single Lamp, Square
Lamp/Electrical
(1-4) 20W, 39W or 70W PAR30LN, E26 Medium base.
Socket: 4KV Pulse Rated.
Ceramic Metal Halide 120V/60Hz and 277V/60Hz.
Approved for through wiring; max 12 AWG No. 8, 4-in, 4-out.
Wiring rating: 90° C, thermally protected.
Junction box has (4) 1/2" knockouts, (2) concentric 1/2" and 3/4"
knockouts plus (4) Romex pryouts.
Electronic metal ballasts; one ballast per trim.
Input power: 24W, Input current: 120V/0.21A; 277V/0.10A, THD: <15%.
Sound rated "A".
Three Lamp, Rectangular
Trims
Steel trim plate, matte white powder coat finish.
Held to housing by (2) torsionite springs. Individual trim held in place by
three retaining clips.
Front loading lamp, adjustable height socket.
(1) 3-3/4" Diameter lens (LF20) will fit into trim.
Trims rotate 359° in the horizontal plane, 22.5° in the vertical plane.
Trims use heavy duty Molex connections.
H
W
Warranty
L
This fixture is covered by ConTech's one (1) year full replacement
guarantee after date of purchase.
Ballast has a five (5) year manufacturer's warranty.
Listing
cULus listed. Suitable for damp locations.
Housing Dimensions
Lamp Qty
L
W
H
Ceiling Opening
L
W
Trim Plate Size
L
W
1 Lamp, Round
17.75"
7.34"
6.34"
8.66"
7.09"
8.86"
8.86"
1 Lamp, Square
22.05"
9.06"
10.04"
8.66"
7.09"
8.86"
8.86"
2 Lamp, Rectangular
30.91"
9.06"
10.04"
14.17"
7.09"
15.55"
8.07"
3 Lamp, Rectangular
41.73"
9.06"
10.04"
20.67"
7.09"
22.05"
8.07"
4 Lamp, Rectangular
48.23"
9.06"
10.04"
27.36"
7.09"
28.74"
8.07"
Ordering Information
Example Order:
LVN2020MH121RD
Lamping
Voltage
P
# of Lamps
Finish
Options
P
LNV20PMH - 20W
LVN39PMH - 39W
LVN70PMH - 70W
12 - 120V
27 - 277V
347 - 347V,
39W &70W
Only
1RD 1SQ 2RT 3RT 4RT -
Round Faceplate
Square Faceplate
Rectangular Faceplate
Rectangular Faceplate
Rectangular Faceplate
P - White
Color/Pattern Legend
-A (Amber), -B (Blue), -CL (Clear), -DPE (Dichroic Peach), -G (Green), -LB (Light Blue), -R (Red), -RO (Rose),
-Y (Yellow), -73 (Spread Lens), -LS (Linear Spread Lens), -SL (Soft Light), -UV (Optivex UV Filter)
1-847-559-5500
www.contechlighting.com
Please
Recycle
HB-24
- 27" Flat Hanger Set
for RL-KIT/Grid Ceiling
HBC-24 - 25" C-Channel Hanger
Set for RL-KIT/Grid Ceiling
LF20
- A, B, CL, DPE, G, LB, R, RO,
Y, 73, LS, SL, UV
3-3/4" Dia. tempered glass lenses
FA-16 - Black Honeycomb Louver
All specifications subject to change without notice.