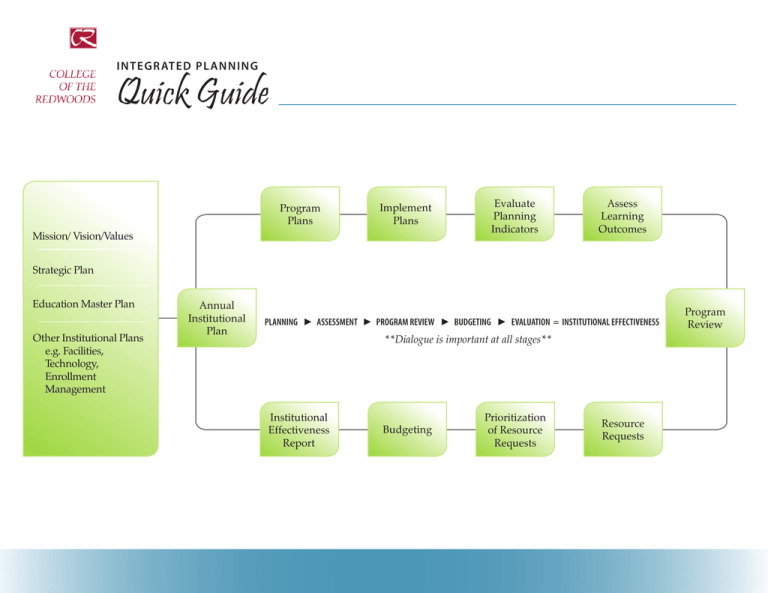 INTEG R ATED PL AN N ING
Quick Guide
Program
Plans
Implement
Plans
Mission/ Vision/Values
Evaluate
Planning
Indicators
Assess
Learning
Outcomes
Strategic Plan
Education Master Plan
Other Institutional Plans
e.g. Facilities,
Technology,
Enrollment
Management
Annual
Institutional
Plan
PLANNING ► ASSESSMENT ► PROGRAM REVIEW ► BUDGETING ► EVALUATION = INSTITUTIONAL EFFECTIVENESS
**Dialogue is important at all stages**
Institutional
Effectiveness
Report
Budgeting
Prioritization
of Resource
Requests
Resource
Requests
Program
Review
IN TEG R ATED PL ANNING
at a Glance
► Planning
All planning at the college is guided by the college's mission, vision, and values, followed by
the strategic plan and the education master plan.
Strategic Plan – This is the highest-level
planning document, it spells out the overall
strategy for the institution. This plan identifies
broad goals and measurable objectives for the
College. This plan is updated every 5 years.
Education Master Plan – This document is
informed by and supports the Strategic Plan.
This plan identifies measurable goals and objectives for educational programs and service
areas. This plan is updated every 5 years.
Other Plans – Other institutional plans include
the technology plan, the facilities plan, the
distance education plan, the enrollment management plan, the student equity plan, etc.
These plans are updated every 3 years.
The Annual Institutional Plan – Each year,
the College creates a high-level Annual Plan
comprised of particular pieces of the Strategic
Plan and the Education Master Plan that will
be completed in the current academic year. It
may also include elements from other plans as
appropriate.
Program Plans – Every program, discipline,
and area of the college has a plan. A program
plan may be related to an instructional area,
a student services area, or an administrative area. These plans respond to assessment
results, are aligned with broader institutional
plans, and are updated annually.
► Program Review
The Program Review process includes the following five components:
• Evaluation of trend, student success, and
student equity data
• Summary and analysis of assessment results
• Updates and progress reports related to
goals from the previous year
• Action plans and goals for the subsequent year
• Resource requests
► Budgeting
Resource requests are prioritized and budgeted
based upon SLO assessment results and institutional plans. Planning-related resource requests
will be routed to the appropriate functional committee for ranking and prioritization, and operational requests will be routed to appropriate
administrators for possible inclusion into annual
operational budgets. The President, with reccomendations from Cabinet, makes final budget
decisions.
► Institutional Effectiveness
The Institutional Effectiveness Committee (IEC)
issues an annual institutional effectiveness report
to the college community regarding program
review, planning, and the assessment of student
learning. As part of the IEC's commitment to
continuous quality improvement, the report
evaluates progress on the college's plans, the
integrated planning process, and institutional
dialogue.