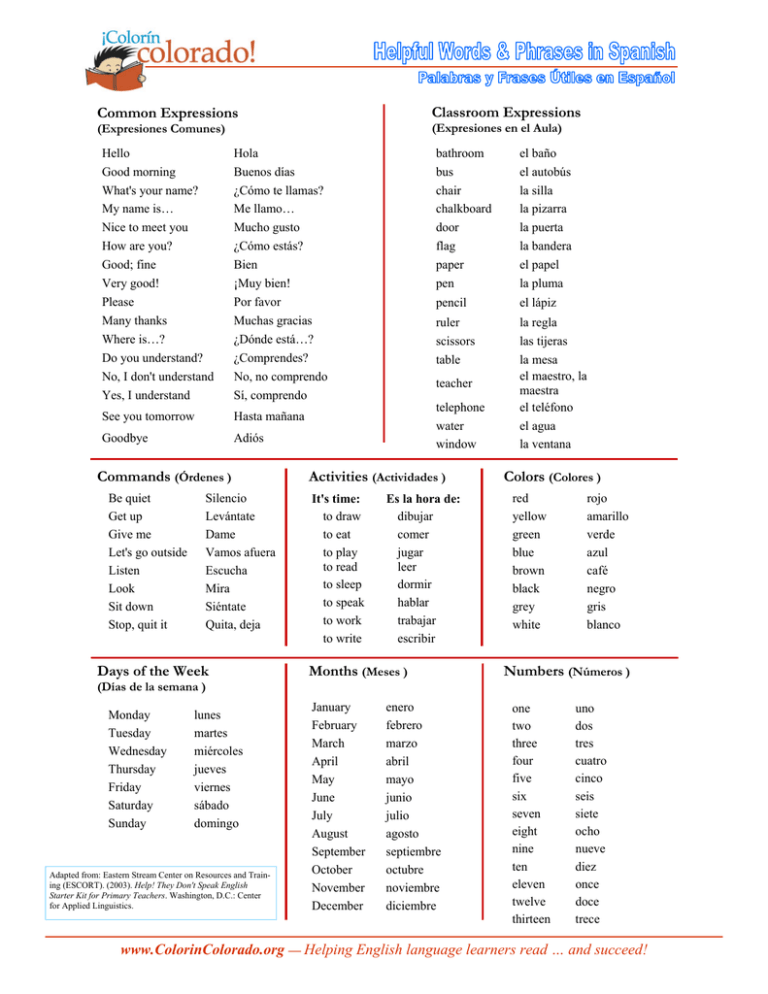 Classroom Expressions
Common Expressions
(Expresiones en el Aula)
(Expresiones Comunes)
Hello
Good morning
What's your name?
My name is…
Nice to meet you
How are you?
Good; fine
Very good!
Please
Many thanks
Where is…?
Do you understand?
No, I don't understand
Yes, I understand
Hola
Buenos días
¿Cómo te llamas?
Me llamo…
Mucho gusto
¿Cómo estás?
Bien
¡Muy bien!
Por favor
Muchas gracias
¿Dónde está…?
¿Comprendes?
No, no comprendo
Sí, comprendo
See you tomorrow
Hasta mañana
Goodbye
Adiós
Commands (Órdenes )
Be quiet
Get up
Give me
Let's go outside
Listen
Look
Sit down
Stop, quit it
Silencio
Levántate
Dame
Vamos afuera
Escucha
Mira
Siéntate
Quita, deja
Days of the Week
bathroom
bus
chair
chalkboard
door
flag
paper
pen
el baño
el autobús
la silla
la pizarra
la puerta
la bandera
el papel
la pluma
pencil
el lápiz
ruler
scissors
table
la regla
las tijeras
la mesa
el maestro, la
maestra
el teléfono
el agua
la ventana
teacher
telephone
water
window
Activities (Actividades )
It's time:
to draw
to eat
to play
to read
to sleep
to speak
to work
to write
Es la hora de:
dibujar
comer
jugar
leer
dormir
hablar
trabajar
escribir
Months (Meses )
(Días de la semana )
Monday
Tuesday
Wednesday
Thursday
Friday
Saturday
Sunday
lunes
martes
miércoles
jueves
viernes
sábado
domingo
Adapted from: Eastern Stream Center on Resources and Training (ESCORT). (2003). Help! They Don't Speak English
Starter Kit for Primary Teachers. Washington, D.C.: Center
for Applied Linguistics.
January
February
March
April
May
June
July
August
September
October
November
December
enero
febrero
marzo
abril
mayo
junio
julio
agosto
septiembre
octubre
noviembre
diciembre
Colors (Colores )
red
yellow
green
blue
brown
black
grey
white
rojo
amarillo
verde
azul
café
negro
gris
blanco
Numbers (Números )
one
two
three
four
five
six
seven
eight
nine
ten
eleven
twelve
thirteen
uno
dos
tres
cuatro
cinco
seis
siete
ocho
nueve
diez
once
doce
trece
www.ColorinColorado.org — Helping English language learners read … and succeed!