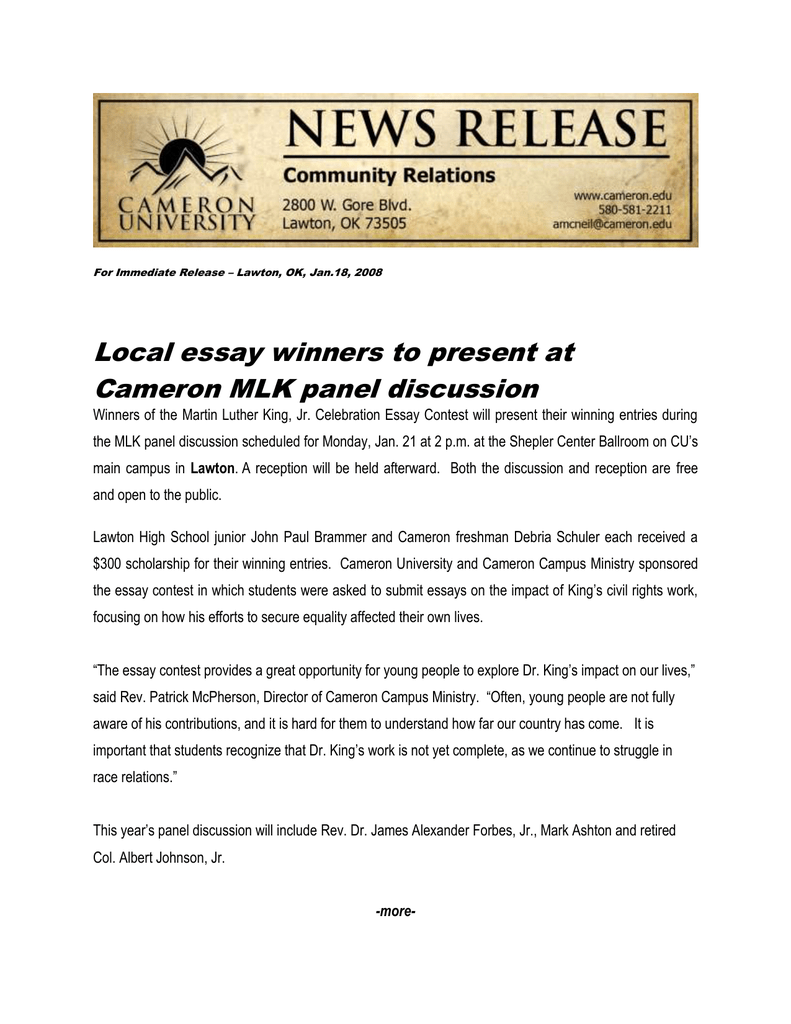 For Immediate Release – Lawton, OK, Jan.18, 2008
Local essay winners to present at
Cameron MLK panel discussion
Winners of the Martin Luther King, Jr. Celebration Essay Contest will present their winning entries during
the MLK panel discussion scheduled for Monday, Jan. 21 at 2 p.m. at the Shepler Center Ballroom on CU's
main campus in Lawton. A reception will be held afterward. Both the discussion and reception are free
and open to the public.
Lawton High School junior John Paul Brammer and Cameron freshman Debria Schuler each received a
$300 scholarship for their winning entries. Cameron University and Cameron Campus Ministry sponsored
the essay contest in which students were asked to submit essays on the impact of King's civil rights work,
focusing on how his efforts to secure equality affected their own lives.
"The essay contest provides a great opportunity for young people to explore Dr. King's impact on our lives,"
said Rev. Patrick McPherson, Director of Cameron Campus Ministry. "Often, young people are not fully
aware of his contributions, and it is hard for them to understand how far our country has come. It is
important that students recognize that Dr. King's work is not yet complete, as we continue to struggle in
race relations."
This year's panel discussion will include Rev. Dr. James Alexander Forbes, Jr., Mark Ashton and retired
Col. Albert Johnson, Jr.
-more-
MLK Panel, ADD ONE
Below is a brief biography of each panelist:
Rev. Dr. James Alexander Forbes, Jr.
In national and international religious circles, James Forbes, Jr. is known as the preacher's preacher
because of his extensive preaching career and his charismatic style. In its March 4, 1996 issue, Newsweek
magazine recognized Forbes as one of the twelve "most effective preachers" in the English-speaking
world. A pastor, educator, administrator, community activist and interfaith leader, he was designated as
one of America's greatest black preachers by Ebony magazine in 1984 and 1993. Since 1992, he has
been co-chair of A Partnership of Faith, an interfaith organization of clergy among New York's Protestant,
Catholic, Jewish, and Muslim communities.
Mark Ashton
Mark Ashton received a bachelor's degree in business administration and a Juris Doctorate from the
University of Oklahoma. A partner in the law firm of Ashton, Wisener & Munkacsy in Lawton, Ashton is
active in the Oklahoma Trial Lawyers Association and is a former member of the Oklahoma Human Rights
Commission. He has received a number of awards for his service and involvement in the Lawton/Fort Sill
Community.
Colonel (R) Albert Johnson, Jr.
Retired Col. Albert Johnson, Jr. was commissioned as a second lieutenant in the Field Artillery in 1979 after
graduating from Cameron University. Johnson attended both the Field Artillery Officer Basic and Advanced
Courses at Fort Sill; the Command and General Staff College, Fort Leavenworth, Kansas; and served as a
Military Fellow with the Joint Center for Political and Economic Studies, Washington, D.C. He has a
master's degree in public administration from the University of Missouri at Kansas City. During his military
service, Johnson was assigned to various locations throughout the United States and also served in
Germany, Bosnia, and Kosovo. He retired from the United States Army, after more than 28 years of
service. His awards include the Distinguished Service Medal with oak leaf cluster, Legion of Merit with oak
leaf cluster, Meritorious Service Medal with 5 oak leaf clusters, Army Commendation Medal with oak leaf
cluster, and the Army Achievement Medal. He currently serves as Cameron University's Vice President for
University Advancement.
The 2008 Martin Luther King Jr. celebration is co-sponsored by Cameron Campus Ministry and Cameron
University. For more information, please contact Rev. Patrick McPherson at 580.357.7226.
– ### –
PR# 08-007
Editors and Broadcasters: For more information, contact Amber McNeil, Director of
Media Relations, in the Office of Community Relations at 580.581.2611.