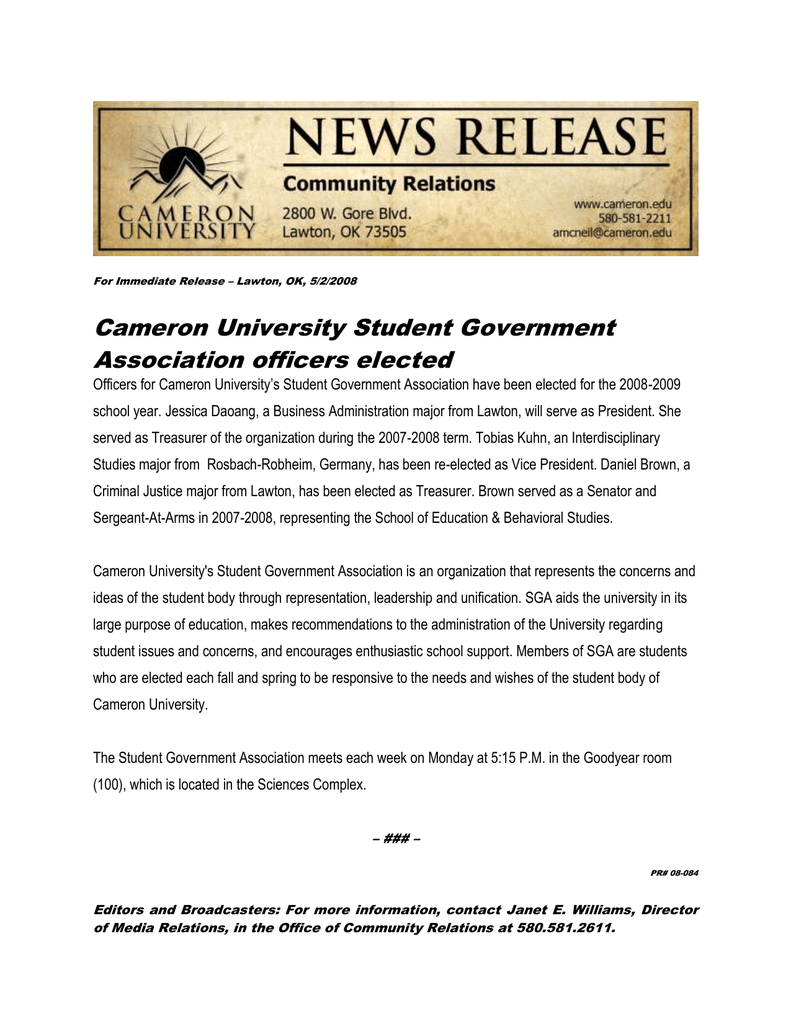 For Immediate Release – Lawton, OK, 5/2/2008
Cameron University Student Government
Association officers elected
Officers for Cameron University's Student Government Association have been elected for the 2008-2009
school year. Jessica Daoang, a Business Administration major from Lawton, will serve as President. She
served as Treasurer of the organization during the 2007-2008 term. Tobias Kuhn, an Interdisciplinary
Studies major from Rosbach-Robheim, Germany, has been re-elected as Vice President. Daniel Brown, a
Criminal Justice major from Lawton, has been elected as Treasurer. Brown served as a Senator and
Sergeant-At-Arms in 2007-2008, representing the School of Education & Behavioral Studies.
Cameron University's Student Government Association is an organization that represents the concerns and
ideas of the student body through representation, leadership and unification. SGA aids the university in its
large purpose of education, makes recommendations to the administration of the University regarding
student issues and concerns, and encourages enthusiastic school support. Members of SGA are students
who are elected each fall and spring to be responsive to the needs and wishes of the student body of
Cameron University.
The Student Government Association meets each week on Monday at 5:15 P.M. in the Goodyear room
(100), which is located in the Sciences Complex.
– ### –
PR# 08-084
Editors and Broadcasters: For more information, contact Janet E. Williams, Director
of Media Relations, in the Office of Community Relations at 580.581.2611.