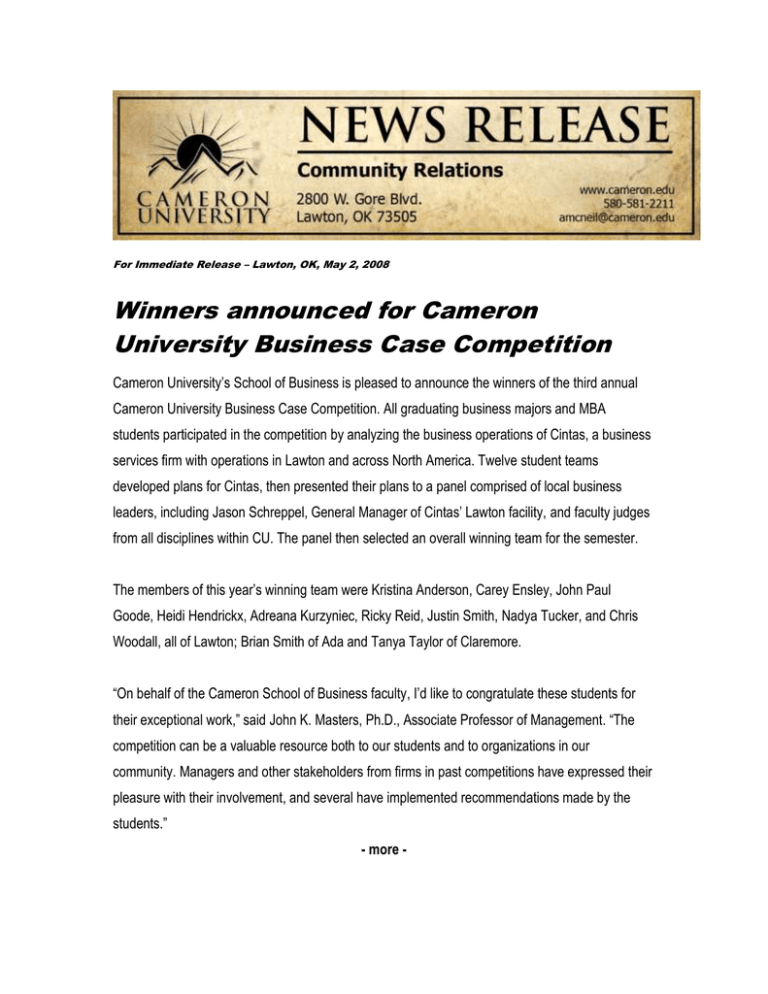 For Immediate Release – Lawton, OK, May 2, 2008
Winners announced for Cameron
University Business Case Competition
Cameron University's School of Business is pleased to announce the winners of the third annual
Cameron University Business Case Competition. All graduating business majors and MBA
students participated in the competition by analyzing the business operations of Cintas, a business
services firm with operations in Lawton and across North America. Twelve student teams
developed plans for Cintas, then presented their plans to a panel comprised of local business
leaders, including Jason Schreppel, General Manager of Cintas' Lawton facility, and faculty judges
from all disciplines within CU. The panel then selected an overall winning team for the semester.
The members of this year's winning team were Kristina Anderson, Carey Ensley, John Paul
Goode, Heidi Hendrickx, Adreana Kurzyniec, Ricky Reid, Justin Smith, Nadya Tucker, and Chris
Woodall, all of Lawton; Brian Smith of Ada and Tanya Taylor of Claremore.
"On behalf of the Cameron School of Business faculty, I'd like to congratulate these students for
their exceptional work," said John K. Masters, Ph.D., Associate Professor of Management. "The
competition can be a valuable resource both to our students and to organizations in our
community. Managers and other stakeholders from firms in past competitions have expressed their
pleasure with their involvement, and several have implemented recommendations made by the
students."
- more -
Business Case, page 2
Local business leaders who would like information about participating in future case competitions
can contact Dr. Masters via email at JMasters@Cameron.edu for more information
– ### –
PR# 08-79
Editors and Broadcasters: For more information, contact Janet E. Williams,
Director of Media Relations, in the Office of Community Relations at
580.581.2611.
Photo attached.
Cutline for photo:
The winning team for the 2008 Cameron University Business Case competition, sponsored by the
Department of Business, consists of: (front, l to r) Nadya Tucker, Kristina Anderson, Adreana
Kurzyniec, Heidi Hendrix, Carey Ensley, Brian Smith, Justin Smith (back, l t r) Ricky Reid, Tanya
Taylor, Chris Woodall and John Paul Goode.