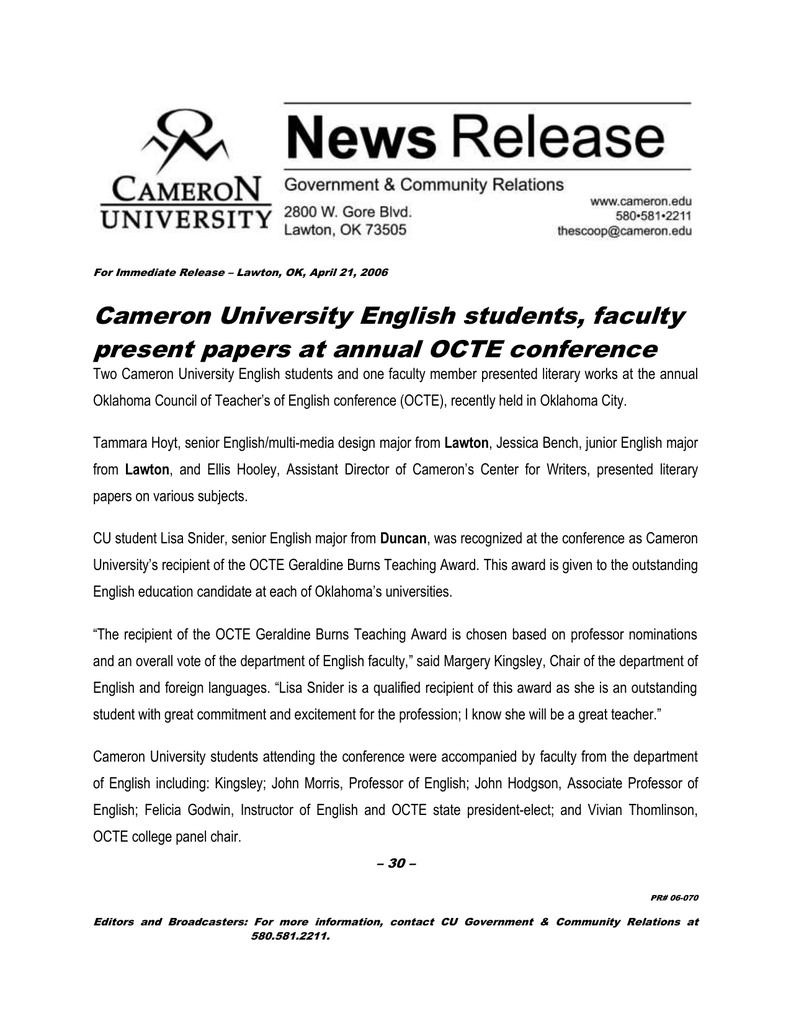 For Immediate Release – Lawton, OK, April 21, 2006
Cameron University English students, faculty
present papers at annual OCTE conference
Two Cameron University English students and one faculty member presented literary works at the annual
Oklahoma Council of Teacher's of English conference (OCTE), recently held in Oklahoma City.
Tammara Hoyt, senior English/multi-media design major from Lawton, Jessica Bench, junior English major
from Lawton, and Ellis Hooley, Assistant Director of Cameron's Center for Writers, presented literary
papers on various subjects.
CU student Lisa Snider, senior English major from Duncan, was recognized at the conference as Cameron
University's recipient of the OCTE Geraldine Burns Teaching Award. This award is given to the outstanding
English education candidate at each of Oklahoma's universities.
"The recipient of the OCTE Geraldine Burns Teaching Award is chosen based on professor nominations
and an overall vote of the department of English faculty," said Margery Kingsley, Chair of the department of
English and foreign languages. "Lisa Snider is a qualified recipient of this award as she is an outstanding
student with great commitment and excitement for the profession; I know she will be a great teacher."
Cameron University students attending the conference were accompanied by faculty from the department
of English including: Kingsley; John Morris, Professor of English; John Hodgson, Associate Professor of
English; Felicia Godwin, Instructor of English and OCTE state president-elect; and Vivian Thomlinson,
OCTE college panel chair.
– 30 –
PR# 06-070
Editors and Broadcasters: For more information, contact CU Government & Community Relations at
580.581.2211.