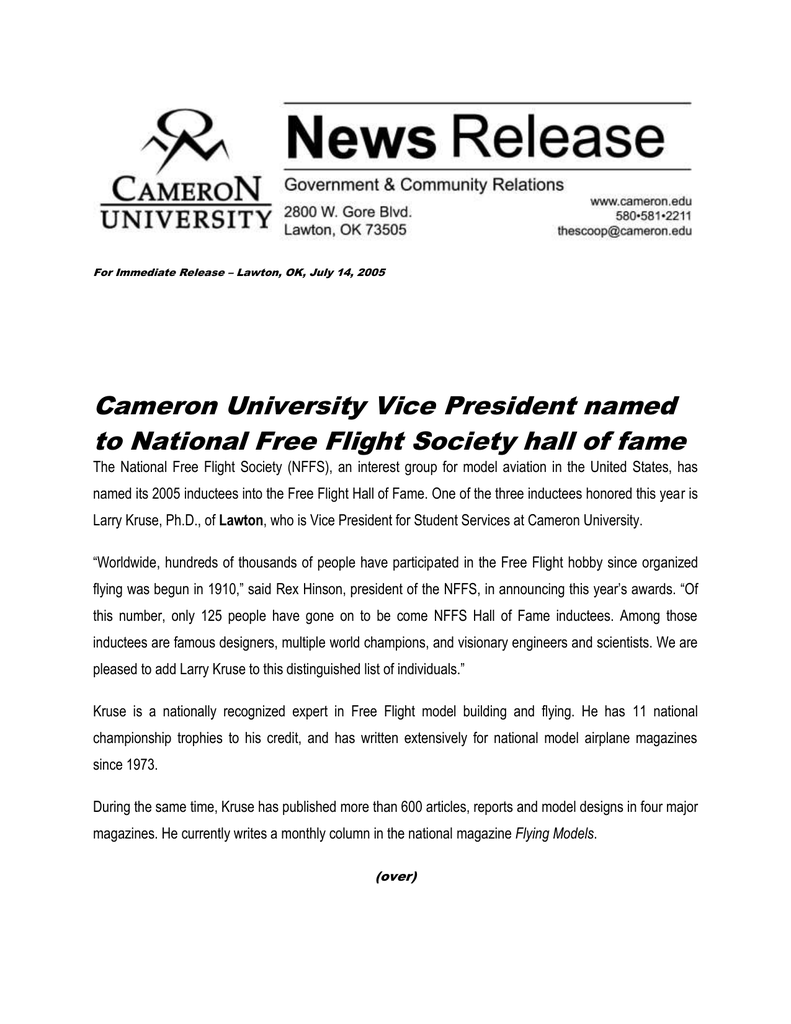 For Immediate Release – Lawton, OK, July 14, 2005
Cameron University Vice President named
to National Free Flight Society hall of fame
The National Free Flight Society (NFFS), an interest group for model aviation in the United States, has
named its 2005 inductees into the Free Flight Hall of Fame. One of the three inductees honored this year is
Larry Kruse, Ph.D., of Lawton, who is Vice President for Student Services at Cameron University.
"Worldwide, hundreds of thousands of people have participated in the Free Flight hobby since organized
flying was begun in 1910," said Rex Hinson, president of the NFFS, in announcing this year's awards. "Of
this number, only 125 people have gone on to be come NFFS Hall of Fame inductees. Among those
inductees are famous designers, multiple world champions, and visionary engineers and scientists. We are
pleased to add Larry Kruse to this distinguished list of individuals."
Kruse is a nationally recognized expert in Free Flight model building and flying. He has 11 national
championship trophies to his credit, and has written extensively for national model airplane magazines
since 1973.
During the same time, Kruse has published more than 600 articles, reports and model designs in four major
magazines. He currently writes a monthly column in the national magazine Flying Models.
(over)
kruse, ADD ONE
Kruse will be induced during the NFFS annual banquet as part of the National Model Airplane
Championships, held the first week of August in Muncie, Indiana, headquarters of the national parent
organization, the Academy of Model Aeronautics.
– 30 –
PR#05-162
Editors and Broadcasters: For details, contact CU Government & Community Relations at 580.581.2211.
Two high-quality pictures of Dr. Kruse are available in jpeg format upon request.