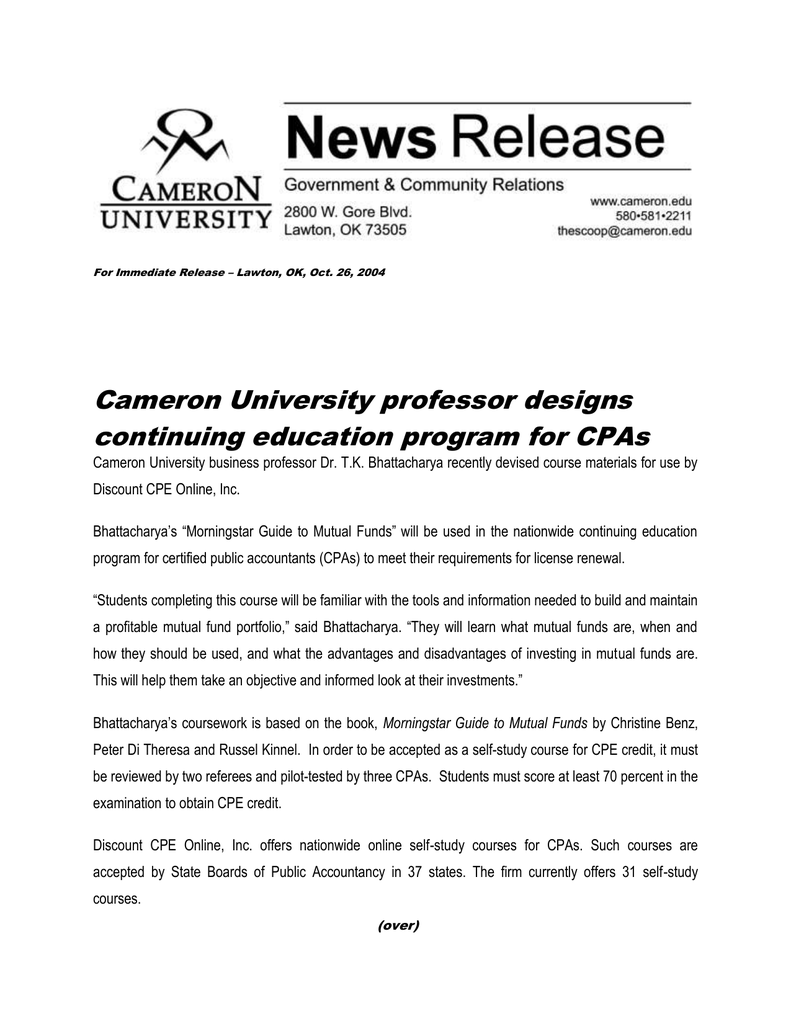 For Immediate Release – Lawton, OK, Oct. 26, 2004
Cameron University professor designs
continuing education program for CPAs
Cameron University business professor Dr. T.K. Bhattacharya recently devised course materials for use by
Discount CPE Online, Inc.
Bhattacharya's "Morningstar Guide to Mutual Funds" will be used in the nationwide continuing education
program for certified public accountants (CPAs) to meet their requirements for license renewal.
"Students completing this course will be familiar with the tools and information needed to build and maintain
a profitable mutual fund portfolio," said Bhattacharya. "They will learn what mutual funds are, when and
how they should be used, and what the advantages and disadvantages of investing in mutual funds are.
This will help them take an objective and informed look at their investments."
Bhattacharya's coursework is based on the book, Morningstar Guide to Mutual Funds by Christine Benz,
Peter Di Theresa and Russel Kinnel. In order to be accepted as a self-study course for CPE credit, it must
be reviewed by two referees and pilot-tested by three CPAs. Students must score at least 70 percent in the
examination to obtain CPE credit.
Discount CPE Online, Inc. offers nationwide online self-study courses for CPAs. Such courses are
accepted by State Boards of Public Accountancy in 37 states. The firm currently offers 31 self-study
courses.
(over)
bhattacharya, ADD ONE
"Many practicing CPAs offer investment advice and sell mutual funds, in addition to providing audit and tax
services. The courses I have prepared and the additional courses that I plan to develop will help them in
these endeavors," said Bhattacharya. "The cost of continuing education can be high and I feel privileged
and pleased to be available to make a small contribution to providing meaningful and convenient study
materials at a low cost to CPAs."
Bhattacharya has begun preparing materials for his second self-study course, "Managing Client Portfolios,"
which helps CPAs focus on investment advice to their clients.
Bhattacharya has a bachelor's degree in mechanical engineering from Banaras Hindu University, a
doctorate in finance from the University of Oklahoma and has attained the accreditation of Chartered
Financial Analyst. Bhattacharya has been teaching at Cameron since 1990.
– 30 –
PR#04-249
Editors and Broadcasters: For details, contact CU Government & Community Relations at 580.581.2211.