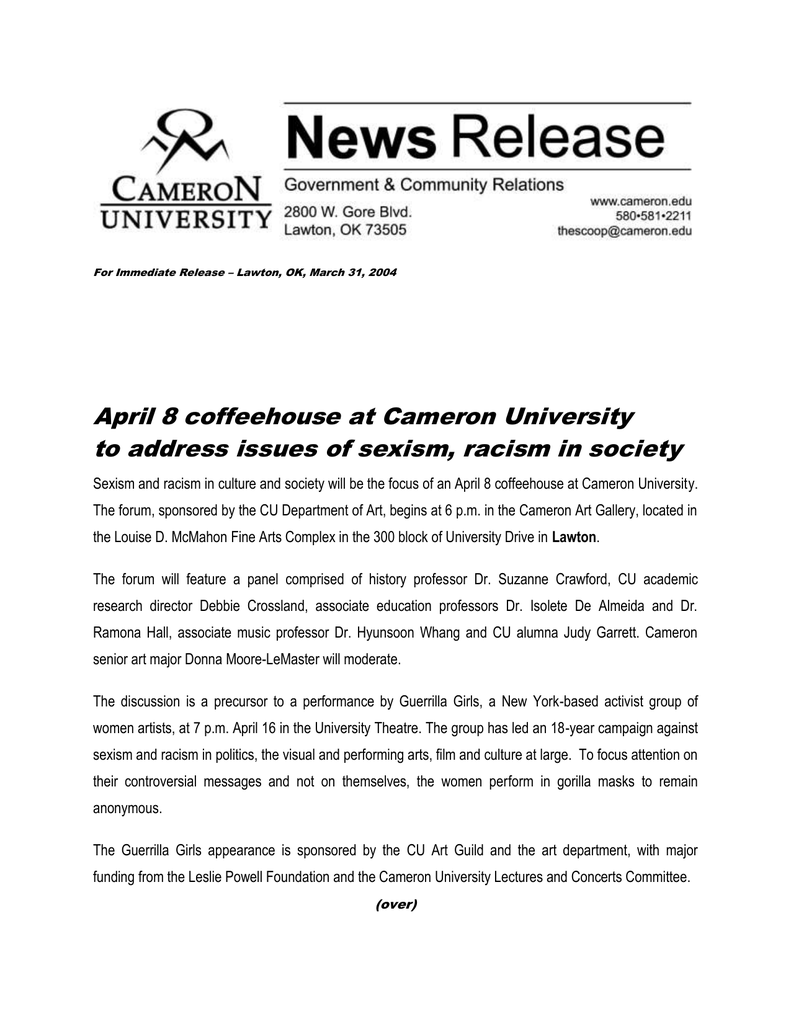 For Immediate Release – Lawton, OK, March 31, 2004
April 8 coffeehouse at Cameron University
to address issues of sexism, racism in society
Sexism and racism in culture and society will be the focus of an April 8 coffeehouse at Cameron University.
The forum, sponsored by the CU Department of Art, begins at 6 p.m. in the Cameron Art Gallery, located in
the Louise D. McMahon Fine Arts Complex in the 300 block of University Drive in Lawton.
The forum will feature a panel comprised of history professor Dr. Suzanne Crawford, CU academic
research director Debbie Crossland, associate education professors Dr. Isolete De Almeida and Dr.
Ramona Hall, associate music professor Dr. Hyunsoon Whang and CU alumna Judy Garrett. Cameron
senior art major Donna Moore-LeMaster will moderate.
The discussion is a precursor to a performance by Guerrilla Girls, a New York-based activist group of
women artists, at 7 p.m. April 16 in the University Theatre. The group has led an 18-year campaign against
sexism and racism in politics, the visual and performing arts, film and culture at large. To focus attention on
their controversial messages and not on themselves, the women perform in gorilla masks to remain
anonymous.
The Guerrilla Girls appearance is sponsored by the CU Art Guild and the art department, with major
funding from the Leslie Powell Foundation and the Cameron University Lectures and Concerts Committee.
(over)
sexism & racism, ADD ONE
The coffeehouse and the Guerrilla Girls performance are free and open to the public.
Additional information on the coffeehouse is available from CU art department chair Edna McMillan at
580/581-2450. To find out more about the Guerrilla Girls, visit www.guerrillagirls.com on the Internet.
– 30 –
PR#04-077
Editors and Broadcasters: For details, contact CU Government & Community Relations at 580.581.2211.