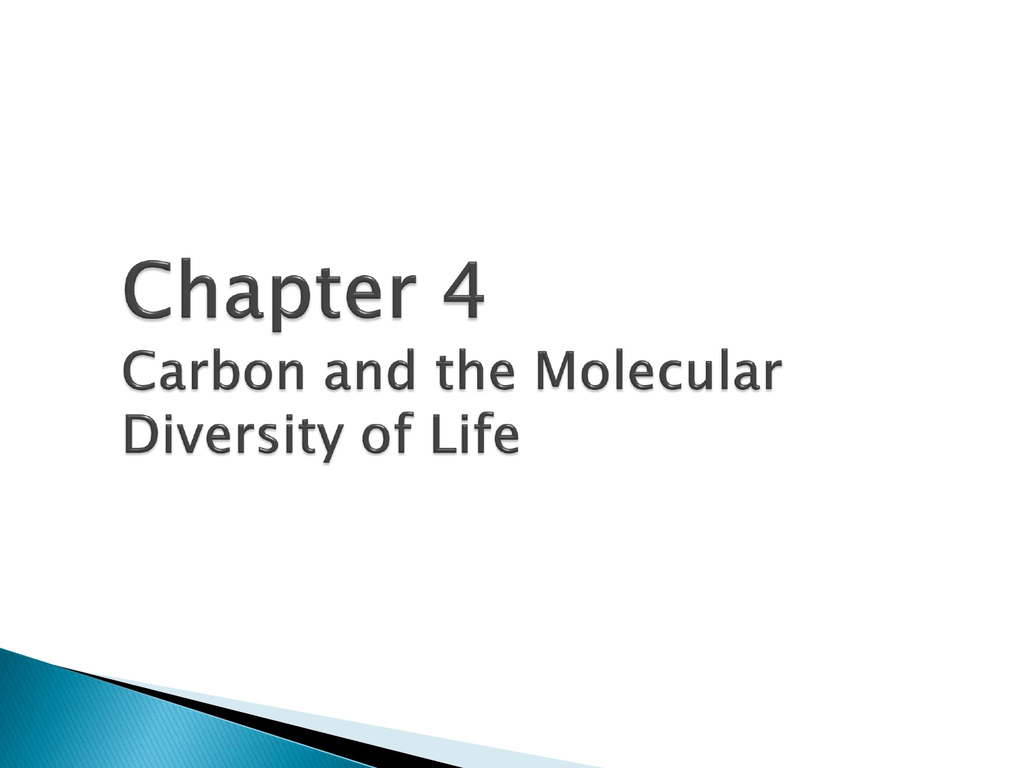 
The study of carbon compounds.
Urea

Forms 4 covalent bonds.
Molecular shape is tetrahedral.

Bonds easily to itself.





Carbon: +4 or -4
Hydrogen: +1
Oxygen: -2
Nitrogen: -3

The valences are the "rules" for building
organic molecules.

Organic molecules made of only carbon
and hydrogen.


Compounds with the same molecular formula
but have different structures.
Result: Different molecular and chemical
properties.
1.
2.
3.
Structural
Geometric
Enantiomers

Different in covalent arrangements of their
atoms.
Butane
Isobutane


Same covalent partnership but differ in
spatial arrangements.
Arise from the inflexibility of double bonds.


Molecules that are mirror images of each
other.
Usually involve an asymmetric carbon.

Organisms are sensitive to even the most
subtle variations in molecular architecture.



Cells can distinguish between two isomers.
One is an effective drug.
The other causes birth defects.



A group of atoms attached to a carbon
skeleton.
Have consistent properties.
Their number and kind give properties to the
molecule.



Structure of the functional group
Properties of the functional group
Examples of molecules with the functional
group


A carbonyl group at the end of a carbon
skeleton.
Ex. - C=O
|
H
Sometimes written as
- CHO

A carbonyl group in the middle of a carbon
chain.
Ex.
-C-C-C||
0


Donate H+ (acid).
Form many weak organic acids.



Recognize that carbon is a versatile atom in
terms of bonding and forming molecules.
Be able to recognize isomers.
Know the seven functional groups and what
properties they give to molecules.