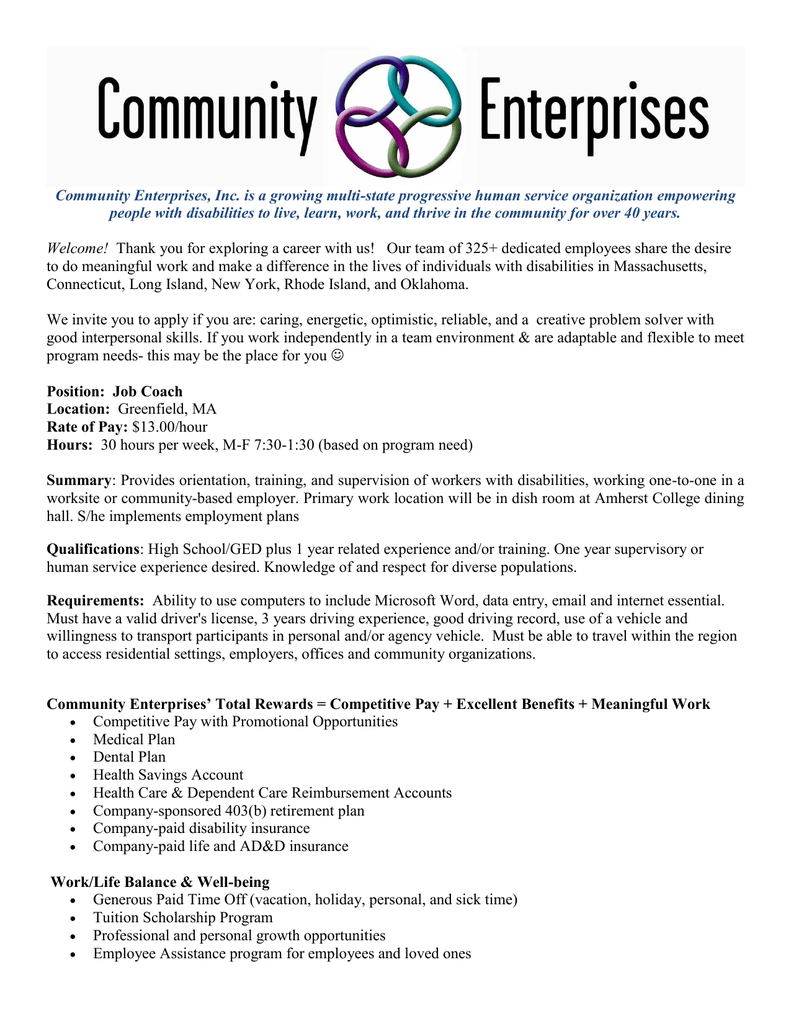 Community Enterprises, Inc. is a growing multi-state progressive human service organization empowering
people with disabilities to live, learn, work, and thrive in the community for over 40 years.
Welcome! Thank you for exploring a career with us! Our team of 325+ dedicated employees share the desire
to do meaningful work and make a difference in the lives of individuals with disabilities in Massachusetts,
Connecticut, Long Island, New York, Rhode Island, and Oklahoma.
We invite you to apply if you are: caring, energetic, optimistic, reliable, and a creative problem solver with
good interpersonal skills. If you work independently in a team environment & are adaptable and flexible to meet
program needs- this may be the place for you 
Position: Job Coach
Location: Greenfield, MA
Rate of Pay: $13.00/hour
Hours: 30 hours per week, M-F 7:30-1:30 (based on program need)
Summary: Provides orientation, training, and supervision of workers with disabilities, working one-to-one in a
worksite or community-based employer. Primary work location will be in dish room at Amherst College dining
hall. S/he implements employment plans
Qualifications: High School/GED plus 1 year related experience and/or training. One year supervisory or
human service experience desired. Knowledge of and respect for diverse populations.
Requirements: Ability to use computers to include Microsoft Word, data entry, email and internet essential.
Must have a valid driver's license, 3 years driving experience, good driving record, use of a vehicle and
willingness to transport participants in personal and/or agency vehicle. Must be able to travel within the region
to access residential settings, employers, offices and community organizations.
Community Enterprises' Total Rewards = Competitive Pay + Excellent Benefits + Meaningful Work
 Competitive Pay with Promotional Opportunities
 Medical Plan
 Dental Plan
 Health Savings Account
 Health Care & Dependent Care Reimbursement Accounts
 Company-sponsored 403(b) retirement plan
 Company-paid disability insurance
 Company-paid life and AD&D insurance
Work/Life Balance & Well-being
 Generous Paid Time Off (vacation, holiday, personal, and sick time)
 Tuition Scholarship Program
 Professional and personal growth opportunities
 Employee Assistance program for employees and loved ones



Supplemental Disability, Accident insurance for employees and loved ones
Preferred ratings for home, renters', and auto insurance
Fitness and Weight Loss program support (Health New England)
To apply: Please see the Career Opportunities section of our website, www.communityenterprises.com
CE provides reasonable accommodation for qualified individuals with disabilities in the applicant procedures.
If you will need an accommodation for any part of the application process, please notify the hiring Director.