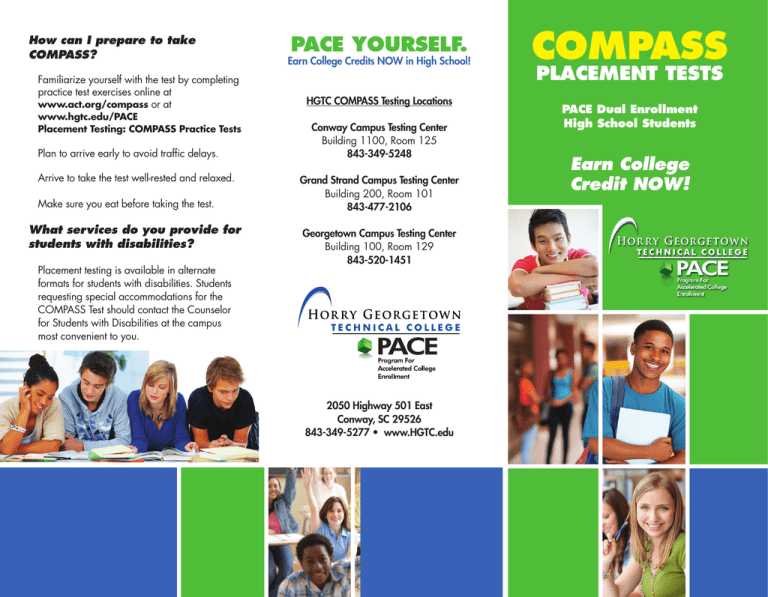 How can I prepare to take
COMPASS?
Familiarize yourself with the test by completing practice test exercises online at
www.act.org/compass or at
www.hgtc.edu/PACE
Placement Testing: COMPASS Practice Tests
Plan to arrive early to avoid traffic delays.
Arrive to take the test well-rested and relaxed.
Make sure you eat before taking the test.
What services do you provide for
students with disabilities?
Placement testing is available in alternate formats for students with disabilities. Students requesting special accommodations for the COMPASS Test should contact the Counselor
for Students with Disabilities at the campus
most convenient to you.
PACE Yourself.
Earn College Credits NOW in High School!
HGTC COMPASS Testing Locations
Conway Campus Testing Center
Building 1100, Room 125
843-349-5248
Grand Strand Campus Testing Center
Building 200, Room 101
843-477-2106
Georgetown Campus Testing Center
Building 100, Room 129
843-520-1451
2050 Highway 501 East
Conway, SC 29526
843-349-5277 • www.HGTC.edu
COMPASS
Placement Tests
PACE Dual Enrollment
High School Students
Earn College
Credit NOW!
How to Register for
COMPASS Testing
What is the COMPASS?
The COMPASS test is a computer-based test that helps place students into appropriate courses:
• Not timed
• Average time to complete is 11/2 to 2 hours
• Easy to use
• Results used for advising to help select appropriate course placement
Step 1
Go to the Horry Georgetown Technical College
website – www.hgtc.edu/testing
Step 2
This will take you to the HGTC Testing homepage. On the bottom right hand side of the page, you will see the "Register for a Test" links. Select the campus at which you would like to test.
What types of questions can I
expect?
There are three sections: Reading, Writing, & Math.
Step 3
On the registration screen, you will need to select "COMPASS HGTC Students Only."
Step 4
A calendar will appear letting you select the date you would like to test. Dates available for testing are highlighted in blue. Once you select your day, times for the test will appear at the bottom. Select a time you would like to test.
Step 5
The final registration screen will appear. Please enter in all fields. For the H-Number, PACE students will leave this blank. Please click the box
acknowledging you have read the Student
Acknowledgement box. Once everything is complete, click on the "Register" button to finalize the appointment. Your confirmation page will ap-
pear for printing and one will be emailed to you to the email account you provided.
Note: Students are reminded that a photo ID is
required at the time of testing at the HGTC Testing
Center.
My Test Appointment Date:___________________
My Test Appointment Time: __________________
Testing Location: ___________________________
What will I need?
Photo ID is Required.
• For example: driver's license, student ID, passport, alien registration card or any other government-issued IDs. Photocopies not accepted.
Online calculators are available
• Do not bring personal calculators.
Personal Items Not Permitted in testing
• Book bags, purses, etc. are not allowed.
Reading Section
• Read passages and answer questions about the content.
Writing Section
• Determine whether a passage is written
correctly. If the passage is incorrect you will choose an alternative version of the
selection.
Math Section
• Complete addition,
subtraction, division, multiplication, fractions,
basic algebra, and word problems.