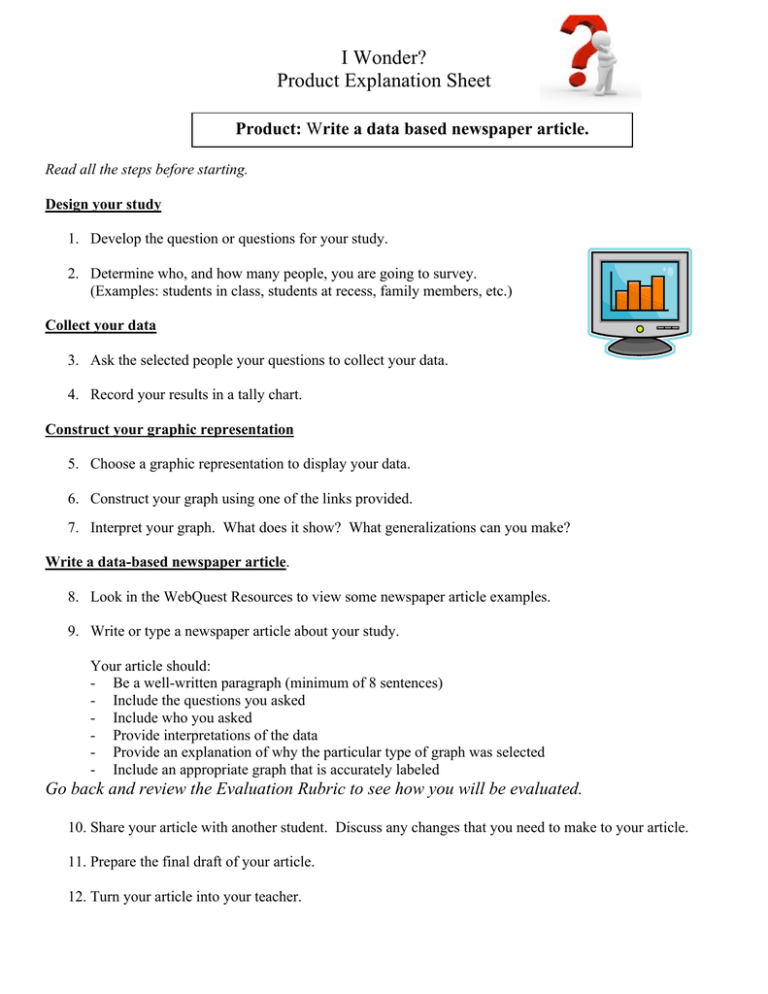 I Wonder?
Product Explanation Sheet
Product: Write a data based newspaper article.
Read all the steps before starting.
Design your study
1. Develop the question or questions for your study.
2. Determine who, and how many people, you are going to survey.
(Examples: students in class, students at recess, family members, etc.)
Collect your data
3. Ask the selected people your questions to collect your data.
4. Record your results in a tally chart.
Construct your graphic representation
5. Choose a graphic representation to display your data.
6. Construct your graph using one of the links provided.
7. Interpret your graph. What does it show? What generalizations can you make?
Write a data-based newspaper article.
8. Look in the WebQuest Resources to view some newspaper article examples.
9. Write or type a newspaper article about your study.
Your article should:
- Be a well-written paragraph (minimum of 8 sentences)
- Include the questions you asked
- Include who you asked
- Provide interpretations of the data
- Provide an explanation of why the particular type of graph was selected
- Include an appropriate graph that is accurately labeled
Go back and review the Evaluation Rubric to see how you will be evaluated.
10. Share your article with another student. Discuss any changes that you need to make to your article.
11. Prepare the final draft of your article.
12. Turn your article into your teacher.