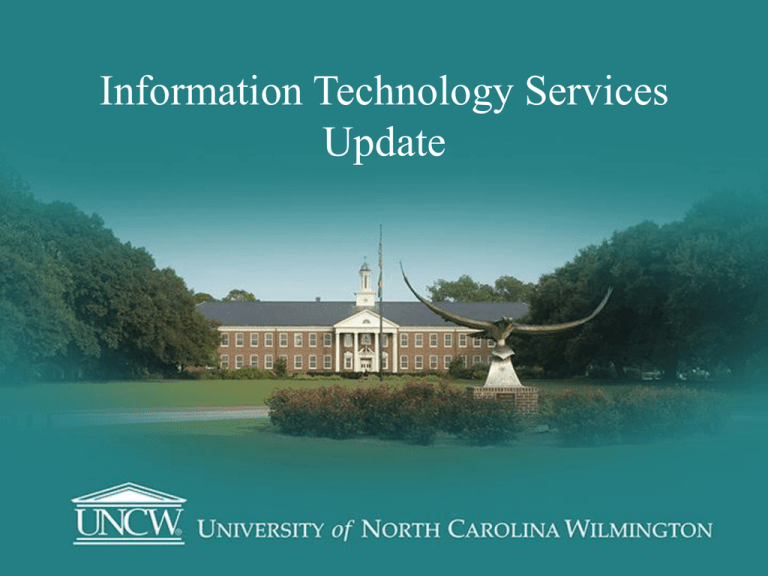 Information Technology Services
Update
Page 2
Organizational Change
May 2014 – ITS Assessment Report
July 2014 – ITS shifted to Business Affairs, interim CIO
Major goals of the change initiative:
 Reinforce support of teaching and learning.
 Strengthen linkage to the university's strategic priorities.
 Solidify leadership, direction and management
framework.
 Increase operational efficiencies and eliminate redundant
services.
 Incorporate more effective shared governance.
Operating Principles
Provide efficient,
effective technology
services to students,
faculty and staff.
Maintain resilient and
reliable technology
infrastructures.
Facilitate the
implementation of
new technology to
improve learning,
teaching and work
environments.
Page 4
Major Initiatives from October 2014 ITS Forum
 Continue network modernization.
 STATUS: Emergency upgrades completed; major refresh project slated to begin July 2015.
 Support expansion of Distance Education initiatives.
 STATUS: Supported more than 125 academic courses in the Distance Education
classrooms, employing emerging DE technologies for course delivery, including virtual
classroom, Tele-Presence and mobile soft-client technologies.
 Leverage organizational realignment to
enhance service delivery.
 STATUS: Reinforced existing and developed
new partnerships across campus, implementing
customer-focused IT Service Management
framework across the department.
Page 5
Major Initiatives from October 2014 ITS Forum
 Begin email and file storage upgrade initiative.
 STATUS: Office 365 migration begins July 2015.
 Revamp IT planning and shared governance
processes.
 STATUS: Completely re-designed IT project
request intake and evaluation process;
introduced new IT shared governance framework.
 Enhance data security protocols.
 STATUS: Deployed additional tools, reviewing security team structure and resource needs.
 Adopt improved project analysis and management tools/procedures.
 STATUS: Fast-tracked implementation of new project/portfolio management system;
going live August 2015.
Page 6
New Initiatives
 New initiatives kicking off in the areas of:
 next-gen tech support for teaching/learning (in collaboration with
faculty).
 improved identity/access management.
 more flexible infrastructure support for researchers.
 Expanding opportunities for students to gain applied IT experience
across the department.
 Search initiated to fill CIO position.