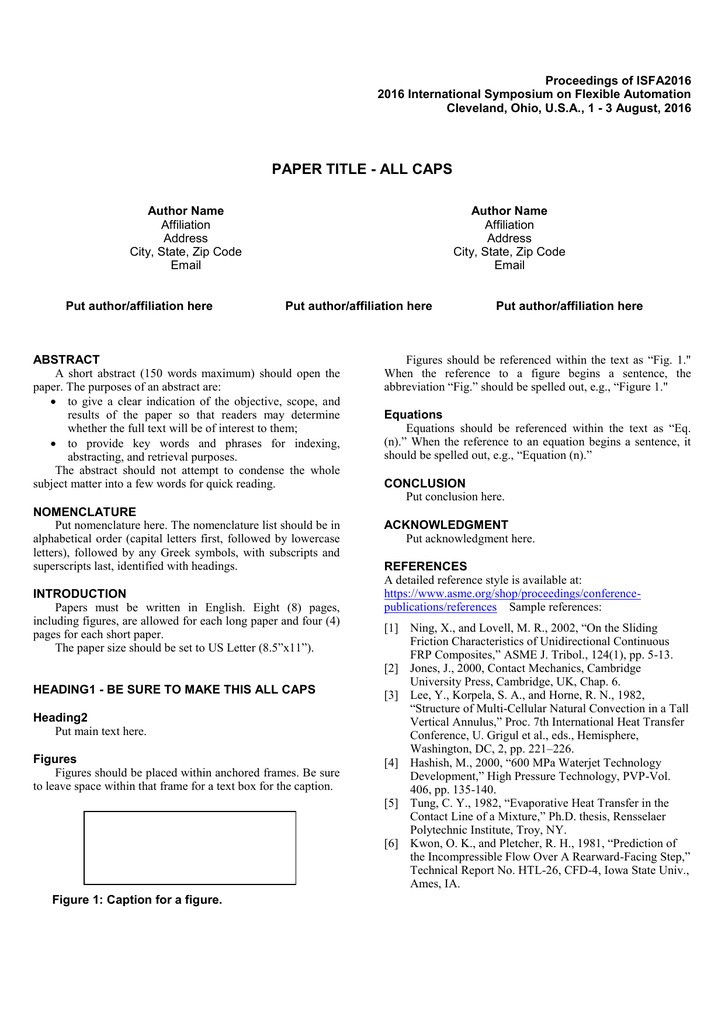 Proceedings of ISFA2016
2016 International Symposium on Flexible Automation
Cleveland, Ohio, U.S.A., 1 - 3 August, 2016
PAPER TITLE - ALL CAPS
Author Name
Affiliation
Address
City, State, Zip Code
Email
Put author/affiliation here
Author Name
Affiliation
Address
City, State, Zip Code
Email
Put author/affiliation here
ABSTRACT
A short abstract (150 words maximum) should open the
paper. The purposes of an abstract are:
 to give a clear indication of the objective, scope, and
results of the paper so that readers may determine
whether the full text will be of interest to them;
 to provide key words and phrases for indexing,
abstracting, and retrieval purposes.
The abstract should not attempt to condense the whole
subject matter into a few words for quick reading.
NOMENCLATURE
Put nomenclature here. The nomenclature list should be in
alphabetical order (capital letters first, followed by lowercase
letters), followed by any Greek symbols, with subscripts and
superscripts last, identified with headings.
INTRODUCTION
Papers must be written in English. Eight (8) pages,
including figures, are allowed for each long paper and four (4)
pages for each short paper.
The paper size should be set to US Letter (8.5"x11").
HEADING1 - BE SURE TO MAKE THIS ALL CAPS
Heading2
Put main text here.
Figures
Figures should be placed within anchored frames. Be sure
to leave space within that frame for a text box for the caption.
Figure 1: Caption for a figure.
Put author/affiliation here
Figures should be referenced within the text as "Fig. 1."
When the reference to a figure begins a sentence, the
abbreviation "Fig." should be spelled out, e.g., "Figure 1."
Equations
Equations should be referenced within the text as "Eq.
(n)." When the reference to an equation begins a sentence, it
should be spelled out, e.g., "Equation (n)."
CONCLUSION
Put conclusion here.
ACKNOWLEDGMENT
Put acknowledgment here.
REFERENCES
A detailed reference style is available at:
https://www.asme.org/shop/proceedings/conferencepublications/references Sample references:
[1] Ning, X., and Lovell, M. R., 2002, "On the Sliding
Friction Characteristics of Unidirectional Continuous
FRP Composites," ASME J. Tribol., 124(1), pp. 5-13.
[2] Jones, J., 2000, Contact Mechanics, Cambridge
University Press, Cambridge, UK, Chap. 6.
[3] Lee, Y., Korpela, S. A., and Horne, R. N., 1982,
"Structure of Multi-Cellular Natural Convection in a Tall
Vertical Annulus," Proc. 7th International Heat Transfer
Conference, U. Grigul et al., eds., Hemisphere,
Washington, DC, 2, pp. 221–226.
[4] Hashish, M., 2000, "600 MPa Waterjet Technology
Development," High Pressure Technology, PVP-Vol.
406, pp. 135-140.
[5] Tung, C. Y., 1982, "Evaporative Heat Transfer in the
Contact Line of a Mixture," Ph.D. thesis, Rensselaer
Polytechnic Institute, Troy, NY.
[6] Kwon, O. K., and Pletcher, R. H., 1981, "Prediction of
the Incompressible Flow Over A Rearward-Facing Step,"
Technical Report No. HTL-26, CFD-4, Iowa State Univ.,
Ames, IA.