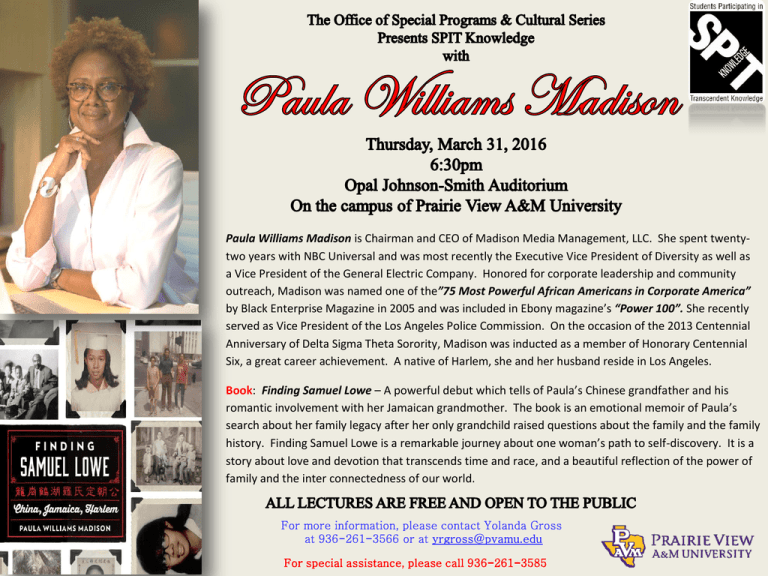 Paula Williams Madison is Chairman and CEO of Madison Media Management, LLC. She spent twentytwo years with NBC Universal and was most recently the Executive Vice President of Diversity as well as
a Vice President of the General Electric Company. Honored for corporate leadership and community
outreach, Madison was named one of the"75 Most Powerful African Americans in Corporate America"
by Black Enterprise Magazine in 2005 and was included in Ebony magazine's "Power 100". She recently
served as Vice President of the Los Angeles Police Commission. On the occasion of the 2013 Centennial
Anniversary of Delta Sigma Theta Sorority, Madison was inducted as a member of Honorary Centennial
Six, a great career achievement. A native of Harlem, she and her husband reside in Los Angeles.
Book: Finding Samuel Lowe – A powerful debut which tells of Paula's Chinese grandfather and his
romantic involvement with her Jamaican grandmother. The book is an emotional memoir of Paula's
search about her family legacy after her only grandchild raised questions about the family and the family
history. Finding Samuel Lowe is a remarkable journey about one woman's path to self-discovery. It is a
story about love and devotion that transcends time and race, and a beautiful reflection of the power of
family and the inter connectedness of our world.