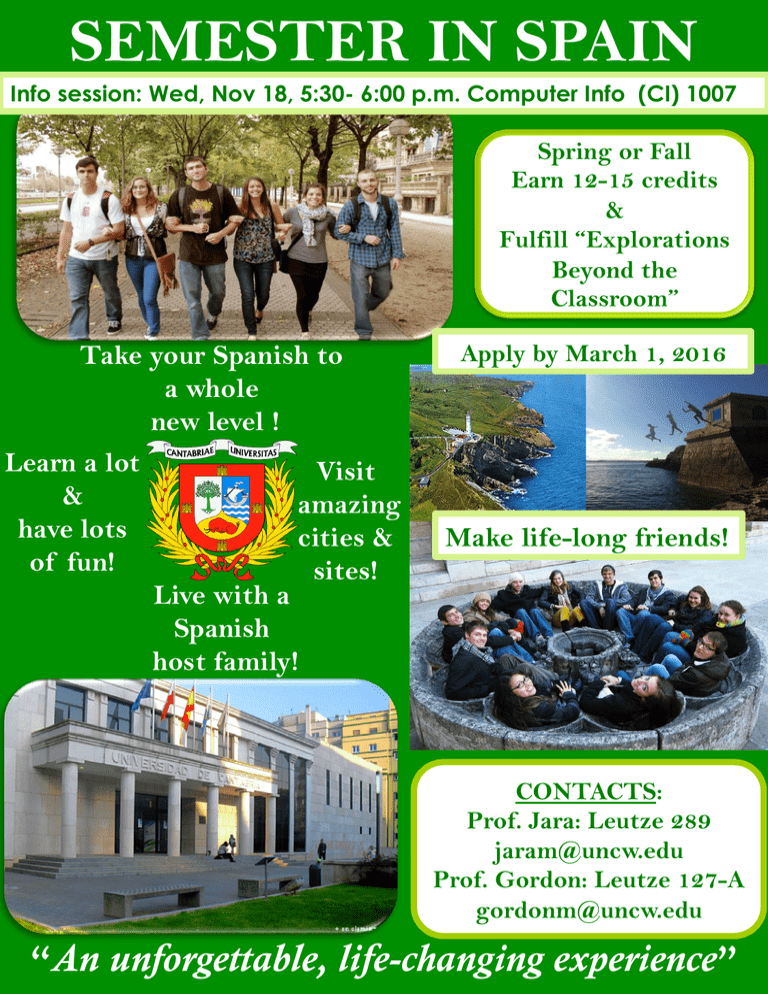 SEMESTER IN SPAIN
Info session: Wed, Nov 18, 5:30- 6:00 p.m. Computer Info (CI) 1007
Spring or Fall
Earn 12-15 credits
&
Fulfill "Explorations
Beyond the
Classroom"
Take your Spanish to
a whole
new level !
Learn a lot
Visit
&
amazing
have lots
cities &
of fun!
sites!
Live with a
Spanish
host family!
Apply by March 1, 2016
Make life-long friends!
CONTACTS:
Prof. Jara: Leutze 289
jaram@uncw.edu
Prof. Gordon: Leutze 127-A
gordonm@uncw.edu
"An unforgettable, life-changing experience"
About Santander
One of Spain's most fashionable resort
destinations in summer & winter!
›  Beach town of about 200,00 people.
›  Close to major cities such as Madrid,
Barcelona, Paris & London.
›  Beautiful mountain & beach scenery!
›  Important cultural, historical & intellectual
center with many interesting activities year – round.
-.
› 
Universidad de Cantabria:
One of Spain's, best, largest & most
prestigious universities.
›  Student population of about 14, 000.
›  Elected as Campus of
international excellence in 2009.
›  It is one of the best universities
in the world in the field of Physics.
› 
Minimum Prerequisite:
SPN 302 or equivalent course
or placement.
*Students who have taken SPN
305, 306 & 311 may also
participate. (Details about
credits will be discussed with
faculty leaders).
Prerequisites & courses:
Courses offered:
*SPN 305 (Composition)
*SPN 306 (Advanced Grammar)
*SPN 311 (Spanish Civilization)
*SPN 321 (Intro to Spanish Lit)
*SPN 394 (Study Abroad)
¡VAMOS!