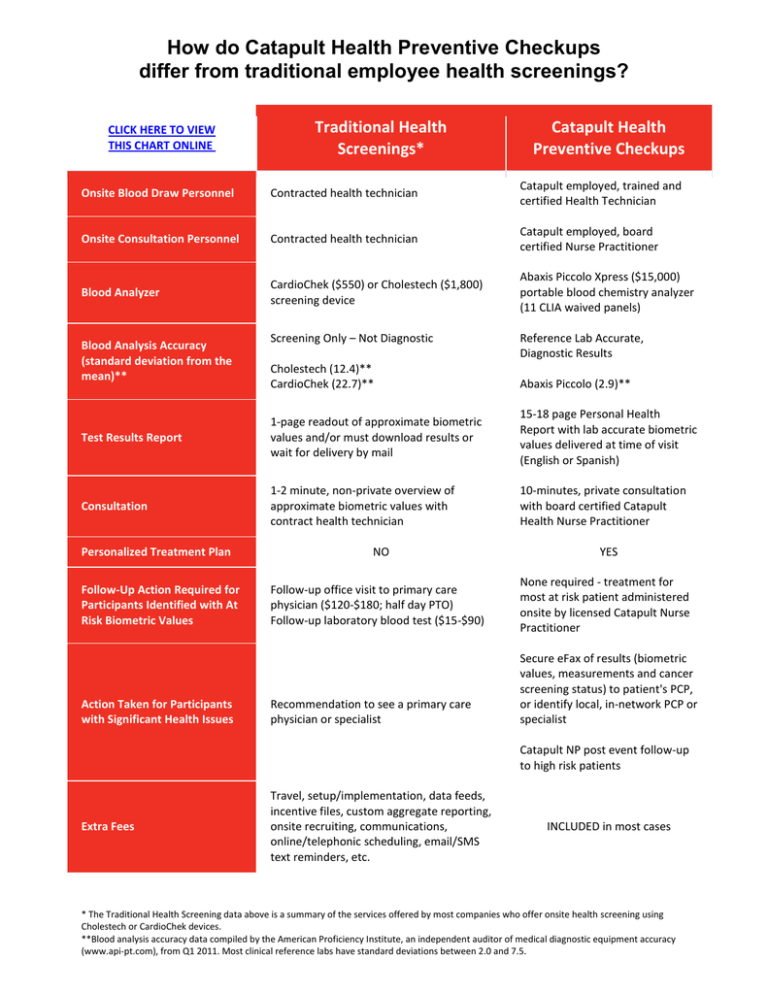 How do Catapult Health Preventive Checkups
differ from traditional employee health screenings?
CLICK HERE TO VIEW
THIS CHART ONLINE
Traditional Health
Screenings*
Catapult Health
Preventive Checkups
Onsite Blood Draw Personnel
Contracted health technician
Catapult employed, trained and
certified Health Technician
Onsite Consultation Personnel
Contracted health technician
Catapult employed, board
certified Nurse Practitioner
Blood Analyzer
CardioChek ($550) or Cholestech ($1,800)
screening device
Abaxis Piccolo Xpress ($15,000)
portable blood chemistry analyzer
(11 CLIA waived panels)
Blood Analysis Accuracy
(standard deviation from the
mean)**
Screening Only – Not Diagnostic
Cholestech (12.4)**
CardioChek (22.7)**
Reference Lab Accurate,
Diagnostic Results
Abaxis Piccolo (2.9)**
Test Results Report
1-page readout of approximate biometric
values and/or must download results or
wait for delivery by mail
15-18 page Personal Health
Report with lab accurate biometric
values delivered at time of visit
(English or Spanish)
Consultation
1-2 minute, non-private overview of
approximate biometric values with
contract health technician
10-minutes, private consultation
with board certified Catapult
Health Nurse Practitioner
Personalized Treatment Plan
Follow-Up Action Required for
Participants Identified with At
Risk Biometric Values
Action Taken for Participants
with Significant Health Issues
NO
Follow-up office visit to primary care
physician ($120-$180; half day PTO)
Follow-up laboratory blood test ($15-$90)
Recommendation to see a primary care
physician or specialist
YES
None required - treatment for
most at risk patient administered
onsite by licensed Catapult Nurse
Practitioner
Secure eFax of results (biometric
values, measurements and cancer
screening status) to patient's PCP,
or identify local, in-network PCP or
specialist
Catapult NP post event follow-up
to high risk patients
Extra Fees
Travel, setup/implementation, data feeds,
incentive files, custom aggregate reporting,
onsite recruiting, communications,
online/telephonic scheduling, email/SMS
text reminders, etc.
INCLUDED in most cases
* The Traditional Health Screening data above is a summary of the services offered by most companies who offer onsite health screening using
Cholestech or CardioChek devices.
**Blood analysis accuracy data compiled by the American Proficiency Institute, an independent auditor of medical diagnostic equipment accuracy
(www.api-pt.com), from Q1 2011. Most clinical reference labs have standard deviations between 2.0 and 7.5.