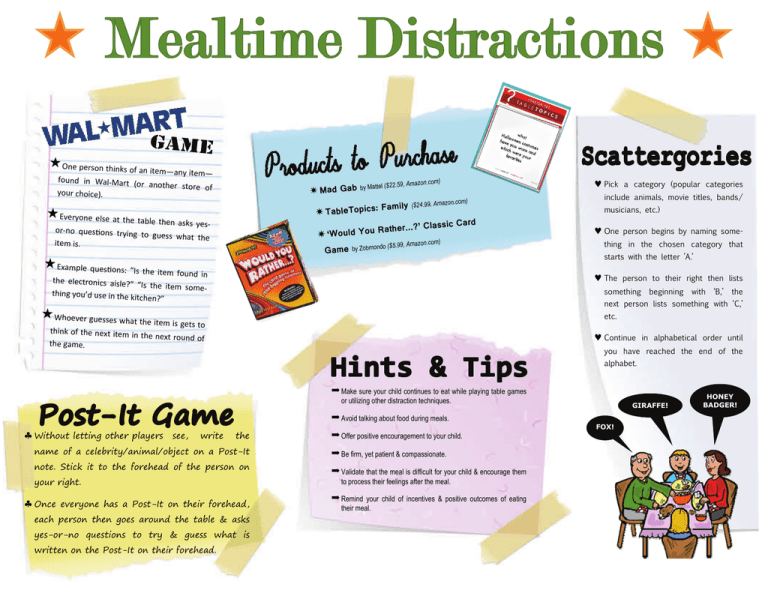 One person thinks of an item—any ite
m—
found in Wal‐Mart (or
another store of your choice). n.com)
ttel ($22.59, Amazo
Mad Gab by Ma

TableTopics: Fa

Everyone else at the table then asks yes‐
or‐no ques ons trying to guess what the item is. mily
om)
($24.99, Amazon.c
Card
her...?' Classic
'Would You Rat

Game
Example ques
.99, Amazon.com)
by Zobmondo ($5
ons: "Is the item found in the electronics aisle?" "Is the item some‐
thing you'd use in the kitc
hen?" Pick
a category (popular categories
include animals, movie titles, bands/
musicians, etc.)
One
person begins by naming some-
thing in the chosen category that
starts with the letter 'A.'
The
person to their right then lists
something
beginning
with
'B,'
the
next person lists something with 'C,'
Whoever guesses what the item is get
etc.
s to think of the next item in the next round of the game. Continue
in alphabetical order until
you have reached the end of the
alphabet.

Make sure your child continues to eat while playing table games
or utilizing other distraction techniques.

Avoid talking about food during meals.
Without letting other
players
see,
write
the
name of a celebrity/animal/object on a Post-It
note. Stick it to the forehead of the person on
your right.
Once
everyone has a Post-It on their forehead,
each person then goes around the table & asks
yes-or-no questions to try & guess what is
written on the Post-It on their forehead.

Offer positive encouragement to your child.

Be firm, yet patient & compassionate.

Validate that the meal is difficult for your child & encourage them
to process their feelings after the meal.

Remind your child of incentives & positive outcomes of eating
their meal.
GIRAFFE!
FOX!
HONEY
BADGER!