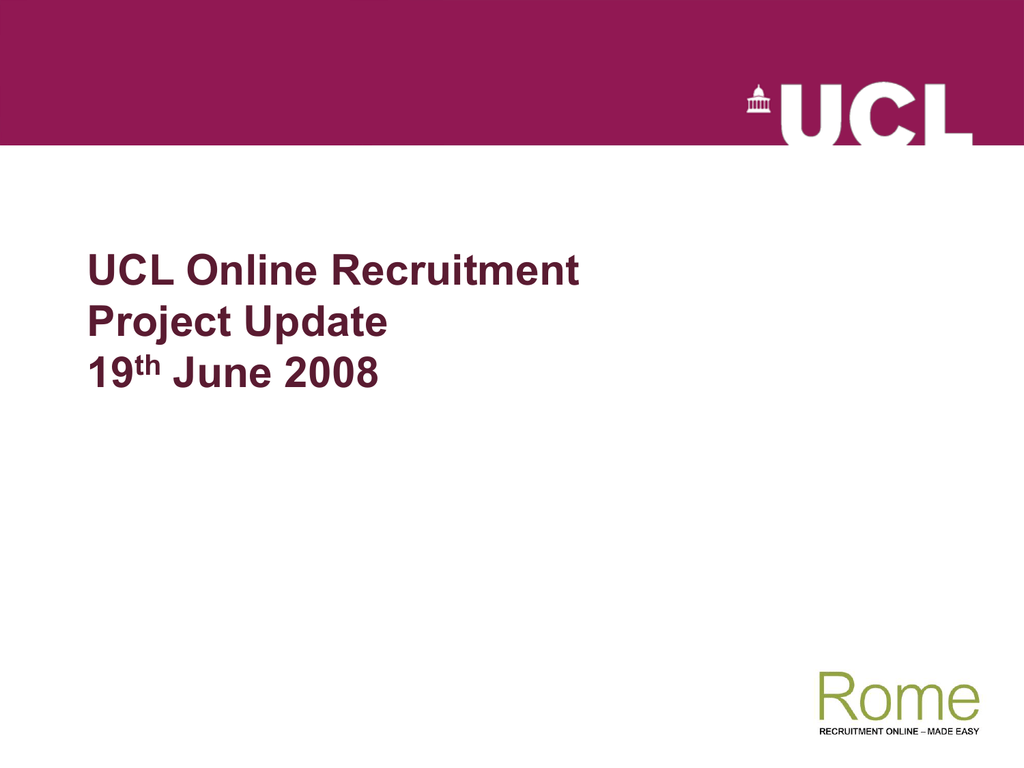 UCL Online Recruitment
Project Update
19th June 2008
Progress from March 2008
• Appointment of Project Manager
– Tim Wells
• Formalisation of project (Prince2)
–
–
–
–
Structure
Roles and responsibilities
Project Plan
Measuring success
• Steering Group and Team established
HR Payroll & Project Board
Steering Group
Senior User
Project Exec
Niyi Akinmutande
Sarah Brant
Project Manager
Project Assurance
Tim Wells
External (TBA)
Project Support
Julie Plumb (MS)
Clara M Ferrer-Lopez (HR)
Senior Supplier
Will Miller
Nic Crotch
J Anthony Rickaby
Progress from March 2008
• Project name and branding
– Recruitment Online Made Easy - Rome
• Project website
– http://www.ucl.ac.uk/hr/rome
Project milestones – high level
Description
Estimated completion date
Pre-Qualification Questionnaire shortlist
15th April 08 - Completed
Project Initiation Document Signed off
4th June 08 - Completed
Invitation To Tender issued
1st July 08 - Completed
Supplier appointed
Oct 08
Live system
Feb 09
Rolled out to all departments
July 09
Evaluation process
Benefits
•
Automatic collation of all equal opps information rather than by
academic departments as at the moment
•
Not having inboxes or pigeonholes bursting at the seems come
deadline day
•
Automatic confirmation of receipt of application rather than the need
to send out e-mail confirmation
•
No need to collate information for panel: they can view it themselves
•
Standardisation of applications
•
Central filestore rather than local one
1-4 are the big bonus points.
Benefits continued
•
More rigorous data collection- for example UCL will receive a far higher % of
equality monitoring data (should be 100%) Currently we only get approx 30% of
data back from recruitment exercises. The online system will allow us to get a
much more reliable and a detailed picture of who applies and is appointed for
jobs at UCL.
•
The report facility should make it easier/ quicker to gather a range of information
related to the recruitment process for example recruitment success.
•
No duplication of work- the data will not need to be completed by an applicant
and employee- the data (e.g. equality monitoring data) can be entered by the
applicant and reports run directly. This will save time/ resources.