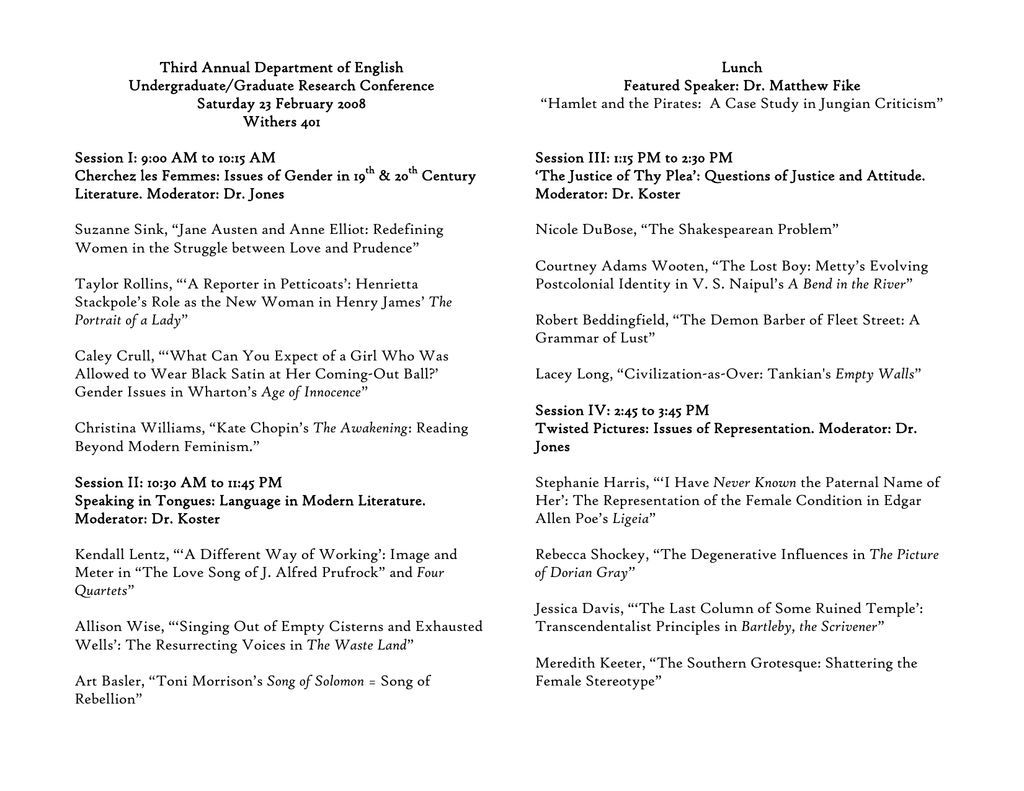 Third Annual Department of English
Undergraduate/Graduate Research Conference
Saturday 23 February 2008
Withers 401
Lunch
Featured Speaker: Dr. Matthew Fike
"Hamlet and the Pirates: A Case Study in Jungian Criticism"
Session I: 9:00 AM to 10:15 AM
Cherchez les Femmes: Issues of Gender in 19th & 20th Century
Literature. Moderator: Dr. Jones
Session III: 1:15 PM t0 2:30 PM
'The Justice of Thy Plea': Questions of Justice and Attitude.
Moderator: Dr. Koster
Suzanne Sink, "Jane Austen and Anne Elliot: Redefining
Women in the Struggle between Love and Prudence"
Nicole DuBose, "The Shakespearean Problem"
Taylor Rollins, "'A Reporter in Petticoats': Henrietta
Stackpole's Role as the New Woman in Henry James' The
Portrait of a Lady"
Caley Crull, "'What Can You Expect of a Girl Who Was
Allowed to Wear Black Satin at Her Coming-Out Ball?'
Gender Issues in Wharton's Age of Innocence"
Courtney Adams Wooten, "The Lost Boy: Metty's Evolving
Postcolonial Identity in V. S. Naipul's A Bend in the River"
Robert Beddingfield, "The Demon Barber of Fleet Street: A
Grammar of Lust"
Lacey Long, "Civilization-as-Over: Tankian's Empty Walls"
Christina Williams, "Kate Chopin's The Awakening: Reading
Beyond Modern Feminism."
Session IV: 2:45 to 3:45 PM
Twisted Pictures: Issues of Representation. Moderator: Dr.
Jones
Session II: 10:30 AM to 11:45 PM
Speaking in Tongues: Language in Modern Literature.
Moderator: Dr. Koster
Stephanie Harris, "'I Have Never Known the Paternal Name of
Her': The Representation of the Female Condition in Edgar
Allen Poe's Ligeia"
Kendall Lentz, "'A Different Way of Working': Image and
Meter in "The Love Song of J. Alfred Prufrock" and Four
Quartets"
Rebecca Shockey, "The Degenerative Influences in The Picture
of Dorian Gray"
Allison Wise, "'Singing Out of Empty Cisterns and Exhausted
Wells': The Resurrecting Voices in The Waste Land"
Art Basler, "Toni Morrison's Song of Solomon = Song of
Rebellion"
Jessica Davis, "'The Last Column of Some Ruined Temple':
Transcendentalist Principles in Bartleby, the Scrivener"
Meredith Keeter, "The Southern Grotesque: Shattering the
Female Stereotype"
About Our Featured Speaker
Third Annual
Winthrop University
Department of English
Undergraduate/Graduate
Research Conference
23 February 2008
Matthew Fike received a Ph.D. in English literature from the
University of Michigan, served for nine years as a founding
faculty member at the American University in Bulgaria, and is
currently an associate professor here at Winthrop. In 2003 he
published a book entitled Spenser's Underworld in the 1590 Faerie
Queene; and he has published various essays, including one in
JUNG entitled "The Primitive in Othello: A Post-Jungian
Reading." His second book, The Visionary Mode: A Jungian
Study of Shakespeare, is currently under review.